The 7 Best Flat Fee MLS Companies in Georgia Based on Price, Reviews, and Features
Posted on September 21st, 2022
7 Best Flat Fee MLS Companies in Georgia | How to Get On a Georgia MLS Without a Realtor | Alternatives to Flat Fee MLS in Georgia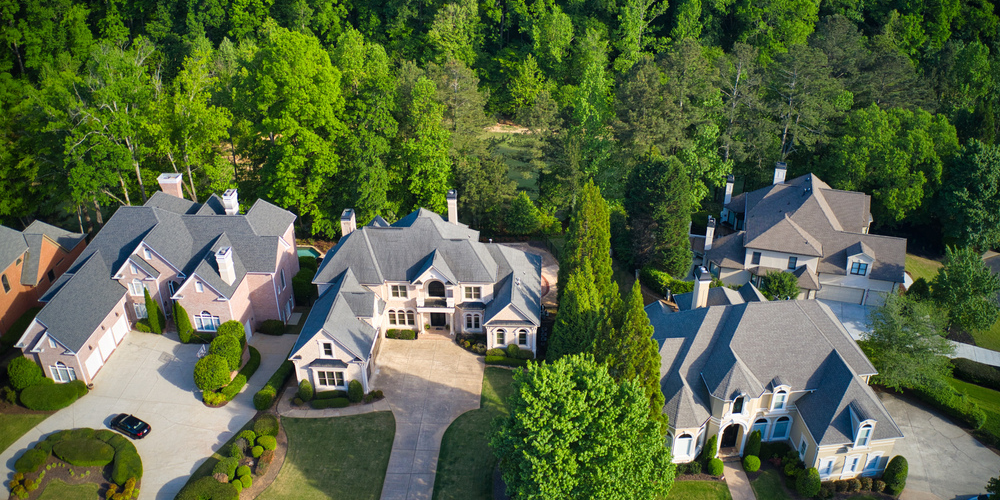 In Georgia, where the average home value is $319,431, the typical seller pays about $9,580 (or 3%) of their sale profits to a listing agent.
By working with a flat fee MLS company, you can eliminate almost the entire listing commission and save thousands of dollars.
A flat fee MLS company is exactly what it sounds like: for a flat fee (usually a few hundred dollars), the company will list your home on the MLS, the main directory for active listings, usually only accessible to real estate agents. From there, your listing will show up on real estate websites like Realtor.com, Redfin, Zillow, and Trulia.
It sounds simple, easy, and smart on your wallet. But there's more to consider.
While flat fee MLS companies get your listing in front of more buyers, that's pretty much it. You'll be on your own when it comes to pricing your home, taking photos, scheduling showings, and managing all legal paperwork, just to name a few.
So, is using a flat-fee MLS company worth it? It depends.

How savvy are you with selling? Can you handle the work of the transaction on your own, which could include everything from pricing your home to navigating the stacks of closing paperwork? If done right, there can be some significant benefits to using a flat fee MLS – but it's a lot of work.
If you're considering the flat fee MLS model, check out our guide on how to list on the MLS and save, then see our rankings for the seven best flat fee MLS companies in Georgia.
If you want to save but aren't confident you'll have the time or know-how to sell your home yourself, our friends at Clever Real Estate offer a compromise: a full-service agent for a pre-negotiated 1% listing fee. The average seller who lists with Clever saves $9,000!
Learn how much you can save with Clever today!
Why You Should Trust Us
This article draws on 12 hours of research on seven flat fee MLS companies. Our research process consisted of:
Reviewing company websites for publicly advertised services and fees
Mystery shopping to understand the typical home seller's experience and discover any hidden fees or fine print
Analyzing Google, Yelp, and Trustpilot reviews of each business
Developing an expert recommendation based on the company's transparency and benefits to home sellers
7 Best Flat Fee MLS Companies in Georgia
GA, AL, CA, CT, FL, MN, NC, and SC

GA, DC, MD, VA, PA, and FL

*Based on a combination of reviews from Trustpilot, Google, Facebook, Zillow, and Better Business Bureau.
1. Flat Fee Group
Best For: Full-Service Experience
Flat Fee Group is a national organization of independent brokers with a Georgia franchise. It's essentially a referral service, connecting sellers to local brokers who act as independent contractors under the Flat Fee Group banner. This particular service pairs you with a highly reviewed Atlanta-based brokerage called Clickit Realty, Inc.
You'll notice that Flat Fee Group itself doesn't have reviews online because of the way it's set up. If you want to find reviews, you'll have to look up the brokers themselves. In this case, Clickit Realty has garnered stellar reviews from very happy clients.
Flat Fee Group Costs
6-month listing

6 photos

Contracts, addendums, and disclosure forms

Printable flier

6-month listing

25 photos

Contracts, addendums, and disclosure forms

Printable flier

Yard sign

1-year listing

32 photos

Contracts, addendums, and disclosure forms

Printable flier

Yard sign

Market analysis

Virtual tour

Combo key box

Contract review

Premium package plus:

2-year listing

Professional photos

Counteroffers

DocuSign

Virtual showing

Negotiations

Advice throughout process
✍️ Editor's Take
The Flat Fee Group offers a wide spectrum of services, from a barebones six-month, six-photo package, all the way up to a full-service agent-assisted package.
The Flat Fee Group Basic plan is on the pricey side at $295, but the full-service plan is a steal at $995 (typically much less than a 3% commission), with every feature you could possibly want.
This local contractor is an experienced, well-reviewed Georgia real estate agency, so you'll probably have access to better market insights than if you went with some of the other companies on this list that don't even maintain Georgia offices.
2. Georgia Listing Express
Best For: Speed and Customization
Georgia Listing Express has a basic $195 MLS listing package with a long list of a la carte options, ranging from additional photos to open house announcements, to let customers mix and match to make a customized package.
The company is open every day and specializes in getting your listing up the day you sign up, which is useful if you need to sell fast.
Georgia Listing Express Costs
| | | |
| --- | --- | --- |
| | | |
| | | 6-month listing extension |
| | | 1 lockbox for showings/open houses |
| | | |
| | | Expert review of housing contract |
| | | Unlimited changes after the first 24 hours of listing |
✍️ Editor's Take
If you want to control exactly which services you pay for, this is the flat fee MLS company for you. But if you want a full-service package, all of these additions will add up quickly, and you'd probably be better off buying an all-inclusive package somewhere else.
No matter what, the basic package only includes six photos, which is most likely not going to be enough to properly show your home to potential buyers, so expect to pay the $45 extra for additional photos.
One possible red flag is that there are no credible reviews of the company online, so users won't know exactly what they're in for. However, for sellers who don't mind a little risk, and who know exactly what they want — and don't want — Georgia Listing Express offers flexibility they won't find anywhere else.
3. Beycome
Best For: Affordable, Near Full-Service Package
Beycome is a flat fee MLS in Georgia, Florida, Illinois, Minnesota, California, South Carolina, North Carolina, Alabama, and Connecticut. Although the company isn't fully national, it's in several U.S. regional markets. With the many positive reviews, customers should feel pretty confident about the quality of Beycome's services.
Beycome Costs
Listing active until you sell

Maximum photos allowed by MLS

Open house and showing scheduler

Online offers

Contract and disclosure forms

Basic package features plus:

Professional photography session

Customizable fliers and brochure

Yard sign

Open house package

Virtual tour

Digital ads for social media

Enhanced package features plus:

Dedicated support

Paperwork and negotiation support

Home valuation and pricing support

Comparative Market Analysis (CMA)

3D virtual tour

Drone pictures

Some closing fees
✍️ Editor's Take
Beycome offers three basic packages, which run from a fairly comprehensive and affordable basic package to an almost full-service package.
The Basic package gives you unlimited photos and an active listing until you sell — a much better deal than any other entry-level package on this list. And the Concierge package offers essentially a full-service agent experience at a price point that's significantly lower than equivalent packages from competitors.
If Beycome has a weakness, it's that the Enhanced package is a little underwhelming. It's relatively expensive and doesn't offer much value for your dollar. We also don't recommend the Concierge package. For a 1% closing fee, you should have full support, not partial. Go with a low commission brokerage instead and get more for your money.
4. Houzeo
Best For: Online Application
Houzeo is a large, national flat fee MLS company, founded in 2017 and currently headquartered in New York. One of Houzeo's main draws is its tech-heavy approach to flat fee MLS, as seen in its listing management platform "Intellilist." If you're a tech-savvy seller and the idea of a company with national scale and reach appeals to you, Houzeo is worth a look.
But keep in mind that Houzeo offers the most expensive packages on this list, with an entry price of $299. And even at those premium prices, Houzeo still adds on a lot of fees for services that are typically free.
Houzeo Costs
3-month MLS listing

6 listing photos

Listing changes (for a fee)

6-month MLS listing

24 listing photos

Unlimited listing changes

6-month MLS listing

Unlimited listing photos

Unlimited listing changes

Yard sign ($49)

Houzeo showings

Use of Houzeo Offers platform

1-year MLS listing

Unlimited listing photos

Unlimited listing changes

Yard sign (free)

Houzeo showings

Use of Houzeo Offers platform

Virtual agent assistance
✍️ Editor's Take
Houzeo has national reach and prestige, a great online management platform, and a ton of positive reviews. For sellers who are comfortable with tech and are looking to work with a big, proven brand, Houzeo is a great choice.
But if you're going the flat fee MLS route to save money, know that Houzeo's plans aren't cheap, especially at the low end!
There are also a lot of nickel and dime fees — for example, even if you buy the second-most expensive package, you still have to pay extra for a yard sign. Since the gap between the bronze and gold packages is less than $200, you'd likely get the best value from the gold package.
5. List with Freedom
Best For: Experienced Sellers
List With Freedom is a 17-year-old company that offers a range of similar packages: three six-month MLS listing plans that only differ in the number of photos allowed, and one 12-month listing plan with unlimited photos.

The company doesn't offer a full-service option, so sellers who need personal agent assistance should look elsewhere.
List With Freedom Costs
Package


6-month MLS listing

1 photo

Unlimited listing changes

Disclosure forms

6-month MLS listing

6 photos

Unlimited listing changes

Disclosure forms

6-month MLS listing

25 photos

Unlimited listing changes

Disclosure forms

12-month MLS listing

Unlimited photos

Unlimited listing changes

Disclosure forms
✍️ Editor's Take
There's very little variability between List With Freedom's packages and no full-service option, which means more work on your part.
The company's average rating of 4.3 stars from 1,700 reviews on Trustpilot should be reassuring to potential users, especially since some of the other companies on this list have few or zero reviews.
But the entry-level plan for $89 only comes with one single photo, which is unlikely to be appealing to buyers. Also, the pricing for a basic plan with more photos is $149, which is pricey compared to competitors.
Some competitors have stated that List With Freedom takes out "hidden fees" at closing, deducting 0.25% from the buyer's agent commission as a compliance fee. This could be a concern — especially if it's enough to discourage some buyer's agents from bringing their clients to List With Freedom listings.
6. XFlatFeeMLS.net
Best For: Affordability
XFlatFeeMLS.net is a Maryland-based company that offers services in all of Georgia. It offers three different plan tiers that go from a 6-month listing length to an unlimited listing length. It also includes a deferred payment option.
However, it doesn't include a full-service option, and there are very few reviews available online, so it's hard to get a grasp of the true customer experience.
XFlatFeeMLS Costs
6-month MLS listing

Maximum photos allowed in MLS

Unlimited listing changes

Federal and state disclosure forms

No processing fee at closing

Printable flier

Unlimited open house announcements

Same as above, with a 12-month listing

Same as above, with an unlimited listing

$19 setup fee upfront, $380 due when the home sells ($249 termination fee)

6 listing photos

Listing updates

Federal and state disclosure forms

Printable flier
✍️ Editor's Take
XFlatFeeMLS.net's basic flat fee MLS listing plan is the most affordable on this list (only $59) and includes a 6-month listing with the maximum number of photos allowed on the MLS, which is actually a fantastic deal.
However, because the company offers no full-service agent-assistance package, you're mostly on your own with listing and selling.
The lack of reviews is concerning because using this company would require taking a certain amount of risk. But if you only need to get your property on the MLS — and absolutely no other assistance — XFlatFeeMLS.net could be a decent option.
XFlatFeeMLS.net's deferred payment package gets you started with only $19 and lets you pay the rest of the fee only after you've sold your home. If you're unwilling (or unable) to lay out a few hundred dollars upfront, this package could be right up your alley — although sellers should note that it eventually costs more than twice the company's top package.
7. FSBO.com
Best For: FSBO Fans
FSBO.com is a popular and well-respected FSBO website that also offers a single package for flat fee MLS service. There are some additional features like yard signs available for purchase at the FSBO.com online store.
Also, FSBO.com charges sellers in the Atlanta metro area an additional listing commission of 1.2%.
FSBO.com Costs
6-month listing

20 photos

Inclusion on FSBO.com
✍️ Editor's Take
FSBO.com has a national reach and a good reputation, but its main focus is offering For Sale By Owner (FSBO) listings, and it shows in its expensive, limited flat fee MLS package.
There isn't outstanding value here — FSBO.com's only package is priced at nearly $400, which is far more expensive than equivalent basic packages from other companies on this list. However, if you really want your home to be listed on FSBO.com along with the MLS, this might be a good fit for you.
How to Get On a Georgia MLS Without a Realtor
Step 1: Shop Around for a Flat Fee MLS Company
Start by looking at company reviews. Websites like Yelp, Google Reviews, and Trustpilot will give you a window into the experiences of real sellers. If you find recurring complaints about issues like hidden fees, unresponsive communication, or poor quality services, this should be a big red flag!
>> READ MORE: Are Flat Fee MLS Companies Legit? Learn the Costs, Risks, and Best Alternatives
On the other hand, if most users had a positive experience, that should give you a little reassurance that you're on the right track.
You'll also want to make sure the company actually operates in the area where you're selling. Georgia has over 25 MLSs, so double-check your company's coverage.
Step 2: Choose Your Package
Most companies offer a base package that includes an MLS listing and very few other services, which will leave most of the responsibilities of the sale on your shoulders.
Are you up to it? Do you have any experience in marketing, real estate, or contract negotiation?
If the answer is no, you might want to consider a package that offers more services, like help with negotiation, advice on pricing, and guided showings and open houses.
When looking at packages, the main factors to consider are:
Number of photos included. In general, the more photos included with the listing, the more interest you'll get from buyers.

Listing length. While a yearlong or unlimited listing might sound like it offers great value, most homes sell quickly. If your home is still sitting on the market after a few months, it probably makes more sense to take it off the market and relist later than to just let it sit there indefinitely.

Open house and showing support. Conducting showings of your home can be stressful and time-consuming if you're not used to hosting a crowd. For many sellers, tapping into a company's expertise in this area is well worth the extra money.

Help with paperwork. Some MLS companies offer contract templates, disclosure forms, and other document support. This can be helpful if you're worried about being able to find the right materials on your own. Keep in mind that if these documents aren't completed and filed correctly, there could be serious legal consequences, so most sellers will want an agent's or lawyer's guidance here, just to be safe.
Step 3: Prepare to Handle a Lot of the Process Without Support
In Georgia, a flat fee MLS company will get your listing on the MLS, but it won't do much else for you.
If you go the flat fee MLS route, you should be prepared to act as your own agent. That means handling tasks like:
Pricing your home

Marketing your home

Scheduling and conducting open houses

Reviewing offers and drafting counteroffers

Negotiating contract points like contingencies

Handling closing paperwork
That's a lot to take on — especially if you don't have experience in real estate! For that reason, many FSBO sellers hire a transaction coordinator or a real estate attorney to help navigate the sale process.
Alternatives to Flat Fee MLS in Georgia
🥇 Best Option: Clever Real Estate
Clever Real Estate is a well-established, nationwide company that uses a licensed concierge to connect sellers with experienced local agents in their area. After learning about your goals and preferences, Clever matches you with 1-3 agents in your area to interview and select from. If none of them meet your expectations, Clever will send you more matches.
All Clever partner agents provide full service for only 1% in listing fees, which can save you thousands of dollars over the typical 3% listing fee.
Although Clever is slightly more expensive than most flat fee MLS plans, you'll get what you pay for, with high-quality assistance from an agent with a top-performing brokerage, such as Keller Williams, Coldwell Banker, and RE/MAX.
Most flat fee MLS companies will get your house on the MLS and leave you to do the rest, but a Clever partner agent can help you with:
Listing your house on the MLS

Pricing and marketing your house

Coordinating professional photography

Running showings and open houses

Negotiating with the buyer's agent to get you the best price and terms

Guiding you through the closing process
Plus, Clever's matching service is totally free with no obligation.
Meet trusted real estate agents with Clever 🤝
Looking for an agent? Clever Real Estate's licensed concierge team can introduce you to pre-vetted agents near you! You'll choose between top-rated agents from major brokerages like Keller Williams, RE/MAX, and more.
Best of all, you'll save thousands, thanks to Clever's affordable 1% listing fees. Buyers in 41 states and Washington D.C. can also receive 0.5% cash back after closing!
Discount Brokers
Typically, discount brokers offer a full-service agent experience (or close to it) for less than the typical 3% listing agent commission.
Discount brokers usually charge 1-2% commission, which is significantly more than you'd pay with a flat fee MLS company, but is potentially thousands less than a conventional 3% commission, and you'll potentially get a lot more for your money.
The risk is that some discount real estate brokers cut corners or operate at a massive scale that limits their ability to provide adequate customer service. Make sure to read the fine print and understand what you're truly paying for.
Some leading discount brokers you could explore are:
iBuyers
If you're after a fast, streamlined sale without an agent, it might be worth considering an iBuyer. iBuyers use data analytics to assess the value of your home, and then they buy your home in cash for that amount.
The upside of an iBuyer sale is that it's fast, simple, and can take as little as a week from start to finish. The downside is that, because you're dealing with a tech company's algorithm and not an agent, there's typically no room for negotiation. It's a "take it or leave it" offer.
That said, if you're in a hurry or you find their offer to be fair, an iBuyer deserves serious consideration.
iBuyers that offer to buy homes in Georgia include:
Curious about how much an iBuyer would offer you? Our friends at Clever can help you compare offers from top cash buyers to offers from listing on the open market. Start weighing your options ⚖️
Recommended Reading
Frequently Asked Questions About Flat Fee MLSs in Georgia
What is the best flat fee MLS listing service?
Houzeo is a great national option for a flat fee MLS listing service, but there might be local flat fee MLS companies that would be a better fit. Check out our list of the best flat fee MLS companies in Georgia.
How much is a flat fee MLS listing?
A flat fee MLS listings cost anywhere from $69 to over $1,000 depending on the area you live in and the type of service you need. Basic packages without full-service assistance are much cheaper. Check out our list of the best flat fee MLS companies in Georgia.
How do I list on MLS For Sale By Owner?
To list on the MLS For Sale By Owner, you'll need to either hire a flat fee MLS company to do it for you. A flat fee MLS company will put your house on the MLS for a flat fee, but most of the companies won't do much else to help you sell your house, as opposed to a full-service real estate agent. Check out our list of the best flat fee MLS companies in Georgia.
Interested in buying or selling?
We've improved the traditional real estate model with modern technology to cut costs, not quality.
Get started today
Posted in For Sale By Owner, Listing Your Home, Selling a House