Allied Van Lines: 2023 Review
Value | Customer experience | Credibility | About Allied Van Lines | How we researched | FAQs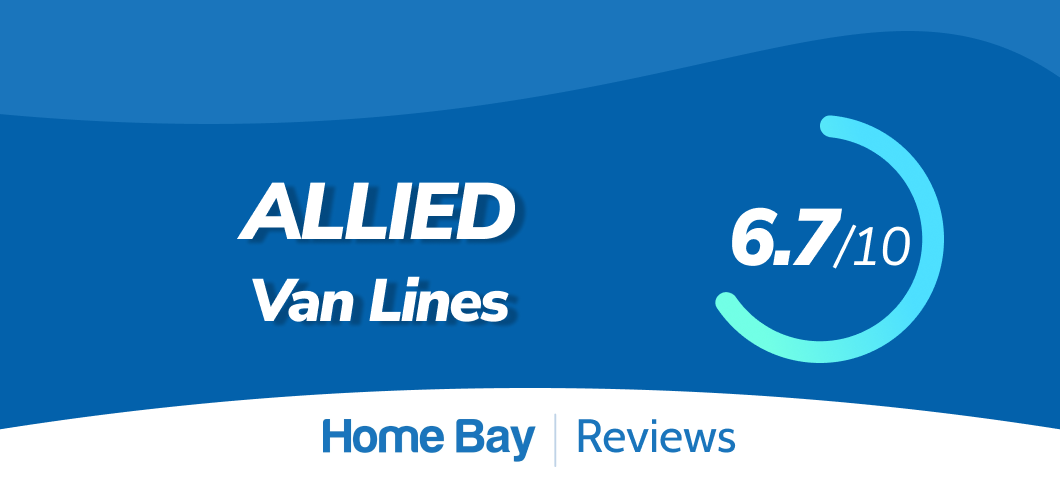 When you work with one of our affiliate partners, we may earn a small commission. However, our reviews are based on objective, independent research. Learn more about Home Bay's
editorial policy
and
why you should trust us
.
Allied Van Lines is an Illinois-based moving service that offers comprehensive local and long-distance services in the U.S. and abroad. The company has been around since 1928.
Overall score: 6.7/10
Allied Van Lines provides custom quotes, so prices vary based on the distance of your move, what services you require, and other factors.
The experience with Allied can be good, but locations may offer inconsistent service. Reviews show complaints about lost and damaged items, and issues around filing claims and the company's responsiveness. On the other hand, some Allied locations have lots of positive reviews.
Allied Van Lines is registered and insured with a satisfactory safety rating from the U.S. Department of Transportation.
Bottom line: Allied moving is usually a good option for long-distance moves, including international and military moves, and for people who want a range of moving services.
Allied offers personalized quote service with a company agent, and agents also coordinate customers' moving processes. Although Allied Van Lines has an A+ rating with the Better Business Bureau (BBB) and a Best Customer Service award from Newsweek, some locations get a lot of negative reviews, so check your local Yelp pages and Google reviews.
Alternatively, you can work with a moving broker to find a legit, trusted moving company near you. You can get the best rates and find a great solution for your move.
🚚 Ready to get moving?
Talk to a moving broker, get personalized recommendations and the most competitive rates. 100% free with no obligation.
Get started!
Allied Van Lines vs. the competition
| | Allied | Mayflower | Colonial Van Lines |
| --- | --- | --- | --- |
| Overall score | 6.7 | 7 | 5.7 |
| Value | 6 | 6 | 6 |
| Customer experience | 5 | 7 | 5 |
| Credibility | 9 | 8 | 6 |
Ratings based on a 1 to 10 scale, with 10 being the best.
We rank Mayflower Moving as a better choice overall than Allied. Each costs a similar amount, but you're more likely to have a positive experience with Mayflower. Colonial Van Lines, another national mover, scores lower than Allied due to its numerous negative reviews and formal complaints.
Allied Van Lines: In-depth breakdown
Value: 6/10
We weren't able to get a quote for moving services from Allied Van Lines because the company doesn't have a self-service pricing system. You have to speak with an Allied agent in order to get an individual quote. Since Allied movers operate in several markets, prices will vary.
You can benefit from getting a quote from a company representative. Unlike with an online automated quote, a representative should provide an accurate price based on your individual needs, which means there shouldn't be any surprise fees. However, getting quotes from representatives takes a bit longer if you're just trying to compare prices.
Allied also has storage in case you need to hold items for a bit before moving them to your new destination.
Customer experience: 5/10
It's difficult for us to predict your experience with Allied Van Lines. We found positive and negative reviews when we dug into local review pages, including compliments for excellent service and complaints about damaged or lost items and delivery delays. We recommend you Google "Allied (your city) reviews" to get a quick gut check before you commit to using the company.
We found mixed reviews of long-distance moves from people in several states on HomeAdvisor. Allied Van Lines has a 3.9-star rating with 60 verified reviews and an 80% recommendation rate.
Allied also earned a Best Customer Service award in 2021 from Newsweek, although this honor doesn't appear to align with online customer reviews. We found enough 1-star ratings across different states to be noteworthy. Most poor reviews of Allied Van Lines cited damage to items during the moving or packing process, and challenges making damage claims with the company.
Credibility: 9/10
Allied Van Lines is registered with the U.S. Department of Transportation (U.S. DOT) and has active insurance. It has a satisfactory safety rating with U.S. DOT.
Allied has an A+ rating from the Better Business Bureau, with 88 complaints filed in the last three years. The number of complaints isn't alarming given that it covers a three-year timespan and Allied is a major national moving carrier.
About Allied Van Lines
Allied's fleet consists of more than 3,500 long-haul and regional vehicles driven by over 4,200 trained drivers who must pass an annual certification process. More than 400 Allied agents in North America coordinate customers' moves. Franchises offer Allied services in all 50 states and 45 countries.
| | |
| --- | --- |
| Headquarters | Oakbrook Terrace, Il |
| Website | |
| U.S. DOT # | 76235 |
| Speciality (long distance, local, etc.) | Local, interstate, long-distance, and international moves |
How we researched
We evaluated Allied Van Lines by looking at Federal Motor Carrier Safety Administration safety, complaint, and insurance records.
Then we analyzed dozens of Allied reviews from customers on Yelp, Google, and HomeAdvisor.
FAQs
Allied is owned by SIRVA, Inc., a global relocation and moving services company. SIRVA has offices in more than 20 countries.
Related reading
Interested in buying or selling?
We've improved the traditional real estate model with modern technology to cut costs, not quality.
Get started today
Posted in Moving