Best Long Distance Moving Companies (2023)
Posted on January 12th, 2023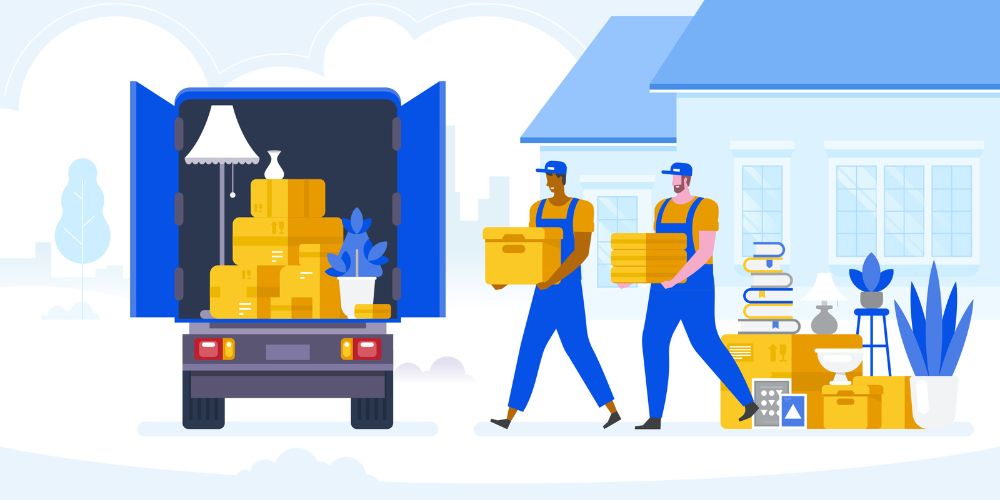 Best Long Distance Movers | Consumer Warning | How We Chose | FAQ
When you work with one of our partners, we may earn a small commission. However, our reviews are based on objective
research
.
The best long-distance movers take the stress out of moving from one state to another, or even across the country.
We wrote in-depth reviews for long-distance moving companies and established our rankings. During our research, we weighed:
Total number of damaged goods claims
Fees and available add-on services
Average customer ratings
We found that Bellhop Movers is the best long-distance mover. Bellhop has transparent pricing, customizable services, and efficient movers. But, if you want extra services like furniture assembly, you would probably be better off with one of the other companies on our list.
💡We recommend talking to an expert.
An expert can connect you with the best national moving companies (and rates!) for your move.
Talk to a moving expert today!
The 5 Best Long-Distance Movers
| Company | Overall Score | Avg. Customer Rating |
| --- | --- | --- |
| | 8.3/10 | 4.5/5 |
| | 7.3/10 | 4/5 |
| | 7/10 | 4.3/5 |
| | 6.7/10 | 3.9/5 |
| | 5.7/10 | 3.3/5 |
Bottom line: Bellhop Movers is the best long-distance mover overall. Customer reviews on verified sites like Trustpilot are mostly positive (4.5 out of 5 stars, on average).[1] People say it's easy to book a move with Bellhop and the movers are friendly. The company provides special online coupons. And it has transparent seasonal booking that lets you see the cheapest moving dates.
Other national long distance movers, like Two Men and a Truck and Mayflower, are close runners-up. These companies have a reputation for professional service, but you might not be able to save as much.
Colonial Van Lines is ranked lowest on our list because it had the highest number of complaints. But it does have broad national coverage and over 50 years of moving experience.
1. Bellhop Movers
Avg. customer rating
4.5/5
Bellhop Movers is our top pick because it gets consistently great customer reviews. Booking with Bellhop is easy. And Bellhop prices are more transparent than other movers. The company website shows the cheapest dates to move. And Bellhop scans your unique QR code at the beginning and end of your move so labor costs don't get rounded up.
The only downside we see with Bellhops is it doesn't offer additional services you'll get from a lot of other moving companies, like furniture assembly or storage. If you need these extras, Allied Van Lines is probably a better choice.
2. Two Men and a Truck
46 states (not available in Alaska, Hawaii, New Hampshire or West Viginia)
Two Men and a Truck is a popular domestic mover with full-service, long-distance moving options. The company gets strong reviews. Customers say the service is fast, professional, and friendly.
A member of the Home Bay team recently used Two Men and a Truck for a long-distance move. He found that the cost was similar to the quotes he got from other companies. And the company did a good job handling his move. The quote was accurate, the movers were on time, and nothing broke.
Some Two Men and a Truck reviews mention that the company generally doesn't move valuable specialty-items. So you'll either have to take care of these yourself, or choose another moving service.
3. Mayflower Moving
Avg. customer rating
4.3/5
46 states (not available in Delaware, Hawaii, Rhode Island or West Virginia)
True to its name, Mayflower Moving is one of the oldest moving companies in the U.S. It's been in business for over 90 years. We found that Mayflower doesn't really help you save money. The rates are close to national averages. But the company offers everything from debris removal to car shipping.
Customer reviews for Mayflower moving are pretty positive. There were a few formal loss and damage complaints.[2] But the number of complaints was small, considering how many moves Mayflower completes every year.
4. Allied Van Lines
Avg. customer rating
3.9/5
Available in all 50 states and Washington, D.C.
Allied Van Lines is an award-winning moving company with some mixed customer reviews. It offers full-service long-distance moves, with storage, packing, and furniture assembly options. Because of the wide range of reviews we found in our full review, we recommend looking at the review for your Allied location.
Every quote with Allied Van Lines comes directly from a representative. So we bet the quotes are more accurate than instant quotes other carriers give out online. But it might take a bit longer to get your quote.
5. Colonial Van Lines
Avg. customer rating
3.3/5
48 states (not available in Hawaii and Alaska)
Colonial Van Lines offers full-service long-distance moves, both residential and commercial. It's last on our list because of the unusually high number of customer complaints on credible sites like the Better Business Bureau. [3] We're not confident that you'll have a great experience with Colonial Van Lines.
But if you need storage at some point during your move, Colonial might be a good option. The company has its own secure facilities throughout the country for long- or short-term storage, including climate-controlled units.
Warning: Always Check Out Your Local Location
Big moving brands might have great reviews and reputations, but that doesn't mean the location near you is great. For example, Two Men and Truck is a pretty good mover overall, but we found a few locations with a poor track record.
Check out reviews for long-distance movers and packers in your town or city. Look at third-party sites like Google Reviews, Yelp, and Better Business Bureau. You can also call the location to get a quote to see if it's a good fit for you.
You can learn more about your rights as a mover and how to protect yourself when you move. Check out the Federal Motor Carrier Safety Administration's (FMCSA) guide: Rights and Responsibilities When You Move.
How We Chose
For each long distance mover on our list, we looked at three criteria:
Value: How do the costs compare to similar brands? Are there any unusual fees?
Customer experience: What's the average review rating on third-party sites like the Better Business Bureau? What are the common positive or negative themes from customer reviews?
Credibility: Is the company registered with the U.S. Department of Transportation? Does the company have active insurance? Are there any red flags (lots of crashes, damaged reports, etc.)?
We used this information to assign a score out of ten for each category, which we averaged into an overall score.
Learn more about Home Bay's editorial policy.
» READ: Our full methodology (coming soon!)
FAQ
Here are the best long-distance moving companies in the US, according to our research:
Bellhop Movers
Two Men and a Truck
Mayflower Moving
Allied Van Lines
Colonial Van Lines
Check out our full list to learn more.
To figure out who has the best prices on long-distance moving, you should request quotes from multiple long-distance movers in your area.
The best way to move long distance is to hire a full-service moving company that specializes in long-distance moving. A mover has experience and expertise that will save you a lot of stress and time — even if it costs a bit more money.
Sources
ARTICLE SOURCES
[2]
Federal Motor Carrier Safety Administration. "FMSCA Database." Accessed January 12, 2023.
Related Reading
Interested in buying or selling?
We've improved the traditional real estate model with modern technology to cut costs, not quality.
Get started today
Posted in Moving