Best long-distance moving companies | Consumer warning | How we chose | FAQ
When you click a link on this page, we may earn a small commission. But our reviews are based on objective research.
Why trust us?
We reviewed 20 of the best long-distance movers and narrowed the list down to the top 5 based on the criteria below. Our team also contacted and requested quotes from each company. This guide breaks down each company's pricing, customer reviews, and damage claims.
💡
We recommend talking to an expert
. An expert can connect you with the best national moving companies (and rates!) for your move.
Talk to a moving expert today!
Bottom line: Bellhop Movers is the best long-distance mover overall. Customer reviews on verified sites like Trustpilot are mostly positive (4.5 out of 5 stars, on average).[1] People say it's easy to book a move with Bellhop and the movers are friendly. The company provides special online coupons. And it has transparent seasonal booking that lets you see the cheapest moving dates.
Other national long-distance movers, like Two Men and a Truck and Mayflower, are close runners-up. These companies have a reputation for professional service, but you might not be able to save as much.
🥇 Best overall
Bellhop Movers
Learn More
Best for
Most long-distance moves
Availability
25 states, DC
Years in Business
12 years
Overview
Locations
Contact info
Bellhop Movers is a modern moving company that offer local and long-distance moves in 25 states and Washington, DC. It has great customer reviews and transparent prices. And it uses online booking and payment via QR code.
AL, AZ, CA, CO, DE, FL, GA, IL, IN, KS, MD, MA, MI, MN, MS, NV, NY, NC, OH, OR, PA, TN, TX, VA, WA, DC
Bellhop Movers is our top pick because it gets consistently great customer reviews. Booking with Bellhop is easy. And Bellhop prices are more transparent than other movers. The company website shows the cheapest dates to move. And Bellhop scans your unique QR code at the beginning and end of your move so labor costs don't get rounded up.
The only downside we see with Bellhops is it doesn't offer additional services you'll get from a lot of other moving companies, like furniture assembly or storage. If you need these extras, Allied Van Lines is probably a better choice.
Two Men and a Truck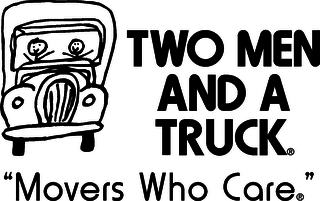 Learn More
Best for
Moving basic items
Years in Business
38 years
Overview
Locations
Contact info
Two Men and a Truck is a full-service moving company that operates nationwide. The company specializes in local moves, but it also offers long-distance moves, junk removal, and storage.
AL, AZ, AK, CA, CO, CT, DE, FL, GA, ID, IL, IN, IA, KS, KY, LA, MA, MI, MN, MO, MS, NE, NV, NJ, NM, NY, NC, ND, OH, OK, OR, PA, RI, SC, SD, SN, TX, UT, VT, VA, WA, WI, and WY
Two Men and a Truck is a popular domestic mover with full-service, long-distance moving options. The company gets strong reviews. Customers say the service is fast, professional, and friendly.
A member of the Home Bay team recently used Two Men and a Truck for a long-distance move. He found that the cost was similar to the quotes he got from other companies. And the company did a good job handling his move. The quote was accurate, the movers were on time, and nothing broke.
Some Two Men and a Truck reviews mention that the company generally doesn't move valuable specialty-items. So you'll either have to take care of these yourself, or choose another moving service.
Mayflower Moving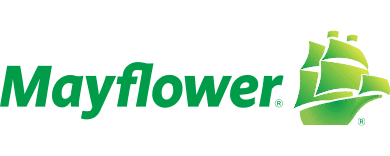 Learn More
Years in Business
96 years
Overview
Locations
Contact info
Mayflower Transit, or Mayflower Moving, has been moving people for more than 90 years. It currently offers local, long-distance, and even international moving services.
Mayflower operates in 32 states, but it has partners in all 50.
True to its name, Mayflower Moving is one of the oldest moving companies in the U.S. It's been in business for over 90 years. We found that Mayflower doesn't really help you save money. Its average cost to move a two-bedroom apartment across the country is $8,500. The rates are close to national averages. But the company offers everything from debris removal to car shipping.
Customer reviews for Mayflower moving are pretty positive. There were a few formal loss and damage complaints.[2] But the number of complaints was small, considering how many moves Mayflower completes every year.
Allied Van Lines

Learn More
Years in Business
95 years
Overview
Locations
Contact info
Allied Van Lines is an Illinois-based moving service that offers local and long-distance services nationally and internationally. This large, well-known company has been around since 1928.
Allied Van Lines is an award-winning moving company with some mixed customer reviews. It offers full-service long-distance moves, with storage, packing, and furniture assembly options. Because of the wide range of reviews we found in our full review, we recommend looking at the review for your Allied location.
The average moving cost based on the quote the company gave us is $5,250.
Every quote with Allied Van Lines comes directly from a representative. So we bet the quotes are more accurate than instant quotes other carriers give out online. But it might take a bit longer to get your quote.
Colonial Van Lines

Learn More
Overview
Locations
Contact info
Colonial Van Lines has helped people move throughout the country for over 50 years. It's a large company with tailored moving services. But it does have a fair amount of customer complaints, including not delivering items.
Every state but Alaska and Hawaii.
Colonial Van Lines is a long-distance moving company that operates throughout the continental United States. This large company has been around for over 20 years and handles more than 12,000 moves each year. Based on the quote the company gave us for a two-bedroom home, the prices are reasonable. The average cost for that quote was $5,250.

But Colonial gets more negative reviews and formal complaints than other big moving companies. And it doesn't offer enough value for us to look past those problems, which is why it's the last on our list.
Long-distance moving costs
A long-distance move costs $1,900–3,100, based on quotes we received from the best long-distance movers. But that's probably a low estimate if you're moving really far away. The cost will depend on your move distance, how much stuff you have, and the services you need.
Estimated long-distance moving costs by home size
| Bedrooms | Estimated Price |
| --- | --- |
| 1 | $700–3,000 |
| 2 | $2,000–7,000 |
| 3+ | $4,000–10,000+ |
Data from HomeAdvisor
[3]
The best way to estimate the cost of your long-distance move is to contact a moving company and request a quote. Without the exact details of your move and an inventory of your household goods, it's difficult for a moving company to give you an accurate estimate.
Warning: always check out your local location
Big moving brands might have great reviews and reputations, but that doesn't mean the location near you is great. For example, Two Men and Truck is a pretty good mover overall, but we found a few locations with a poor track record.
Check out reviews for long-distance movers and packers in your town or city. Look at third-party sites like Google Reviews, Yelp, and Better Business Bureau. You can also call the location to get a quote to see if it's a good fit for you.
You can learn more about your rights as a mover and how to protect yourself when you move. Check out the Federal Motor Carrier Safety Administration's (FMCSA) guide: Rights and Responsibilities When You Move.
🚚 Get Matched With Legit Movers Today
We'll help you find top moving companies and get fair rates — for free!
Pros and cons of hiring a long-distance mover
Pros
Less physical work and lifting

Professional packing (better security for belongings)

Professional truck driving (especially important if you don't have experience driving a big vehicle)

Better moving insurance options

Less money spent on packing supplies, gas, etc.
Cons
Typically more expensive

Less flexible moving schedules

Less control

Potential loss or damage to items
Long-distance moving alternatives
If you don't want to hire a full-service mover for your long-distance move, there are other options.
Rent a container
Companies like U-Pack and 1-800-Pack-Rat rent out and transport containers that you can pack yourself. Container rentals are a great option if you want to save money and don't want to drive a big truck across the country.
Rent a truck
You can rent a moving truck from a company like U-Haul or Penske. You'll have to load it yourself and pay for gas and tolls, but it can save you money.
If you want to rent a truck and drive it yourself but don't want to deal with packing or loading, you can hire a labor-only moving company like Simple Moving Labor to handle it.
How we chose
We researched dozens of moving companies to find the best long-distance movers. We evaluated each company based on value, customer experience, credibility, and availability. Then we created our list of the best long-distance moving companies.
Value
Our question: Is this moving company worth it?
Our analysis:
We got a quote from each moving company.
We compared that quote with national average costs and local averages.
We examined which services the company included in the quote.
Customer Experience
Our question: What's the common user experience for this service?
Our analysis:
We checked review sites like Yelp, Trustpilot, and Google.
We had conversations with actual customers.
Credibility
Our question: Is this company a legitimate business?
Our analysis:
We looked at U.S. Department of Transportation records to check each company's insurance and licensing.
We checked for Better Business Bureau accreditation and complaints.
Availability
Our question: How bookable is this moving service?
Our analysis:
We asked representatives how soon the company can accommodate a move.
We looked at U.S. Department of Transportation records to find each company's fleet size and number of drivers.
Next step: compare your options
We recommend comparing at least two quotes from different companies before you book a long-distance move. Make sure you include variables like fuel surcharges, mileage rates, and truck fees. Comparison shopping could save hundreds (maybe even thousands) of dollars.
Contact any of the companies on our list for a quick quote. Or you could work with Clever Move to quickly get quotes and expert support for your next move.
About the author
Andrew Whytock is a writer and Content Team Lead at Clever Real Estate, the nation's leading real estate education platform for buyers and sellers. He has researched hundreds of moving companies, interviewed experts, and compiled dozens of moving guides to help people make the right choice for their next move.
Andrew completed two long-distance moves himself with nothing but a U-Haul truck and sheer determination. He knows how hard and complicated moving can be, and is determined to make it as easy as possible for others.
FAQ
Who has the best prices on long-distance moving?
To figure out who has the best prices on long-distance moving, you should request quotes from multiple long-distance movers in your area. In general, each move is priced based on factors like the weight of your items, the distance of your move, and the date of your move.
What is the best way to move long-distance?
The best way to move long distance is to hire a full-service moving company that specializes in long-distance moving. A mover has experience and expertise that will save you a lot of stress and time — even if it costs a bit more money.
Sources
Related reading