Centurion Moving & Storage: 2023 Review
Posted on January 16th, 2023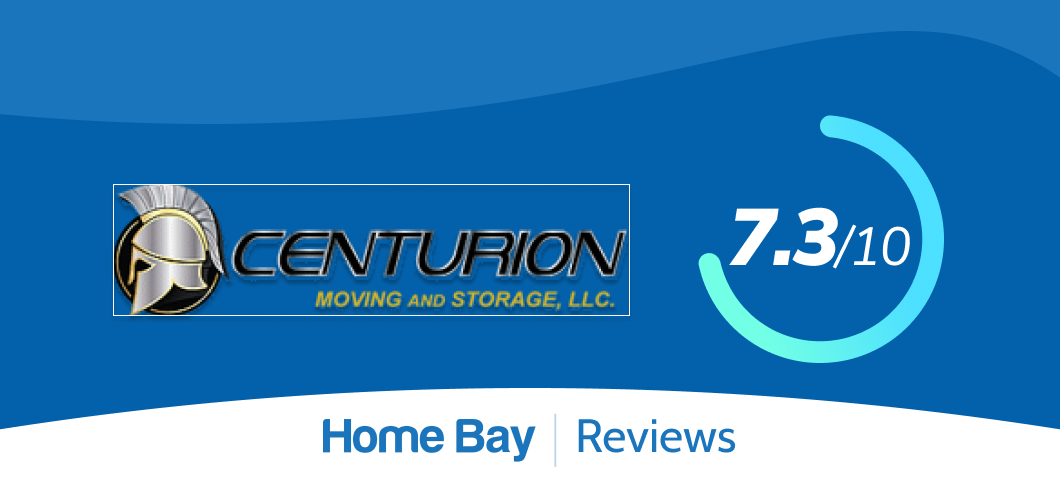 Value | Customer Experience | Credibility | About Centurion Moving & Storage | How We Researched | FAQ
When you work with one of our affiliate partners, we may earn a small commission. However, our reviews are based on objective, independent
research
.
Centurion Moving & Storage is a domestic and business moving company in the Kansas City area. It offers full-service local and long-distance moves, as well as storage and packing.
Overall Score: 7.3/10
Value: 7/10 — Centurion's full-service moves cost more than labor-only companies. But customers still say it has fair pricing.
Customer experience: 7/10 — Centurion doesn't have many reviews, but the majority of customers appear to be satisfied with the service.
Credibility: 8/10 — Both Centurion and its partner, Atlas Van Lines, have all the usual licensing and insurance, along with satisfactory safety records.
Bottom line: Based on its positive reviews, we recommend Centurion Moving & Storage for local moves in the Kansas City area. It can be a good option for long-distance moves, too. You'll end up working with Centurion's affiliate Atlas Van Lines, which also looks legit
🚚
Ready to get moving?
Talk to a moving expert, get personalized recommendations and the most competitive rates. It's 100% free, with no obligation.
Get started
.
Centurion Moving & Storage: In-Depth Breakdown
Value
📊
Our rating: 7/10
Fair rates
Full-service moves
No labor-only moving option
Centurion Moving & Storage doesn't have many discounts. But it reportedly has very competitive pricing.
We're working on getting a quote from Centurion. But we can tell you that quite a few customer reviews praise Centurion's pricing. So we expect Centurion's rates will be close to the national average ($900 to $2,500 for a local move, based on HomeAdvisor data). Request a free quote to know exactly how much your move will cost.
Centurion sticks to full-service moving. That means the movers take care of more of the work for you, but it will cost more than a labor-only mover. If you'd rather save with a labor-only move, we recommend Two Men and a Truck.
⚡
Quick tip:
Moving quotes are usually case specific, so what you see advertised on company websites isn't always what you get.
Get a free quote today!
Customer Experience
📊
Our rating: 7/10
Positive customer reviews with high ratings
Professionalism, easy booking, and fast service
Few negative reviews
Centurion's reviews all suggest that the company offers a decent customer experience.
Centurion Moving earns a 4.7 out of 5 stars on Google and a 4.6 on HomeAdvisor. There were only around 100 reviews across those sites, which isn't many. Most moving companies have several hundred reviews at least.
Positive reviews say that Centurion has fair pricing and makes it easy to book a move. Plus, customers say Centurion Moving & Storage movers are polite, careful, and quick.
There were very few negative reviews. Over half of those came from people who didn't use Centurion because they didn't like the quote or the timeline. The other complaints were mostly about damage, which is typical for moving reviews.
Credibility
📊
Our rating: 8/10
Proper license and insurance
Credible partner for long-distance moves
Few formal complaints
Centurion Moving meets all the usual industry standards for licensing, insurance, and safety.
Centurion has authorization for local moves through the Missouri Department of Transportation.
For interstate moves, Centurion Moving & Storage partners with Atlas Van Lines. Atlas has active insurance and licensing, as well as a satisfactory safety history, according to the U.S. Department of Transportation's (U.S. DOT) database. It does get a dozen or so consumer complaints each year ― but that's not bad for a moving company of its size. Most large moving companies get way more complaints.
About Centurion Moving & Storage
Centurion Moving & Storage is based in Kansas City, Missouri, and serves the metro area in both Kansas and Missouri. Centurion is an Atlas agent, and it partners with Atlas for interstate moves.
Centurion Moving & Storage Kansas City, MO, is not the same moving company as Centurion, LLC.
| | |
| --- | --- |
| Headquarters | Kansas City, MO |
| Website | |
| U.S. DOT # | 125550 (for interstate moves with Atlas) |
| Speciality | Local moves |
How We Researched
We looked at databases from the U.S. DOT and the Missouri DOT to check out Centurion Moving & Storage and its affiliate, Atlas Van Lines. We checked the companies' licensing, insurance, and safety information. Then we read verified customer reviews for Centurion on third-party sites.
Learn more about Home Bay's editorial policy.
FAQ
Centurion Moving & Storage offers services like full-service moving, packing, storage, and auto transport in Overland Park and other parts of the Kansas City metro area. Read our full review of Centurion.
Centurion Moving & Storage movers earn mostly positive reviews, with over 4.5 stars on Google. Customers say it has respectful and professional movers. Read our full review of Centurion.
Related Reading
Interested in buying or selling?
We've improved the traditional real estate model with modern technology to cut costs, not quality.
Get started today
Posted in Moving