JK Moving: 2023 Review
Posted on January 16th, 2023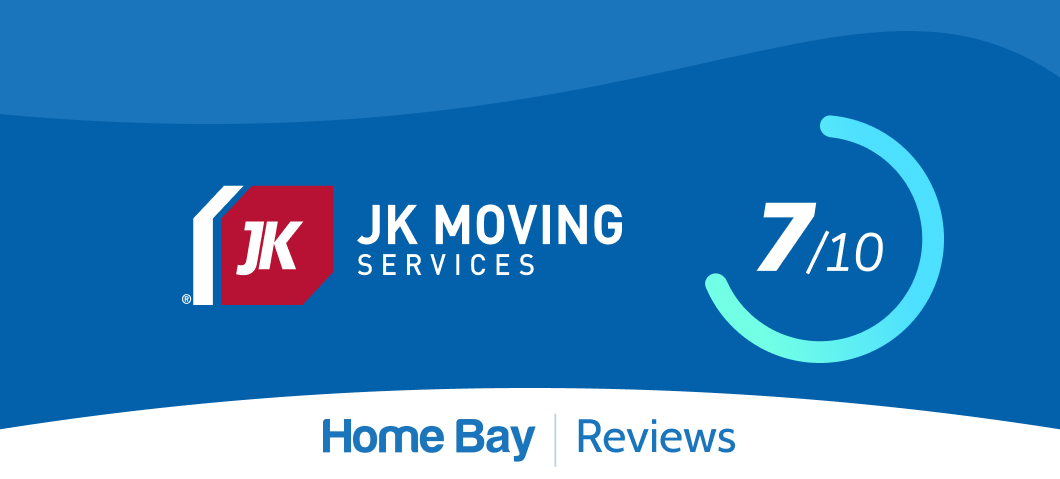 Value | Customer Experience | Credibility | About JK Moving | How We Researched | FAQ
When you work with one of our affiliate partners, we may earn a small commission. However, our reviews are based on objective, independent
research
.
JK Moving Services is a full-service moving company that's been around for over 40 years. It offers local moves in Maryland, Virginia, and DC. The company also handles long-distance and international moves through its partners. JK Moving's services include residential and commercial moving, as well as storage.
Overall Score: 7/10
Value: 6/10 — JK Moving costs more than the competition, but the higher cost should get you well-trained movers and better customer support.
Customer experience: 7/10 — Most customers say good things about JK Moving. Still, some people report poor service despite the premium prices.
Credibility: 8/10 — JK Moving has current licensing and insurance. We didn't see any big safety issues, though it does have more crashes than some movers.
Bottom line: If you want a premium moving experience in the DC area and you're willing to pay for it, JK Moving is a fair choice. You may not get perfect service, but JK will probably treat your stuff better than many other movers would.
🚚
Ready to get moving?
Talk to a moving expert, get personalized recommendations and the most competitive rates. It's 100% free, with no obligation.
Get started
.
JK Moving Services vs. The Competition
| | JK Moving | Mayflower Movers | Mighty Movers |
| --- | --- | --- | --- |
| Overall score | 7 | 7 | 7.3 |
| Value | 6 | 6 | 7 |
| Customer experience | 7 | 7 | 6 |
| Credibility | 8 | 8 | 9 |
JK Moving is the best bet if your priority is to keep your things safe no matter the cost. It may get average customer reviews overall, but we saw very few damage complaints.
If cost matters more to you, Mayflower Movers will likely get you a better deal on long-distance moves. For local moves in Virginia and Maryland, Mighty Movers is more affordable than JK Moving and even offers discounts and labor-only options.
JK Moving In-Depth Breakdown
Value
📊
Our rating: 6/10
Higher cost than most movers
No special discounts
Perks like 24/7 customer service and professional-trained movers
JK Moving charges above-average rates for its moves, but it promises above-average service in return.
We're still waiting on a quote from JK Moving soon. But customers (even the happy ones) say that it's pricey. We also haven't seen any coupons, discounts, freebies, or other ways to save. If you plan on using JK residential moving, you should probably budget more than the average cost of a local move — $1,700, according to HomeAdvisor.
But for the higher price, JK move gets you 24/7 customer service and professional movers. Those are great perks. But they might not be good enough perks to justify the high cost of a JK move for most people.
For a more budget-friendly option, consider a labor-only move with Two Men and a Truck.
⚡️
Quick tip:
Moving quotes are usually case specific, so what you see advertised on company websites isn't always what you get.
Get a free quote today!
Customer Experience
📊
Our rating: 7/10
Good customer reviews overall that report exceptional service from customers
Some complaints that the prices are too high
JK Moving gets better customer reviews than many moving companies, but some customers still say it's not worth the high cost.
Most of the positive reviews are on Angi and Google, earning more than 4 out of 5 stars on those sites. It earns worse reviews on Yelp, with a 2.5 out of 5 average rating.
The good JK movers reviews say that getting a quote was easy and that JK offers exceptional service. Many reviewers reported careful packing and loading, as well as great customer support.
JK has a couple of damage complaints, but far fewer than most companies we've reviewed.
Some people complained that JK Moving charges premium prices for less-than-premium services. For example, several customers said JK movers put all the boxes in the garage instead of the house. Others said that JK movers wouldn't move treadmills even after they said they would.
Credibility
📊
Our rating: 8/10
Proper license and insurance
Few formal complaints
More crashes on record than other companies we've reviewed
JK Moving is a legitimate moving company with current licensing and insurance, according to U.S. Department of Transportation's records.
U.S. DOT records show only two or three formal complaints against JK Moving per year. That's pretty good. Most large interstate movers like Mayflower Moving earn more than a dozen complaints per year.
But JK Moving has had more crashes in the past two years than most moving companies we have reviewed. It's hard to tell how concerning this should be, because we don't know who is at fault in these accidents. The crashes may say more about the area JK serves than about JK movers. Customer reviews don't show an unusual number of damage complaints, so the crashes might be minor.
About JK Moving Services
JK Moving Services is a residential and commercial moving company. It offers local moving services in Maryland, Virginia, and DC. JK Moving also handles national and international moves through partner carriers.
How We Researched
For our JK Moving Services review, we examined U.S. DOT records to find data on safety, licensing, insurance, and formal complaints. We also dug up JK Moving reviews from customers, looking at ratings for JK's different locations. Then we compared that data about JK to the info we've collected on dozens of other moving companies.
Learn more about Home Bay's editorial policy.
FAQ
Related Reading
Interested in buying or selling?
We've improved the traditional real estate model with modern technology to cut costs, not quality.
Get started today
Posted in Moving