Meathead Movers of California: Review, Pricing, and Credibility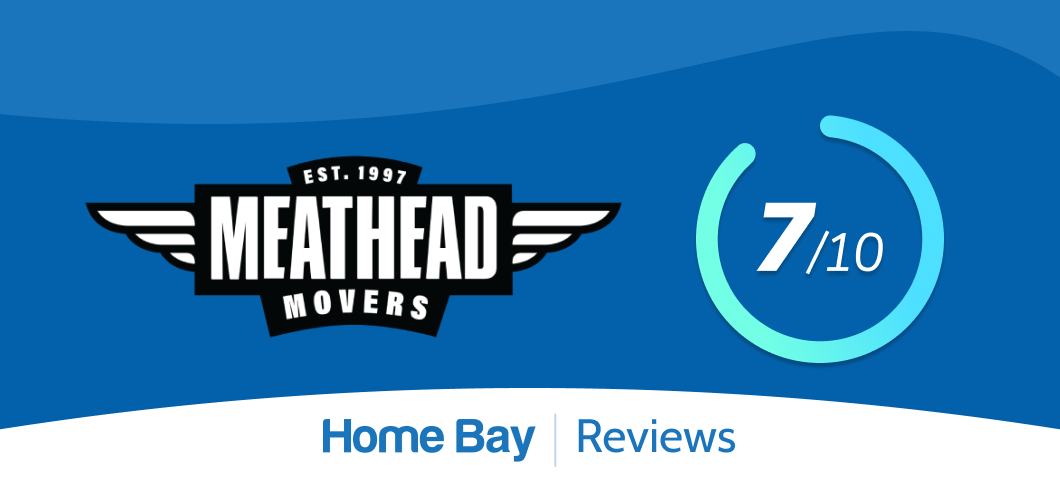 Value | Customer Experience | Credibility | About Meathead Movers | How We Researched | FAQ
When you work with one of our affiliate partners, we may earn a small commission. However, our reviews are based on independent research. Learn more about why you should trust us.
Meathead Movers is a residential and commercial moving company with a storage facility at its headquarters in San Luis Obispo, California. Meathead offers local and long-distance services, including cross-country moves.
Overall Score: 7/10
Value: 6/10 — Meathead Movers has pricing a bit above the standard moving prices in California.
Customer experience: 7/10 — Customer reviews don't show any unusual complaints. Your experience will depend on the services you request.
Credibility: 8/10 — Meathead Movers's registration and insurance are in order. We didn't find any accidents or major complaints from the last few years.
Bottom line: Meathead Movers is a solid option for full-service moves in California. They may cost a bit more than the competition, but they also offer premium services.
However, every move has different needs, so make sure to get a personalized quote and recommendations. We recommend talking to a moving expert when you're trying to find the best moving company for you. They can recommend companies that best fit your needs and service requests, and they might be able to get you insider rates.
🚚 Ready to get moving? Talk to a moving expert, get personalized recommendations and the most competitive rates. It's 100% free, with no obligation. Get started!
Meathead Movers: In-depth Breakdown
Value
📊 Our rating: 6/10
Prices are typical for moves within California ($400—$4,000)
Added services and perks like personal concierge are unique
We weren't able to get a quote from Meathead Movers yet. But based on our research, the pricing is a little above typical moving prices in California.
California moving prices range from about $400 for a studio apartment to $4,000 for a five-bedroom home. Your moving costs will depend on the location, services required, and timeline.
Meathead Movers also offers a premium moving experience with a personal concierge to help coordinate with other service providers, like house cleaners, childcare providers, debris removal, and more.
You can call or request a personalized quote online to find out exactly how much Meathead Movers will charge for your move.
⚡️ Quick tip: Moving quotes are usually case specific, so what you see advertised on company websites isn't always what you get. View local quotes today!
Customer Experience
📊 Our rating: 7/10
Above average rating, based on positive customer reviews
Customers noticed professionalism and efficiency
Customer feedback shows that Meathead Movers offers an above average moving experience. We found seven locations on Yelp, each with at least 4 out of 5 stars. Positive reviews praised professionalism, efficiency, and service.
We did see some negative reviews with one-star ratings, but we didn't see any usual or concerning comments. The reviewers reported higher-than-expected prices, damaged items getting damaged, and poor communication. These are all pretty common complaints for moving companies.
Credibility
📊 Our rating: 8/10
Company is actively registered and insured
Zero formal complaints or accidents, according to D.O.T. records
A+ rating with the Better Business Bureau
Meathead Movers company is registered with the U.S. Department of Transportation (U.S. DOT) and has active insurance.
Although Meathead Movers hasn't had any formal complaints or accidents in the past few years, according to U.S. DOT records.
The Better Business Bureau (BBB) gives Meathead Movers an A+ rating, and customer reviews on the site give the moving company a 4.78 out of 5 stars. There were a few complaints filed with BBB, but nothing out of the ordinary for a moving company.
About Meathead Movers
Meathead Movers is an independent moving company based in California, with six offices within the state in San Luis Obispo, Oxnard, Santa Ana, Fresno, Bakersfield, and Temecula. The company employs college student athletes and has a fleet of over 100 vehicles and three mini storage facilities.
How We Researched
We analyzed customer reviews on Yelp and the Better Business Bureau and reviewed DOT safety and compliance records, along with other public information for Meathead Movers. We also evaluated average moving costs in California from MoveBuddah and compared them to Meathead's.
Learn more about Home Bay's editorial policy.
FAQ
A move with Meathead Movers may cost a bit more than other major moving companies in the California market. You can get an exact quote by calling Meathead Movers or making a request on the website.
Meathead Movers is headquartered in San Luis Obispo, California. There are also Meathead Movers locations in Fresno, Bakersfield, Oxnard, Santa Ana, and Temecula.
Related Reading
Interested in buying or selling?
We've improved the traditional real estate model with modern technology to cut costs, not quality.
Get started today
Posted in Moving