Moving insurance can help you recoup some or all of the cost if a moving company damages your goods. But recovering that cost isn't a sure thing.
The reimbursement you get will depend on the type of moving insurance coverage you select, and how well you can prove the items' value.
If you're moving on your own (without the help of a mover), you'll have limited coverage options. But in rare cases you might be able to use your homeowner's or renter's policy.
Moving experts recommend contacting the moving insurance company (yours or your mover's) to verify your coverage options.
Take pictures of your items before you pack to increase your chances of getting at least some of your items covered if they get damaged during the move.
In this article:
💡 Key takeaways
Moving insurance is a good idea if you're moving long distance, since there's a greater chance of items being damaged.
You automatically get released value protection for free if you hire a mover. But it'll probably only get you a few dollars back if something breaks or gets lost.
The best option for moving insurance is usually full valuation protection through a moving company. It gives you the best chance of getting some compensation if your goods are damaged — but it costs extra.
Insurance costs depend on the insurer and the overall value of your goods.
Get help from a moving expert 🚚
Get trusted moving company recommendations and fair prices with Clever Move. It's 100% free and there's no obligation.
Do I need moving insurance?
If you're moving a long distance or have valuable items, you probably want to buy moving insurance. The basic coverage that you get from your mover for free usually isn't enough to replace valuable items.
Long-distance moves
Tywanquila Walker, a moving expert and author who we interviewed, recommends purchasing moving insurance if you're crossing state lines, "Just buy the insurance, and if something goes wrong, you can use it."
It's pretty common for things to get broken when you hire a moving company. According to our survey, 49% of people who hired a mover in 2022 reported broken items.
Valuable items
The most important consideration when deciding whether or not to purchase moving insurance is the value of the items you're moving. Is there anything going onto the moving truck that you wouldn't want to pay out-of-pocket to replace? If there is, purchasing insurance is a good idea.
Insurance might be less of a concern for local moves, since the goods don't have to be transported as far. But your movers could easily damage something while they're loading or unloading it. So if you don't get insurance for a local move, you should transport your most valuable items yourself.
Types of moving insurance
When you book a move with a professional moving company, you'll be offered two types of coverage:
Released value protection (RVP) — A free policy that every moving company offers. It only covers $0.60 per pound per item.
Full valuation protection (FVP) — A paid policy your mover can sell from a third-party insurance provider. Under this policy, the mover will repair, replace, or give you the cash value of lost or damaged goods.
Some homeowners' and renters' insurance policies offer coverage for specific incidents while you're moving (like theft), but they're unlikely to cover everything.
Released value protection
✅ Best for: People who are moving a short distance or don't have very valuable items
🔍 Coverage: $0.60 per pound
Every legitimate moving company offers released value protection (RVP) at no cost when you hire them to move you. RVP automatically insures you for $0.60 per pound per item. You might get a few bucks back if something breaks, which isn't much for expensive items.
For example, If movers damage a brand new, $1,000 TV that only weighs 20 pounds, released value protection would only entitle you to $12 (20lbs. x $0.60).
If you have valuable items, you're better off opting for a full value protection plan.
Full value protection
✅ Best for: People who have expensive items with a clearly documented replacement value
🔍 Coverage: Full replacement value of your items (in most cases)
Full value protection (FVP) gives you coverage for the full value of your goods — but having FVP doesn't guarantee full compensation.
FVP entitles you to one of these options:
Repair
Replacement
Cash reimbursement for the value of the item
Typically, the insurance company or mover will assign a professional to assess the damage to the item (or they'll ask you to send pictures).
The company might decide that it'll cost less than you think to replace or fix the item. If you don't agree with the valuation, each company should have a process for you to appeal and resubmit your claim. Appealing can be time consuming, so if you're only missing out on a small amount, it may not be worth it.
You might not get the full dollar amount with FVP, but you'll get at least some reimbursement.
💡 It helps to take photos of the item's condition before the move, and let the movers pack it (to make sure the liability is on them).
Note: Movers are allowed to limit their liability for expensive items, so the full value of expensive goods like jewelry might not actually be covered.
Read the fine print in the specific full value protection policy the moving company offers you. The company might not provide the policy along with your quote, but you can ask who the insurance provider is to learn more. [1]
🚚 Get Matched With Legit Movers Today
We'll help you find top moving companies and get fair rates — for free!
Homeowners' or renters' insurance policies
Most homeowners' and renters' insurance policies won't cover your goods while they're in transit. In some cases, insurers cover specific "named perils" like theft or weather damage.[2] If the items weren't at your physical address at the time they were damaged, the insurance company might say they're not responsible.
Be proactive and contact your insurance company to ask about coverage. It's better to verify than find out you aren't covered after something's damaged.
Moving insurance cost
Moving insurance costs depend on how much your stuff is worth. Moving companies usually charge a percentage of the total value of the goods being transported. So the more valuable your stuff is, the more expensive moving insurance will be.
Most companies include a deductible in the price, which is the amount you have to pay before coverage kicks in. You can usually lower the deductible by buying a slightly more expensive plan.
When your mover gives you a detailed quote, you should be able to see the full value protection cost as a line item. There should also be a breakdown of the price for a variety of deductibles.
It'll probably look something like this: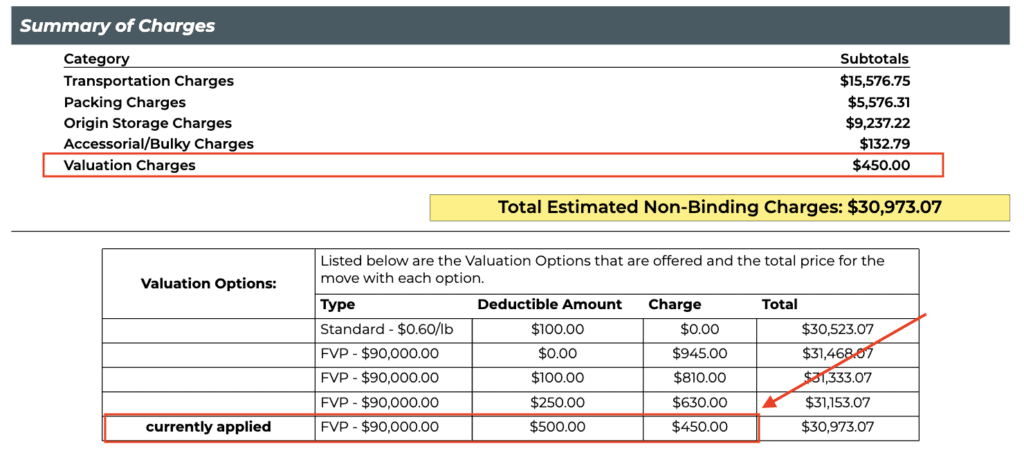 The best way to determine the cost of moving insurance is to compare quotes from two or three local movers that can assess the specifics of your move.
⚡️Get fair moving quotes today!
We'll help you get fair quotes from top movers — for free.
Should I use movinginsurance.com?
We recommend caution if you're purchasing coverage through movinginsurance.com — a popular website that you're likely to run into as you're researching moving insurance. The policies the site offers are expensive. And, based on customer reviews, most claims are unsuccessful.
When we submitted a request for a quote on movinginsurance.com, the site gave us an estimate of $440 for full coverage on a 100-mile move in California. Our goods were valued at $20,000, but there was a $1,000 deductible. That means we would have to spend $1,000 towards replacing damaged items before the coverage kicked in. That's more than twice the cost of the policy (see the screenshot below).

The highest deductible on the full value protection plan a moving company offered us (via its third-party insurer) was $500 — for goods valued at $90,000.
Movinginsurance.com reviews
We found lots of Google reviews from movinginsurance.com customers who complained about the service. Reviews from customers who purchased insurance and made claims tended to be negative. We noticed a similar pattern on the company's Better Business Bureau page. Some customers said they paid hundreds of dollars for insurance only to have no support or coverage when they needed to submit a claim.
Moving insurance tips
If you've hired a reliable moving service, hopefully, you won't have to file a claim for damaged goods. But it's better to be prepared just in case. Here are some things you can do to make sure you get most of your money back if your things don't make it to the destination safely.
Document everything.
Claims are more likely to be successful if they include pictures and receipts to show the item's original conditional and replacement value. Put all this documentation in a folder and keep it with you during the move so you don't risk it being damaged or lost along with the items.
Know the policy.
Read the fine print in the moving insurance policy. Look up exactly how far your coverage extends and what circumstances it covers.
Put smaller valuables in your car.
You can carefully pack and transport valuable items in your own vehicle. You can keep a better eye on your things if you transport them yourself, though you won't get much back if you damage your items during transit.
Don't pack things yourself.
If you aren't bringing valuable items with you in the car, let the professionals handle the packing. Then if your things get damaged and you have to make a claim for damaged goods, the mover will be held liable for the items its team packed.
Make a claim as soon as possible.
The faster you can file a claim and bring the issue to your mover's attention, the more likely you are to be compensated, according to moving expert Tywanquila Walker.
Why trust us?
Before writing this guide, we spoke to Tywanquila Walker, author of the Order Your Life Moving Guide, to learn more about how moving insurance claims work. We also read guidelines from the Federal Motor Carrier Safety Administration and requested quotes from over fifty moving companies to find out how policies and deductibles are typically listed when you book a move.
Related reading