Where Can I Throw Away a Couch?
Posted on October 31st, 2022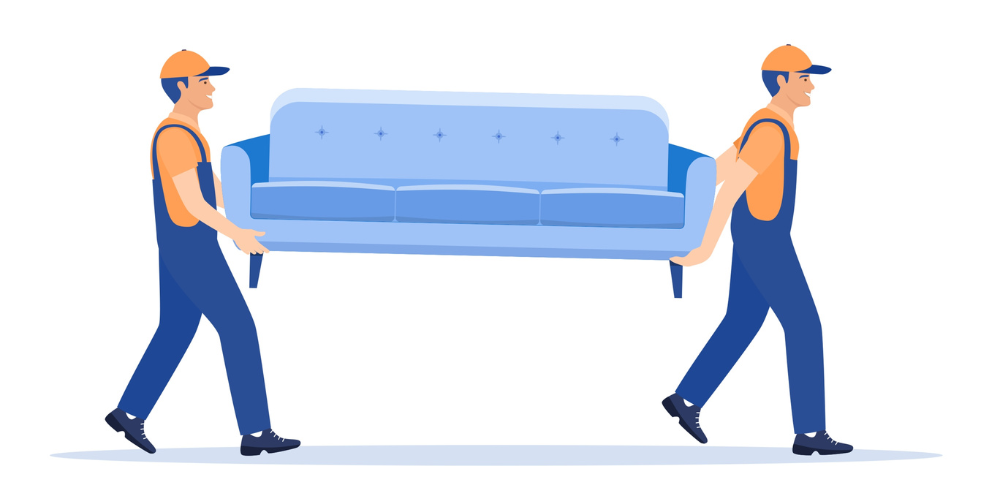 Getting rid of furniture can be tricky, especially when it comes to couches. With their size and shape, you can't exactly throw them in your garbage bin.
So, how do you throw away a couch? We found four ways:
🚚 Want help throwing away your old couch?
Allegiance Movers can help you skip the hassle of doing it on your own.
Request a quote now!
4 Ways to Throw Away a Couch
Ask Your Mover to Take It Away
🏆 Best For: Ease of Disposal
If you've already hired a moving company, ask if you can add on furniture disposal. Tons of moving companies offer junk removal services. You will have to pay an additional fee, but you'll likely find the extra cost worthwhile.
With furniture disposal, you can watch your old couch get carted off without lifting a finger. And you won't even have to shop around, because you'll be using the moving company you already booked.
Take the company Two Men and a Truck, for example. For a flat rate, their furniture removal service can help you throw away furniture (including couches). Two Men and a Truck will bring a special junk removal truck and load your couch in there. And you don't have to do any work yourself.
Ask your mover about adding this service when you book ― or whenever you realize you need to throw away furniture.
Call 1-800-Got-Junk
🏆 Best For: Same-Day Removal
Junk removal services, like 1-800-Got-Junk, can help you throw away furniture, appliances, exercise equipment, and more. They can definitely handle your sofa.
Just call and set up an appointment. Workers will drive a 1-800-Got-Junk truck to your house. They'll look at the couch you want to get rid of and give you an estimate for the removal cost. If the price sounds right, 1-800-Got-Junk will remove your item right away.
The best part? 1-800-Got-Junk offers same-day appointments, so you can throw away a couch ASAP. And of course, 1-800-Got-Junk will handle all the heavy lifting for you.
But 1-800-Got-Junk will cost you. You'll need to make an appointment for a free estimate for exact pricing on your sofa. Reviews suggest you can expect to pay somewhere in the neighborhood of $129 to $200. That cost makes 1-800-Got-Junk pricier than other methods.
Even with the extra cost, 1-800-Got-Junk is the fastest way to throw away a sofa, making it a great solution when you need to clear the house out right away.
Put It at the Curb
🏆 Best For: Cheap Disposal
In many municipalities and counties, you can get your waste services to throw away a sofa for you. That doesn't mean you just haul the couch to the curb on trash day, though.
Most trash services need a special pickup request for large items (like sofas). They might also have specific days scheduled for large item disposal. In Albuquerque, New Mexico, for instance, you have to schedule pickup at least 24 hours in advance. In nearby Rio Rancho, waste services pick up large items only on the first Saturday of the month ― and you still have to schedule it.
Where you live affects the cost too. In Albuquerque, you can get your old couch picked up for free. In Rio Rancho, you have to pay a fee around $30 for large item pickup. (That's still less than getting it hauled away by a junk company.)
Check with your local waste management group to find out how pricing and scheduling works in your area.
Keep in mind, too, that you'll have to get your old sofa from your house to the curb. That means more work for you. But still, getting a couch to a curb is easier than figuring out how to transport it to a dump yourself.
Donate It
🏆 Best For: Couches in Decent Shape
If your old couch still has some life in it, don't throw it away. Donate it!
Thrift stores (including Goodwill and Salvation Army) often accept used furniture. You get rid of your couch, it stays out of the landfill, and someone gets an affordable sofa. Win-win-win, right?
Drop off the old couch yourself if you can. If you don't have a truck, some thrift stores offer pickup for large pieces like sofas. Your local Goodwill, for example, may make house calls to pick up furniture.
Policies vary depending on your location and store. So call your local thrift store to find out if they accept couches and if you can schedule a pickup.
FAQs
To get rid of a couch, have movers take it, call a junk removal service, get your garbage company to take it, or donate it. Using your garbage company or donating your couch costs less than other options, but movers and junk removal companies work faster and save you more effort. Learn where you can throw away a couch.
Junk removal companies will pick up old furniture and take it away for a price. Your local Goodwill may come pick up your old furniture if you want to donate it. Learn where you can throw away a couch.
Related Reading
Interested in buying or selling?
We've improved the traditional real estate model with modern technology to cut costs, not quality.
Get started today
Posted in Selling a House