Bathroom Renovation DIY Projects That Will Save You Money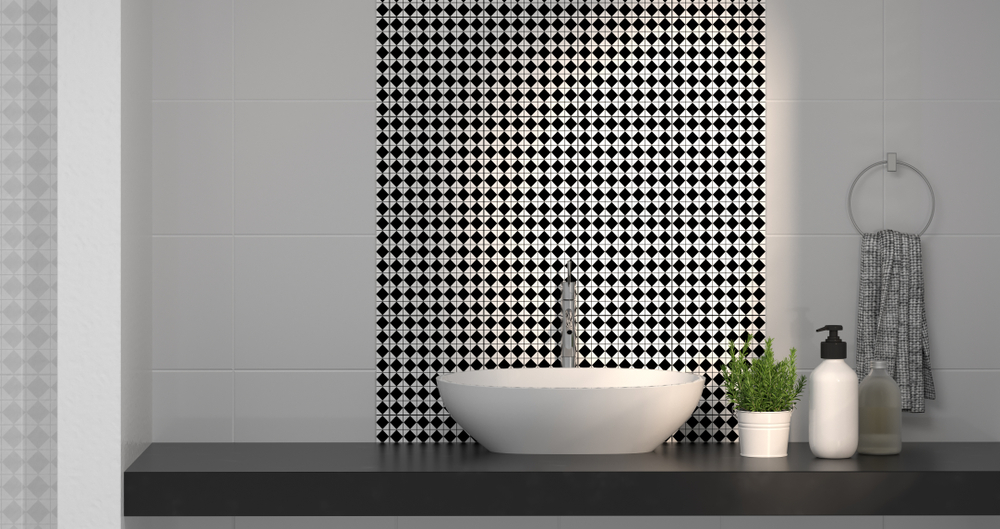 Disclaimer: We strive to provide objective, independent advice and reviews. When you decide to use a product or service we link to, we may earn a commission.
Is your bathroom in need of a makeover, but you don't have the cash for a major renovation. If so, read on for some great bathroom renovation ideas. With a free weekend, a few supplies, and a little sweat equity — you can repair, replace, and transform your way to a brand new (looking) bathroom in no time!
Quick Bathroom Repairs
Start off your renovation by fixing the little stuff:
Scrutinize your space and look for flaking paint, stubborn latches, nicks on the wall, or cracks at the top of your tub surround. Fix anything you find to give your room a more polished presence.
Look for cracked tile or grout and caulk it. Once your grout is looking like new, your counters will follow suit!
Turn on your light and look around. Does your room look yellow and dim? If so, consider a simple swap for better bulbs. This easy fix can make a tremendous difference in the look and feel of your space.
Things to Replace
Now it's time to identify some small substitutions that will really help modernize your space:
If your bathroom light fixture is dull — both in wattage and in personality — replace it with something new (or check second-hand stores for a gently used fixture that's new to you).
Do you have an old brass towel rack that doesn't match your style? Check the clearance section of your local home improvement store for an affordable replacement. Discount big box stores like Ross and Marshalls are also great places to bargain hunt for fixtures and decor.
Consider splurging on a new vanity. While their are bank-breaking options out there, affordable ones exist as well. In fact, most home improvement stores carry simple but stylish options for around a hundred bucks!
If you've got ugly tile — or worse, carpet — it's time for an intervention. But don't worry, replacing the flooring doesn't have to be a budget buster. Bathrooms don't have a lot of square footage and there are tons of great looking, low cost-per-square-foot tile or vinyl options out there.
Transformative Changes on the Cheap
Last but certainly not least, it's time to focus on little projects that make a big impact:
Paint! Paint is cheap, and your options are limitless. You can even do a fun accent wall or pattern if you're feeling extra ambitious. Whatever you do, paint is the perfect way to totally transform your space.
If your bathroom feels dated and you aren't sure why, turn your attention to your hardware. If your faucets, switch plates, and doorknobs are old or broken, spring for inexpensive but modern replacements to update your space!
Mirrors often serve as the visual focal point of a bathroom. If yours is boring, pick up a trendy replacement, and hang it on the wall for an instant spacelift!
Clutter can make any space look rough around the edges. If your bathroom suffers from chronic messy counters, use over-toilet storage or accent shelves with bins to give your stuff a less visible place to live.
Shower curtains are awesome, because they are affordable and swapping them out makes a huge difference in the overall look of your room. Pick a chic new design or color scheme that you love and design around it. Also, if you have an outdated glass shower, you can use a tension rod to cover it up with a nice shower curtain to give your bathroom a more modern and cohesive feel.
Now it's time for finishing touches! Hang a new set of towels and pick out a couple decor pieces that tie your room together!
Find help for your home projects at TaskRabbit.com
You don't have to spend a lot of money to rejuvenate a bathroom that has lost its luster, you just have to be willing to do a little work. Comparison shop until you find just what you want, and then sit back and enjoy your lovely new space!
Related Reading
Interested in buying or selling?
We've improved the traditional real estate model with modern technology to cut costs, not quality.
Get started today
Posted in DIY Home Projects, Home Improvement