Best Overall | Runner Up | A-Frame | Directional | Custom | Weatherproof | Light-Up | Budget | DIY | Car Mounted
A successful open house event can help you snag the perfect offer for your home – and the right open house sign can draw more buyers in for a closer look. While MLS listings, social media posts and newspaper ads are great marketing tools, open house signs bring you another audience of potential buyers – buyers who didn't know what they wanted until they drove by and saw it for sale.
Ultimately, more potential buyers might mean more offers, more competition, and (fingers crossed) more money in your pocket.
Whether you're looking for small, modest signs to put up around the neighborhood or a large, light-up, solar-powered eye catcher for your yard, the options are endless.
We've scoured the internet's thousands of customer reviews for the best open house signs for every situation based on features, durability, and price. Below, you'll find the top picks based on our research.
Expert Tip: When you work with a real estate agent, they'll typically handle the signage for you, or make advertising recommendations based on local experience. In fact, a real estate agent can handle a lot of the details for you when you sell your home.
🥇 Best Overall Open House Sign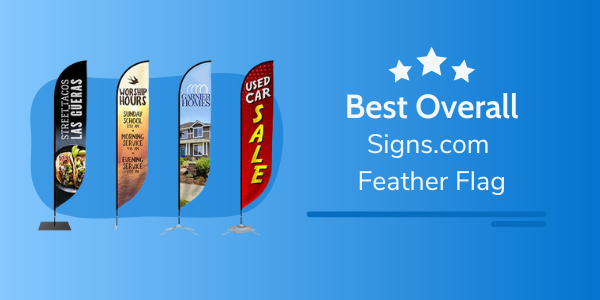 The feather flag from Signs.com is our best overall pick. It comes in four different sizes, it's customizable with your own artwork or templated design, and it can be double- or single-sided, depending on your preferences.
This feather flag open house sign is pricier than some, but over 90% of customers gave it a four- or five-star rating.
Buyers rave about its effectiveness, saying, "Exactly what we needed to grab the eye of the passer-bys!" Many reviewers also noted its high quality, sturdiness and accuracy of the printing. Others mentioned that the "customer service made it an excellent shopping experience."
🥈 Runner Up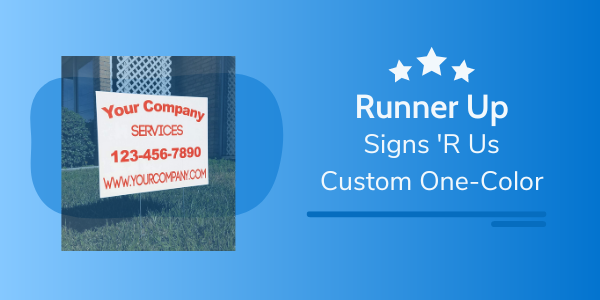 This custom one-color sign from Signs 'R Us is simple, affordable, and gets the job done. It's waterproof and printed with UV ink for longer-lasting colors. And it's one of the best open house signs available, according to reviewers.
"So far, I've had one outside for two weeks and I don't see any deterioration in the sign," one customer said. And another boasted, "The signs are amazing. The company does an amazing job and they look awesome. Very sturdy. I've ordered twice."
Best A-Frame Open House Sign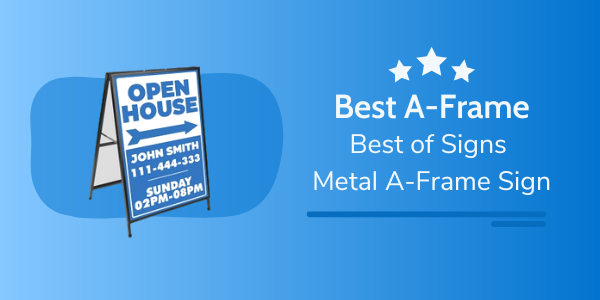 The metal A-frame sign from Best of Signs comes in at number three on our list thanks to its double-sided, full-color print and fade-resistant UV graphic display.
A-frame signs are extra convenient because you can set them up literally anywhere – no stakes necessary. With multiple points of contact, you can trust it to stay upright on its own.
Customers report receiving their "order in a very timely manner," and that the product is "very good quality." Keep in mind that a few customers noted delays in shipping, so leave yourself plenty of time for delivery.
Best Directional Open House Sign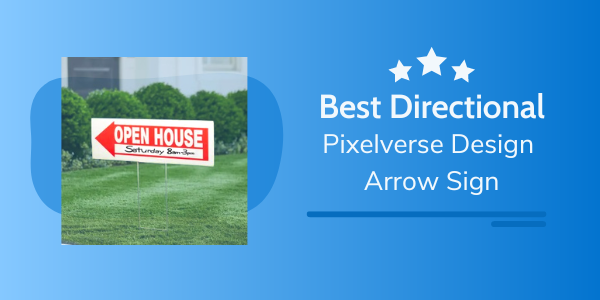 Pixelverse Design's directional open house sign is bold and easy to read, even from a distance. So if your for-sale home isn't in a high-traffic area, these signs can help guide interested buyers to your open house. Each sign also has space to write in your address or contact information so onlookers can find you easily.
The package, available on Amazon, includes one sign for your yard, four directional signs to place around the neighborhood and a sturdy stake stand for each.
Reviewers are pleasantly surprised by the durability of these signs, saying they were "easy to set up and withstood the crazy strong wind here in Denver." The premium quality material is wind, water, tear and UV resistant.
» Learn More: The Open House Checklist: 9 Success Tips for Sellers
Best Custom Open House Sign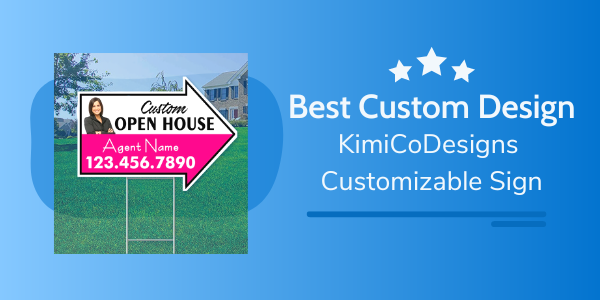 Etsy is known for its crafty jewelry and vintage clothing, but it's also home to super attractive custom signage. If you're looking for an open house sign that stands out among the neighborhood, this custom open house sign from KimiCoDesigns checks all the boxes:
Custom text, logo, and photo ✔️

Double-sided print in full color ✔️

Ultra-durable UV ink✔️
One customer said, "The shop was so helpful and went above and beyond to accommodate my customizations without any additional charge." Another was thrilled, saying, "Very professional, timely and beautiful product! The open house signs make me stand out from the other open house signs I've seen!"
The cost is pretty high, but you get a 10-pack of signs, and customers love them.
Best Weatherproof Open House Sign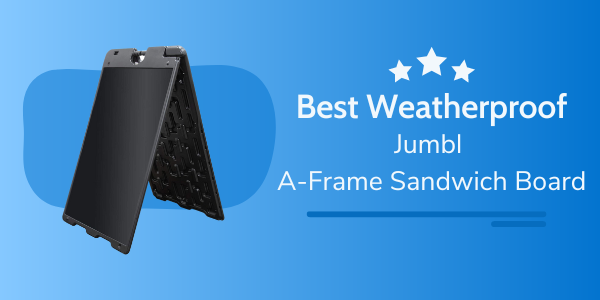 Jumbl's A-frame sandwich sign board on Amazon looks good and stays put in wind, rain, snow, and any other unpredictable weather that might threaten your open house.
It's made from high-density material, with grippy bottoms and a PVC waterproof sign cover to protect the poster inside. Fill it with sand to make it even more sturdy.
Amazon customers planning an open house love it, saying it's "just heavy enough to stay put, but not so heavy that we can't move it with ease." Others noted its weatherproof qualities. "It's really sturdy and we've had no trouble using it outside in the weather," said another Amazon reviewer.
Note that this product includes the sandwich board only – you'll need to add a 24″ x 36″ poster of your own.
Best Light-Up Open House Sign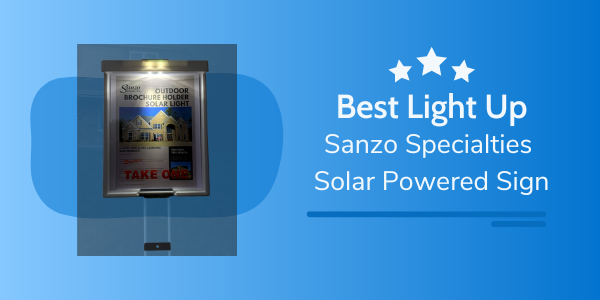 Shine a light on your open house sign… literally! The solar-powered outdoor sign from Sanzo Specialties is a refreshing change from the typical option.
This high-tech sign or brochure holder comes with a solar panel and LEDs to draw attention to the house long after the sun goes down.
One customer said, "Not only did my clients find a "light-up" brochure box impressive, but it worked splendidly on advertising the property. Being lit up at night attracted tons of people who would have otherwise not paid attention."
Best Budget Open House Sign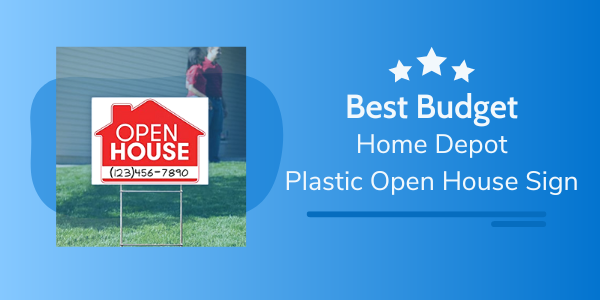 Don't have time to order an open house sign online? You might find the winner at your local Home Depot. Customers say this plastic open house sign from Home Depot is "great in a pinch when you need extra directional signs without a company name or logo."
The red background offers high visibility, and you can easily write in your address or other contact information.
Not to mention, it's a whopping $4.15. If you're selling your house without an agent or just need an extra last-minute sign, this might be the most affordable.
» Learn More: Paperwork for Selling Without a Realtor: 20+ Examples
Best DIY Open House Sign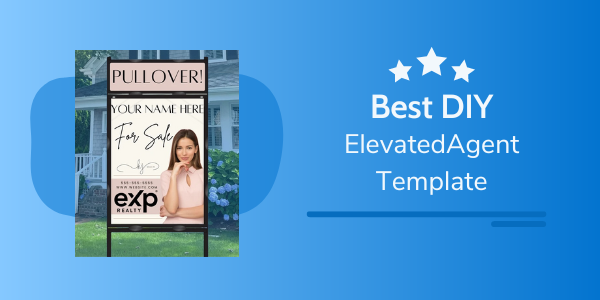 If you already have something at home that's perfect for mounting your open house sign, use this ElevatedAgent template on Etsy to create and print one on your own. It's ideal if you want to save on the cost of a complete product, or if you don't have the time to get something shipped to your home.
While this DIY sign template is targeted to real estate agents, you can easily customize it as a FSBO seller.
Etsy reviewers say it's incredibly easy to use. Here's how it works:
Download the template instantly

Customize your sign with Canva (a free design tool)

Print it at a local print shop near you
"I'm absolutely in love with this template," one customer said. "It saved me so much time and I loved personalizing it!"
Best Car Mounted Open House Sign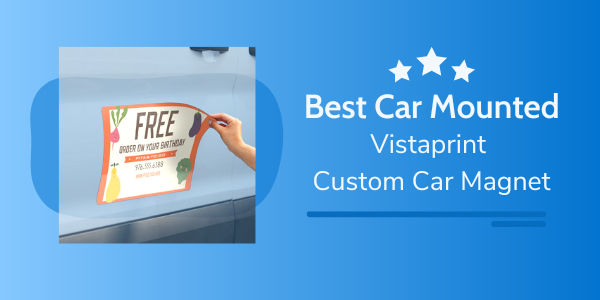 Agents and sellers who are on the road a lot can benefit from a custom open house sign for their car. The custom car magnet from Vistaprint comes in a variety of sizes for all vehicle types. This way, you can reach buyers far outside of your neighborhood.
Customers are pleased with the design, saying "the quality is very good " and "they look very professional and turned out amazing!"
Choose from one of their templates or upload your own design.
Recommended Reading
FAQs About Open House Signs
How do you attract people to open houses?
You can attract people to your open house through many types of advertising, but the most popular are open house signs in your yard, newspaper ads, listings on the MLS, and social media. If you work with a local real estate agent, they'll do this advertising for you. Learn more about how open house signs can help you attract more buyers.
Where can I buy open house signs?
You can buy open house signs easily from large retailers like Amazon, Etsy, Walmart and Home Depot. Online printers like Vistaprint and Signs' R Us can also help you create custom signs. Learn more about how to find the best open house sign for your situation.