Ideal Agent Review: Learn the Cost and How It Works (2022 Update)
Posted on September 16th, 2022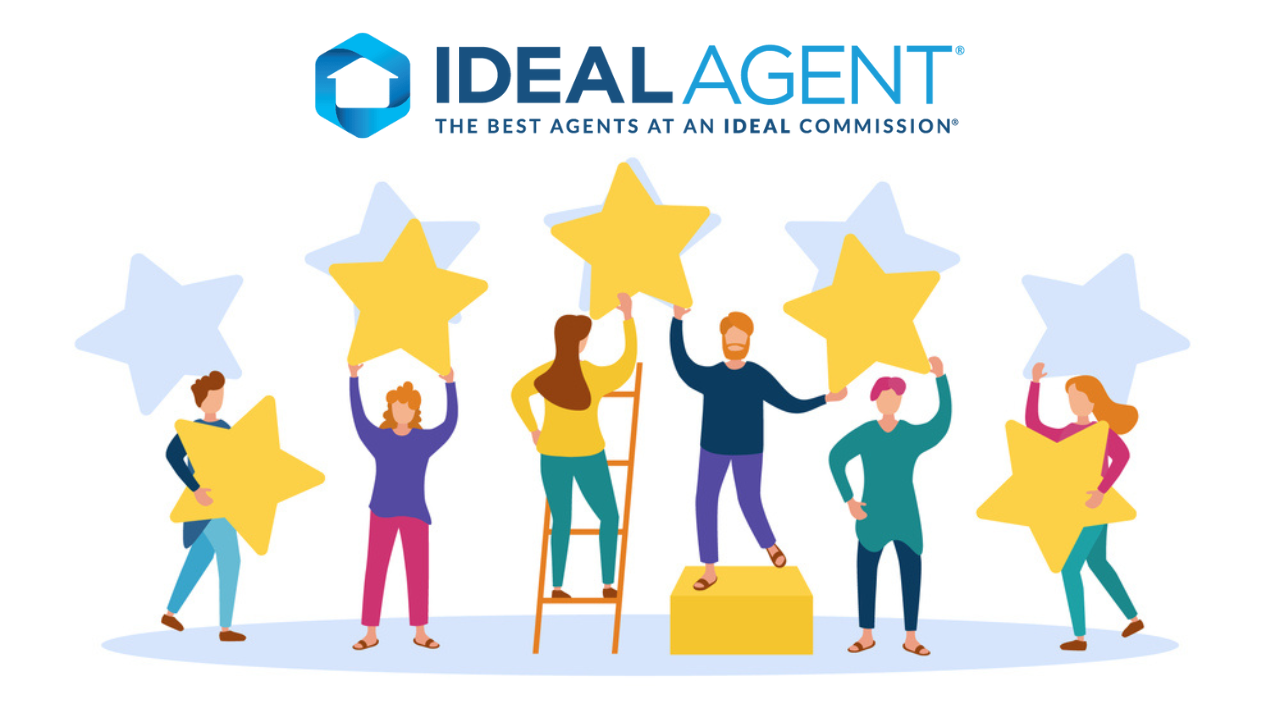 How it works | Fees | Ideal Agent reviews and complaints | Are Ideal Agent realtors good? | Selling a house | Buying a house | Alternatives to Ideal Agent
Whether you're buying or selling a home, real estate transactions are some of the most stressful — and expensive — life events most people experience.
Today, home buyers and sellers have a variety of alternatives to the traditional real estate process. Ideal Agent is part of this new wave of real estate companies — in a nutshell, it's a discount real estate broker that refers home buyers and sellers to local real estate agents.
Ideal Agent also offers modest savings on realtor commissions, with pre-negotiated listing fees of 2% (rather than the standard 3%).
Before committing to Ideal Agent, it's always a good idea to shop around. Our friends at Clever Real Estate offer a similar agent matching service that's completely free and carries no obligation to commit to a recommended real estate agent. Clever's agent network includes the best agents from Keller Williams, RE/MAX, Coldwell Banker, and other national brokerages.
There's no risk or downside to receiving agent matches from both Ideal Agent and Clever — and you should always speak with multiple agents before deciding who's best for you.
👋 Connect with Clever's concierge team to meet hand-picked agents in your area today!
Ideal Agent Review: How It Works
Ideal Agent is a referral service that promises to reduce the stress of finding a real estate agent.
As of 2022, Ideal Agent helps both home buyers and sellers find qualified real estate agents. They also offer a cash buyer service for sellers who are facing tight timelines or simply don't want to list on the open market.
With Ideal Agent, you'll get:
Introductions to local real estate agents
Pre-negotiated savings on realtor commission
Marketing support, including an MLS listing
Document and disclosure preparation for house sale
However, it's important to know that Ideal Agent's recommendations aren't highly personalized. The company typically searches for agents in your area, and depending on where you are, Ideal Agent may only recommend one agent.
👉 Jump To: How to Sell Your House With Ideal Agent
How Much Are Ideal Agent Fees?
If you're selling a home with Ideal Agent, you'll pay a pre-negotiated listing fee as low as 2%, rather than the traditional rate of around 3% of your home's sale price.
However, Ideal Agent's advertising around fees could be clearer. The company sometimes promises that your total realtor commission will be around 2% — which is technically true, but very unlikely.
When home sellers pay realtor commission, they're responsible for both their listing agent's commission and buyer's agent commission (BAC):
| Fee | Total Cost |
| --- | --- |
| Listing fees | 2% with Ideal Agent |
| BAC | 3% |
| Total | 5% |
Experts recommend that home sellers always offer BAC. Think of BAC as an incentive that encourages buyer's agents to show your home to their clients — after all, why would an agent show a client your home if they won't get paid?
While Ideal Agent does offer some savings, other companies can put more money back in your pocket. If you find an agent through our friends at Clever Real Estate, you'll pay just 1% in listing fees — the lowest fees currently available. The average home seller saves $9,000, just by finding a qualified local real estate agent through Clever.
💰 Save BIG with Clever! 💰
Our friends at Clever connect you with top-rated agents in your area who can sell your home fast AND offer low listing fees of just 1%. The average seller who lists with Clever saves $9,000!
Ideal Agent Reviews and Complaints
Most customers are satisfied with Ideal Agent's concierge service and commission rates. Ideal Agent has hundreds of high ratings and strong reviews:
| Review Site 🔗 | Rating ⭐ |
| --- | --- |
| Trustpilot (4,600+ reviews) | 4.9 / 5 stars |
| Google (450+ reviews) | 4.8 / 5 stars |
| Better Business Bureau (250+ reviews) | 5.0 / 5 stars |
Customers who found their agent through Ideal Agent praise the thoughtful service and seamless experience they received.
Second home sold through IDEAL AGENT
Richard F., ⭐⭐⭐⭐⭐

This is the second home I have sold through an Ideal agent -- Kevin B.. I was actually in North Carolina when the home went on the market, and I received several offers while out of town. Kevin communicated often with me and explained each offer along with the pros and cons of each. The house was sold within 3 days (closing was a few weeks away.) The total agent commissions paid were 4.5%. Can't beat it. I highly recommend Ideal Agent!

Source: Trustpilot

Ideal Agent is the future of real estate selling
B.K., ⭐⭐⭐⭐⭐

Ideal Agent is the future of real estate selling. They provided the best people in the area to help sell our house and why shouldn't they as they are building a fine reputation.
Our process went smoothly as the team they introduced us to was fabulous. Home sold quickly and all aspects of completion from handy man work to passing inspection was handled by them. This is especially important as we had moved from NJ to FL permanently. It was too easy to believe but true. Go with the best. They've got their act together and you'll benefit. Glad we chose Ideal Agent.

Source: Trustpilot

The process was simple
Daniel K., ⭐⭐⭐⭐⭐

The process was simple, quick, and effective. Even considering that it was a hot real estate market, the paperwork was provided very fast, it worked flawlessly, and everything the real estate agent was responsible was done as quickly as was possible. This was the 4th house I have bought in my lifetime, and I also sold my 3rd house through Ideal Agent, and this was by far the best home selling and buying experience I have ever been through. If I was ever to again engage in a real estate transaction, I would use Ideal Agent.

Source: Trustpilot

While many reviews praise their real estate agents' experience and professionalism, there are several unhappy reviews — from both customers and realtors themselves.
The most common Ideal Agent complaints include concerns about limited buyer savings, unexpected (higher) commissions, and dissatisfied agent matches.
My agent was sub par
Debbie R., ⭐

My agent was sub par. I was the seller and he expected me to work for him. I was expected to call the title company and sit at my computer and constantly watch my emails. It was too difficult for them to call me. I told him I would be on an international vacation and to make sure everything was taken care of prior. they did not do that and again expected me to drop everything to make up for their inabilities.

Source: Trustpilot

Bad service
Joe K., ⭐⭐

Do not believe their slick ads on TV. If they give you a unmotivated, disinterested or I-don't-care agent, you will go through the process on your own. I was assigned an agent, who overpromised and greatly underperformed. I was selling my mother's home and the agent believed that her work was finished when the buyer signed a contract. And she told this to me in a heated phone conversation that I had with her at the end of the process. Just about everything that I asked her, she would come back at me with the words " I am not a lawyer ". Early on, I realized that if the sale was to be completed, I would have to get it done. I basically figured things out along the way. Definitely, this was a bad experience to say the least.

Source: Trustpilot

Strangely, some commenters received inappropriate, unprofessional, and belittling responses from Ideal Agent's official account, including insults like "you're what's wrong with this industry."
Overall, the positive reviews far outweigh the complaints. However, Ideal Agent's communication manner is worrisome: Customers expect one thing (professionalism) and receive another (childish replies).
How Good Are Ideal Agent Realtors?
Ideal Agent matches home sellers all over the U.S. with experienced, local real estate agents. Agents can't buy a membership or pay to join; they have to pass Ideal Agent's vetting process before receiving client referrals.
However, sales records don't tell the whole story. It's important to find an agent whose judgment you trust and whose personality you click with — two qualities that will provide peace of mind during the stressful process of buying or selling a home.
Although Ideal Agent reviews are generally positive, the company has so few agents in its network that there's a good chance you won't have many options near you. You might be getting a good agent — but they might come from a neighboring town or lack experience for your specific needs. This is especially for home buyers and sellers in rural areas.
By comparison, our friends at Clever Real Estate have a much larger network, with more than 14,000 agents and a dedicated sourcing team that continuously recruits agents. If you only receive one agent match from Ideal Agent, it's worthwhile to see if Clever can help you shop around for a few more options.
How To Sell Your House With Ideal Agent
Realtors in Ideal Agent's network provide the same full-service support you'd receive if you found an agent on your own.
Your agent will guide you through each step of your home selling process:
Preparing a competitive market analysis (CMA)
Recommending a listing price
Taking professional photos of the home (although floor plans and 3D or aerial photography carry extra charges)
Listing your property on the MLS
Negotiating offers from buyers
Preparing documents and going with you to closing
The main differences are that you won't have to find an agent on your own, and you could pay slightly lower listing fees with Ideal Agent.
Step 1: Fill Out An Online Form
Get started with Ideal Agent by filling out its online questionnaire. You'll need to provide basic information, including your contact details, a description of your property, the asking price you expect, and why you're selling.
Step 2: Connect With Agents
After you fill out Ideal Agent's online form, the company's concierge team will match you with a listing agent.
After submitting your information, the site says, "We will get in touch with you shortly." So, you might receive a response in a few hours, or it could take a day or two for the selected agent to contact you.
It's true that Ideal Agent will recommend an agent near you — but in reality, the company matches you with whoever they have in their small network of just 2,000 agents nationwide. There's usually only one agent available in each market, and you might even be matched with an agent from the next town over, rather than an agent who knows your specific market.
By contrast, our friends at Clever have built an agent network of more than 14,000 agents nationwide. If there aren't enough agents in your area, or if you need an agent with specialized expertise, Clever's in-house sourcing team will personally reach out to additional top-rated agents to help you find a great match. Find top-rated agents near you today!
Step 3: Interview Ideal Agent Matches
After processing your information, Ideal Agent will refer you to a real estate agent from its network. There's no fee for this service, so you'll only pay if you end up signing with an agent.
According to its guidelines, Ideal Agent promises that your real estate agent will be one of the top performers in your local area and maintain high professional standards.
However, high sales numbers don't guarantee you'll like the agent or have confidence in your compatibility.
🔎 Our Experience With Ideal Agent's Customer Service
When we mystery shopped Ideal Agent, we requested a second agent match — and the company wouldn't commit to providing one and instead insisted that we speak with the first match. Instead, the Ideal Agent representative claimed that its small, 2,000-agent network was an intentional measure to maintain quality standards.
Keep in mind: There are more than
three million real estate agents
with active licenses in the U.S. — so it's very unlikely that agent quality is the only factor behind Ideal Agent's small pool of agents.
Step 4: Sign a Listing Agreement
The final step in selling your house with Ideal Agent is signing an exclusive seller's agreement. From there, you'll work directly with your real estate agent to list and market your home to buyers.
Your agent will provide standard services, such as providing recommendations for how to prepare and stage your home, taking professional photographs, and arranging showings with potential buyers.
Can You Use Ideal Agent To Buy A House?
Ideal Agent was originally designed to aid home sellers, but the company does help home buyers find agents as well. The process is similar to the steps sellers take — you'll fill out an online form and get matched with agents near you.
However, the only benefit of using Ideal Agent is the convenience of getting matched with agents.
By contrast, our friends at Clever Real Estate match buyers with great agents and provide up to 0.5% cash back after closing in most states. For a $400,000, you'd get $2,000 to offset closing costs, fund renovations, or simply enjoy with no strings attached. Connect with Clever's licensed concierge team to find the best buyer's agents near you!
Is Ideal Agent Available Near Me?
For many home buyers and sellers, Ideal Agent's small network of just 2,000 agents makes it difficult to shop around for the best agent.
If you live in a less-populated area, or even just outside a city, your matches from Ideal Agent may not be local, which could mean they're experts in your exact market.
But any further specifics are tough to verify — Ideal Agent's site doesn't have a map of where agents are located.
🔎 Our Experience With Ideal Agent's Customer Service
In May 2022, we mystery shopped Ideal Agent to test its customer service for ourselves. We spoke with a customer service rep who confirmed the company has agents in all 50 states. However, he wouldn't say how many agents were available near the postal code we gave, which was in a rural area.

The Best Alternatives to Ideal Agent
Best Option: Ideal Agent vs. Clever Real Estate
If you're looking for the best real estate agents near you, Clever Real Estate is our top choice.
With a 4.9 star rating on Trustpilot rating based on 1,600+ reviews, Clever is a popular choice among home buyers and sellers.
Compared to Ideal Agent, our friends at Clever can offer:
More than 7x as many in-network agents (14,000+ vs. 2,000)
Full-service agents from top-rated brokerages including Keller Williams, Coldwell Banker, and RE/MAX
An in-house sourcing team that can find additional real estate agents tailored to your exact needs
Lower listing fees of just 1% (compared to Ideal Agent's 2% listing fees)
Clever Cash Back that gives buyers in most states up to 0.5% cash back after closing
Clever is a free service, with no obligation, so there's no downside to connecting with their licensed concierge team. Find the best agents in your area today!
Ideal Agent vs. UpNest
UpNest is a service that allows agents to compete for your business directly — rather than Ideal Agent's model of providing one agent or a shortlist to choose from.
After you enter your contact information, several agents send you proposals, including services and rates. UpNest's site lists an average commission of 5.2%, which doesn't offer much savings over the traditional agent's average commission of 5–6%.
Ideal Agent vs. HomeLight
HomeLight provides you with a list of agents immediately at sign up. You'll interview and negotiate with the agents directly, unlike with Ideal Agent, which pre-negotiates commission and matches you with one or more agents.
Because HomeLight works with so many agents, its selection process is less stringent. And its commission structure isn't fixed like Ideal Agent's, so you're unlikely to save on fees.
Is Ideal Agent Worth It?
Ideal Agent is a legitimate service that matches home buyers and sellers with real estate agents. But its small agent network and modest savings mean it isn't the most competitive agent matching service on the market.
Before committing to an Ideal Agent match, we recommend reaching out to our friends at Clever, which has a much larger agent network and deeper savings. You can always shop around by comparing your Ideal Agent and Clever matches until you find a great fit for your needs.
👋
Need a great agent?
Saving on realtor fees doesn't have to mean sacrificing service. If you're weighing your options for buying or selling a house, Clever can help!
With our friends at Clever: 
✅ You'll only pay $3,000 or 1% to list your home 
✅ In eligible states, you'll get 0.5% cash back when you buy a home 
✅ You'll work with a full-service realtor from a top broker, like RE/MAX or Keller Williams 
Find a top local agent today!
Recommended Reading
Ideal Agent FAQs
Is Ideal Agent legitimate?
Ideal Agent is a legitimate service that matches home buyers and sellers with real estate agents. However, its small network means that you may only get one match, making it difficult to shop around for the best agent in your area. Learn how Ideal Agent works and the best alternatives.
How does Ideal Agent work?
Ideal Agent's process is simple: You'll submit your information online, receive an introduction to an agent near you, and then decide whether to sign a contract for representation. From there, the sale proceeds the same way a traditional transaction would. However, it's important to note that Ideal Agent's agent pool is limited and you could save more by going with a different agent matching company. Learn how to meet the best agents and save the most money on commission.
What are some common Ideal Agent complaints?
The most common Ideal Agent complaints from online reviewers include concerns about limited buyer savings, higher commissions than expected, and poor agent experience. Read more Ideal Agent reviews and complaints from real customers.
Interested in buying or selling?
We've improved the traditional real estate model with modern technology to cut costs, not quality.
Get started today
Posted in Buying a House, Selling a House