The 13 Best For Sale By Owner Sites in 2022
Posted on June 28th, 2022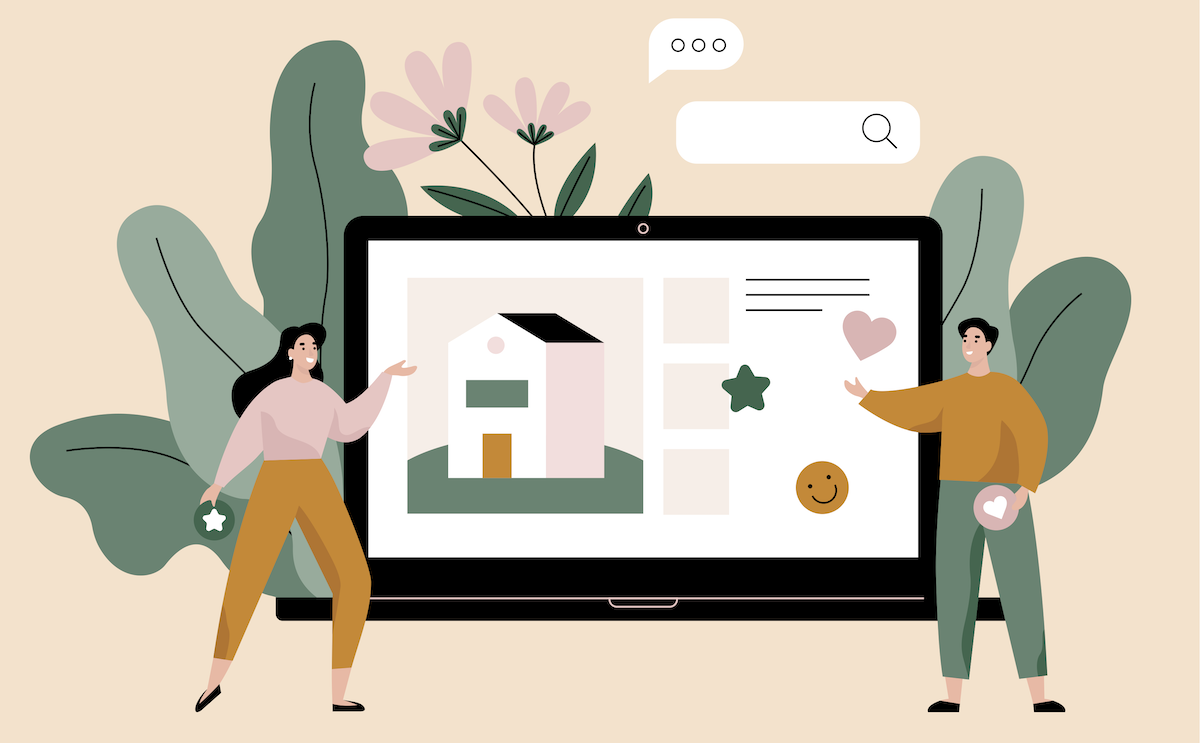 FSBO costs | FSBO vs realtor | Paid FSBO sites | Free FSBO sites | Alternatives | FAQs
When you choose to sell your home for sale by owner (FSBO), there are many decisions to make. Should you list with a flat fee multiple listing service (MLS) company? Should you enlist the expert help of a discount brokerage? Or do you simply choose a FSBO website and hope for the best?
When you're choosing a FSBO service, the three key things you need to consider are:
Does the business provide as much support as I need for my comfort level?

Is it affordable?

Does the business provide clear and understandable options?
In this guide, we'll break down the pros and cons of 13 well-known FSBO websites to help you find the best solution for your DIY home sale. We'll also examine the opportunities — and potential downsides — that come with FSBO sales overall.
If a DIY home sale seems complicated or overwhelming, know that you can get expert guidance from a realtor without paying the traditional 3% listing fee.
We've partnered with Clever Real Estate, a free service that pre-negotiates major savings on commission. Most sellers who list with Clever pay just 1% in listing fees — that's $8,000 in savings on a $400,000 home. Best of all, Clever's nationwide network of agents provide full service, so you can get the full benefits of working with a realtor at a fraction of the cost.
Interested in learning more about Clever? Provide some information about your upcoming home sale, and Clever's licensed concierge team will connect you with top-rated agents near you!
⭐ The average Clever seller saves $9,000. Learn more!⭐
How Much Are FSBO Costs?
FSBO services come at a wide array of prices, from free services all the way up to $3,000.
This includes the cost of getting your home listed on a regional multiple listing service (MLS) or in the case of free sites, making sure your home appears on a website that markets FSBO homes.
[object Object]
Even if you pay top dollar for a premium FSBO service, keep in mind that you'll still have to handle paperwork, arrange showings, negotiate with buyers, and more — all on your own.
In a 2022 survey of 1,000 homeowners, our friends at Clever Real Estate's Data Center found that 34% felt buying a FSBO home would be advantageous for them because their agent would be able to out-negotiate a FSBO seller.
If you want to get the most money possible out of your home sale, we recommend our friends at Clever Real Estate. They'll connect you with a top local agent who can save you thousands of dollars by selling your home for 1% in listing fees — less than half of the typical seller's commission — while also helping you sell your home for top dollar and knocking away low-ball offers.
[object Object]
Should You Sell FSBO or Hire a Real Estate Agent?
FSBO costs are generally less than what you'd pay a traditional agent — but the catch is that FSBO sellers usually earn less from their home sales.
In a traditional home sale, sellers typically pay 2.5–3% of the home sale price. For a $450,000 home sale, a traditional 3% listing agent would walk away with $13,500. That's a lot of cash, and a very tempting reason to sell FSBO.
FSBO sellers usually try to save by cutting out the seller's agent commission altogether. (Keep in mind: You'll still need to pay the standard 2.5-3% buyer's agent commission, since no agent will work for free.
But these savings don't make up for the reality that FSBO homes tend to sell for less than agented homes. A National Association of Realtors study found that FSBO homes sold for about 18% less than agented homes, while real estate analytic product company Collateral Analytics found that FSBO homes sold for 5.5% less on average.
That's quite a wide spread, but both studies suggest you'll get significantly more money with an agent — and that the lost proceeds vastly outweigh the 3% savings you would get from ditching the seller's agent commission.
💰 Minimum service laws can affect price!
Some states have minimum service laws, for broker services which can increase the price of certain FSBO services. These include, but aren't limited to: Colorado, Illinois, Indiana, Kansas, Missouri, Nebraska, North Dakota, South Dakota, and Wyoming.
Some cities, such as Atlanta, Georgia, also require additional fees for their own minimum service requirements.
All paid websites charge FSBO sellers more in these states, although the cost ranges from a few hundred dollars to a percentage of the sale price (usually 0.5%).
13 Best FSBO Sites, At a Glance
» Jump to: Paid FSBO Sites | Free FSBO Sites | Best FSBO Alternatives
🔎 Methodology
Our in-house research team of real estate experts spent hundreds of hours researching the most popular FSBO websites.
While different services required a variety of approaches, in general we:
✅ Vetted Customer Service: We looked for responsiveness, knowledge, friendliness — and we factored in pushiness (a big negative). That involved emails, phone calls, online web chats and messaging through social media channels.

✅ Considered User Experience: We thoroughly browsed FSBO services' websites, looking for ease-of-use and clarity of services. Obscured costs and hidden fees were major red flags.

✅ Read the Fine Print: Checked their terms of services for refund policies and other contractual details.

✅Dug Into Business Models: We identified how these companies operated — i.e., do they farm you out to other brokerages, or do they take care of you?

✅ Crunched the Numbers: We compared pricing for comparable services to see where you'll get the most value for your money.

✅ Considered Accessibility: If service areas are limited to a few states, it was reflected as slightly negative in our ranking.

✅Looked for Social Proof: We evaluated online customer reviews for common positive (and negative) feedback.
[object Object]
The 9 Best Paid FSBO Websites
#1 Fizber
[object Object]
👍 What we like: Great customer service, deals may be available

👎 What we dislike: Unclear listing terms, outdated website
Fizber is a flat fee MLS company that operates in every state. What works for Fizber also ends up working against it — Fizber may have discounts, promotions, and better listing terms available in certain states, but you won't know until you ask customer service. It adds a bit more DIY to the process, but if you're selling FSBO, you should be used to DIY work.
To compare plans with what other FSBO websites offer, you'll have to either ask the online webchat or shoot Fizber an email to see if there are discounts or additional listing terms available. Some states offer 12-month listing terms and more than the 6-25 photos advertised on the site.
Fizber's website isn't as clean as ISoldMyHouse.com, and it has some outdated pages that references services no longer available. But the customer service is fantastic, and you could snag a great deal.
#2 Homecoin
[object Object]
👍 What we like: Cheap, lots of add-ons available

👎 What we dislike: Limited availability
Homecoin's paid option has a rock-bottom price of just $95 — but it's only available in California, Florida, Georgia, Minnesota, North Carolina, South Carolina, Tennessee and Virginia.
Unlike other flat fee MLS companies listed here, Homecoin doesn't offer packages. Instead, it offers all its services as à la carte add-ons. That includes almost everything: photography, yard signs, lockboxes, and open house kits. If you know exactly what you need, Homecoin can be a great, one-stop, DIY FSBO website.
However, price and availability vary by location. Piling on a ton of services can be so expensive you're better off going with a low-commission agent for full service support.
#3 ISoldMyHouse.com
[object Object]
👍 What we like: Clean, easy to navigate website with clearly defined services

👎 What we dislike: Not the best price, limited add-ons
ISoldMyHouse.com is a flat fee MLS service with a streamlined, easy-to-use and understandable website. Its add-ons are uniform — but only lockboxes and yard signs are available — and it's available in every state but North Dakota.
ISoldMyHouse.com's prices aren't the cheapest, but they're not the most expensive, either. Their site also has a small learning center which could be useful for FSBO sellers.
ISoldMyHouse.com's MLS listing options don't come with extra support, so for those who need the extra help in pricing their home or buying more add-ons, you'll want to look elsewhere or go with a discount broker for full service.
#4 FSBO.com
[object Object]
👍 What we like: A simple, easy-to-use website that's clear and available in 49 states.

👎 What we dislike: Not the cheapest option, add-ons are limited and on a per-state basis
FSBO.com is a flat fee MLS service that's available in every state but North Dakota. If you're looking for a simple way to get on the MLS, we recommend the $399.95 MLS package. You'll get about 20 photos of your home (some states have more, some have less) and a 6-month listing term.
The bad thing about FSBO.com is that its services vary by state. Some states have add-ons like lockboxes, extra photos, or same-day MLS entry for extra fees, while some don't have any add-ons at all. And some of these add-ons are more expensive than they should be.
But FSBO.com also has its own store for yard signs and state-specific legal forms, which may be useful for your FSBO journey.
#5 Beycome
[object Object]
👍 What we like: Lots of value for the price

👎 What we dislike: Only available in certain states, Concierge service not recommended
Beycome is a flat fee MLS company that is available in Alabama, California, Connecticut, Florida, Georgia, Minnesota, North Carolina, and South Carolina. However, its enhanced package is not available in California or Minnesota.
Beycome offers maximum MLS photos and a listing term that lasts until your house is sold for $99, which is a fantastic price. Its Enhanced package includes some great extras — particularly a pro photography shoot with 25 photos — which is a great value. You also get unlimited listing changes.
However, Beycome's limited availability holds it back from being included in the top three. We don't recommend its 1% Concierge service because it isn't entirely clear what it includes — and you should know exactly what you're getting for a 1% sales fee.
#6. Redfin
[object Object]
👍 What we like: It's a cheap way to get on a popular website

👎 What we dislike: You're still not getting on the MLS
Here's something most FSBO sellers don't know: You can get a FSBO listing on Redfin, but you can only do so through Fizber or FSBO.com. Both Fizber's Digital Boost option and FSBO.com's FSBO Package come with a Redfin listing.
Redfin is a popular site, and getting an actual FSBO listing on there is pretty cheap. Your home won't be listed on the MLS, but your Redfin listing will be marked as for sale by owner and can include your phone number.
Redfin's listings are available in most markets, but not all of them, so you'll want to first check your ZIP code for coverage.
If you're only looking for a FSBO Redfin listing, we recommend going with FSBO.com. FSBO.com's $100 package comes with a 6-month FSBO.com listing and FSBO.com is a more popular site than Fizber.
Just remember: If you choose to list your property on the MLS, your home will no longer show up as a FSBO listing on Redfin. It will appear as a regular listing, with your listing broker's contact information.
#7. Flat Fee Group
[object Object]
👍 What we like: Some brokers have helpful options and good deals

👎 What we dislike: Inconsistent, with some brokers charging high fees
Flat Fee Group isn't a flat fee MLS company. Instead, it's an organization of brokers, with a single broker presiding over one or more states. What services are available entirely depends on that state's broker.
Some brokers charge reasonable fees and have good listing terms, others don't. In Washington, the broker charges just $75 for a basic MLS listing with just 8 photos. But in Tennessee, that broker charges $499 for an MLS listing with 10 photos (plus some legal forms thrown in).
Check out Flat Fee Group and compare your state's options with the other best FSBO websites we listed. They don't always have the best deal, but your broker may be nearby and have some good options.
#8. Landflip
[object Object]
👍 What we like: Good for owners of specialty properties like ranches, undeveloped lots, and off-grid homes

👎 What we dislike: Not good for traditional FSBO sellers. Expensive for single property owners
FSBO sellers who have lots of land or unusual properties like log cabins or sprawling acres of land may do well to seek a non-traditional listing service. These types of properties require non-traditional buyers, and they'll be looking on websites like Landflip.
Landflip's listings will be syndicated to Farmflip, Ranchflip, Lotflip, Auctionflip, and Commercialflip, which will help get more eyes on your unique slice of real estate.
Landflip has an unusual pricing plan that includes a monthly price because most of its options are geared towards investors. FSBO sellers with a single, non-business property should just use the Essential model.
#9. Circa Old Houses
[object Object]
👍 What we like: Has a built-in audience for people who love old houses

👎 What we dislike: You'll need an impressive — and old — property to reap the benefits
Do you have a rambling old home that oozes charm? Posting on Circa Old Houses could get you some extra eyeballs on your property. It costs $45 for a 90-day listing, which is a good price. But you're not getting on the MLS, your home will only be on Circa Old Houses.
The best benefit is that Circa Old Houses says they'll post your home to their Facebook and Instagram pages, both of which have thousands of followers and are frequently updated.
Circa Old Houses also works with publications like Country Living Magazine and HGTV Magazine, meaning your home could show up there in some form — but you'll need a real showpiece.
On the downside, if your home doesn't market itself, Circa Old Houses might not help. But you'll get an unlimited word count for the listing description, so if your old house has a really cool history, this is a great place to show it off.
The 4 Best Free FSBO Websites
#1. Zillow
👍 What we like: Zillow's massive popularity, automatic listing on Trulia

👎 What we dislike: FSBO homes are hidden behind extra filters
Zillow is the most popular real estate site in the United States, and it allows for FSBO sellers to create their own listing. If you're selling FSBO, a Zillow listing is a good opportunity for more eyes on your property.
Unfortunately, Zillow isn't as FSBO-friendly as it appears. Zillow hides FSBO listings behind an extra filter — buyers need to click "Other Listings" when browsing for homes. FSBO listings also come with a prominent "Contact Agent" button and they tuck your phone number below the description in plain text, where it doesn't stick out.
Despite the drawbacks, using Zillow for a FSBO home is worth it for the potential views. And since Zillow owns Trulia, FSBO homes posted to Zillow automatically post to Trulia.
🔎 Learn More: How to sell your FSBO on Zillow the right way
#2. Facebook Marketplace
👍 What we like: Good for sharing your listing with friends, family, and neighbors

👎 What we dislike: Limited audience, privacy concerns, questionable benefits for paid advertising
If you know your way around Facebook, posting your home on Facebook Marketplace may be another good marketing strategy. Facebook Marketplace real estate listings are free and easy to create, and you can easily post to local groups and share your listing through Facebook.
You can also pay to promote your listing, but that's something we don't recommend. Facebook ads are for big businesses and local shops, not single-item sales.
On the downside, you'll probably need to deal with window-shoppers, since you'll be very easy to contact — and you may want to lockdown your privacy settings, too. And you'll be doing most, if not all, of your interfacing with potential buyers through Facebook.
If you don't like Facebook, set up a listing and tell buyers to contact you elsewhere.
#3. ForSaleByOwner.com
👍 What we like: Has a built-in audience for FSBO home buyers

👎 What we dislike: No MLS listing option, frequent service changes
ForSaleByOwner.com has been in business since 1999 and has cemented itself as a popular FSBO website. It receives a good amount of traffic — roughly 350,000 visitors per month — which indicates a solid audience of FSBO home buyers.
ForSaleByOwner.com is easy to use, so setting up a listing is easy. It includes a home value calculator and a shop for real estate legal forms (although it's just a referral link to US Legal Forms). .
ForSaleByOwner offers some paid options, but those options change frequently — one of their previous plans was a 3% sales commission, which is no different than selling with a traditional real estate agent. If you need expert help, we recommend going with a discount broker instead, so you can both get full service and save money.
» Jump To: Best Alternatives to FSBO Sites
Most buyers aren't going to see your home if it's not on the MLS. There's no harm in using ForSaleByOwner.com's free listing service, but be sure to post elsewhere, too.
#4. Craigslist
👍 What we like: Well-known website for real estate listings, simple to use

👎 What we dislike: Outdated website, attracts investors
Craigslist is one of the oldest and most well-known sites for real estate listings. The website is old and clunky, but creating a Craigslist post is simple enough.
Craigslist is a popular site for real estate investors and flippers looking to buy fixer-uppers and distressed homes. For that reason, you may get interest from investors with low-ball offers. But if you have a home that needs some work and you want to sell as-is, this could be a good place to field offers.
Craigslist is notorious for attracting scammers. Most scams target renters, but there are a few that target homeowners, too, so be wary about any checks you receive and suspicious emails or texts.
The Best Alternatives to FSBO Sites
Selling FSBO is a tough and time-consuming process, which is why a lot of FSBO sellers ultimately go with an agent.
We generally only recommend selling FSBO if you're very familiar with the ins and outs of real estate. Those who aren't investors or real estate experts will have an easier (and potentially more lucrative) sale by going with a discount broker or even an iBuyer.
Discount Brokers
Discount real estate brokers offer the services of a traditional real estate agent at discounted rates — but not all brokers are created equal.
#1 Clever Real Estate
👍 What we like: Nationwide availability, lowest commission fees

👎 What we dislike: Lower priced homes — homes valued at $50,000 or less — won't benefit from the savings
Clever Real Estate is our top pick for the best discount real estate broker. Our friends at Clever can match you with local, best-in-class agents from trusted brokerages like Keller Williams, RE/MAX and Coldwell Banker — but most home sellers pay just 1% in listing fees. For a $400,000 home, that translates to $8,000 in savings!
Clever is the most affordable discount brokerage for its value, and that value translates to getting your home sold for maximum price.
Unlike other brokers, our friends at Clever can match you with several agents for you to compare. If you don't think selling with Clever is right for you, you can head right back to selling FSBO at no cost or obligation.
🤑 Try Clever for free and save THOUSANDS in commission fees! 🤑
#2 Redfin
👍 What we like: 1.5% listing fee

👎 What we dislike: 1% fee is possible, but you have to buy with a Redfin agent
Redfin is our no. 2 pick for best discount broker. They cover most major markets and have a 1.5% listing fee. That's higher than Clever, but you can get that fee down to 1% — if you also buy with a Redfin agent. That's an extra hoop and not something you may want to do, especially if you already have a buyer's agent.
While Redfin advertises a flat commission rate, there are minimum fee requirements that vary by location. Those fees vary from $2,000 to $7,000, with an average minimum fee of $3,350.
Redfin also uses a team-based model to make their process more efficient. This works, but it also means a higher volume of clients and a chance for miscommunication or mix-ups when working with multiple people.
iBuyers
iBuyers are companies that can make fast, contingent-free, all-cash offers on houses and close within about two weeks.
The downside is that iBuyers only operate in select areas, will only buy certain kinds of houses, and come with fees and deductions for repairs that will lower your sales price. You're taking a bit of a price cut for a fast sale, but it's a cash sale.
We vetted a variety of iBuyer companies and chose the top two that FSBO sellers should consider
#1 Offerpad
👍 What we like: Fast offers and closing times

👎 What we dislike: Costly cancellation option (but it's avoidable)
Offerpad can make you an offer in 24 hours and close lighting fast — just eight days in some markets.
Offerpad has a 5% service fee and operates in 22 markets in Alabama, Arizona, Colorado, Florida, Georgia, Indiana, Kansas, Missouri, Nevada, North Carolina, Ohio, South Carolina, Tennessee and Texas. Eligible homes must be:
Single-family properties, including condos and townhomes

Built after 1960

Valued at less than $1 million

Have a lot size less than one acre
Offerpad has a 1% cancellation fee if you don't cancel within the four-day, post-inspection window. That's costly, so be sure to make a decision within that time frame.
#2 Opendoor
👍 What we like: Operates in many markets, no cancellation fee

👎 What we dislike: You're still not getting top dollar for your sale
Opendoor can make you an offer in 24 hours and close as fast as 14 days.
Opendoor has a 5% service fee and operates in more areas than Offerpad — currently, Opendoor is in 45 markets, including Dallas-Fort Worth, New York and Los Angeles. Eligible homes must be:
Single family homes or townhouses, with duplexes and condos accepted in certain markets

Valued between $100,000 and $600,000, although it can be as high as $1.4 million in some markets

Have a maximum lot size of 2 acres (some markets have a max lot size of 1-1.5 acres)

Built after 1930
Unlike Offerpad, there's no cancellation fee if you decide to drop the deal before closing.
IBuyers are a great option for some homeowners, but for most home sellers, we recommend going with a discount brokerage like Clever. Our friends at Clever can save almost all home sellers money by providing the full services of a traditional realtor at a fraction of the price — just 1%.
That's a lot of savings, especially in markets like California, where home prices are sky high and commission fees are costly. And your agent will help sell your home for maximum value — you won't be leaving any money on the table.
[object Object]
FAQs About the Best FSBO Websites
Can I get my for sale by owner home on Trulia?
You can get a FSBO home on Trulia by posting a FSBO listing to Zillow. Zillow owns Trulia and will automatically pull your Zillow FSBO listing to Trulia. Posting a FSBO home listing to Zillow is free — but you'll want to consider the tradeoffs first.
What are the best paid FSBO websites?
The best-paid-FSBO-sites are Fizber, Homecoin and ISoldMyHouse.com. But, depending on your needs, you may find another paid FSBO service better for your upcoming home sale. Use Home Bay's in-depth research to compare your options!
What are the best free FSBO websites?
Zillow is the best free website to list your FSBO home for free followed by Facebook Marketplace, ForSaleByOwner.com and Craigslist. We recommend posting to all four to maximize the amount of views for your FSBO sale, especially if you don't intend on paying a flat fee service to get on the MLS. Learn more.
Interested in buying or selling?
We've improved the traditional real estate model with modern technology to cut costs, not quality.
Get started today
Posted in For Sale By Owner, Selling a House