The Best 2% Real Estate Commission Companies in 2022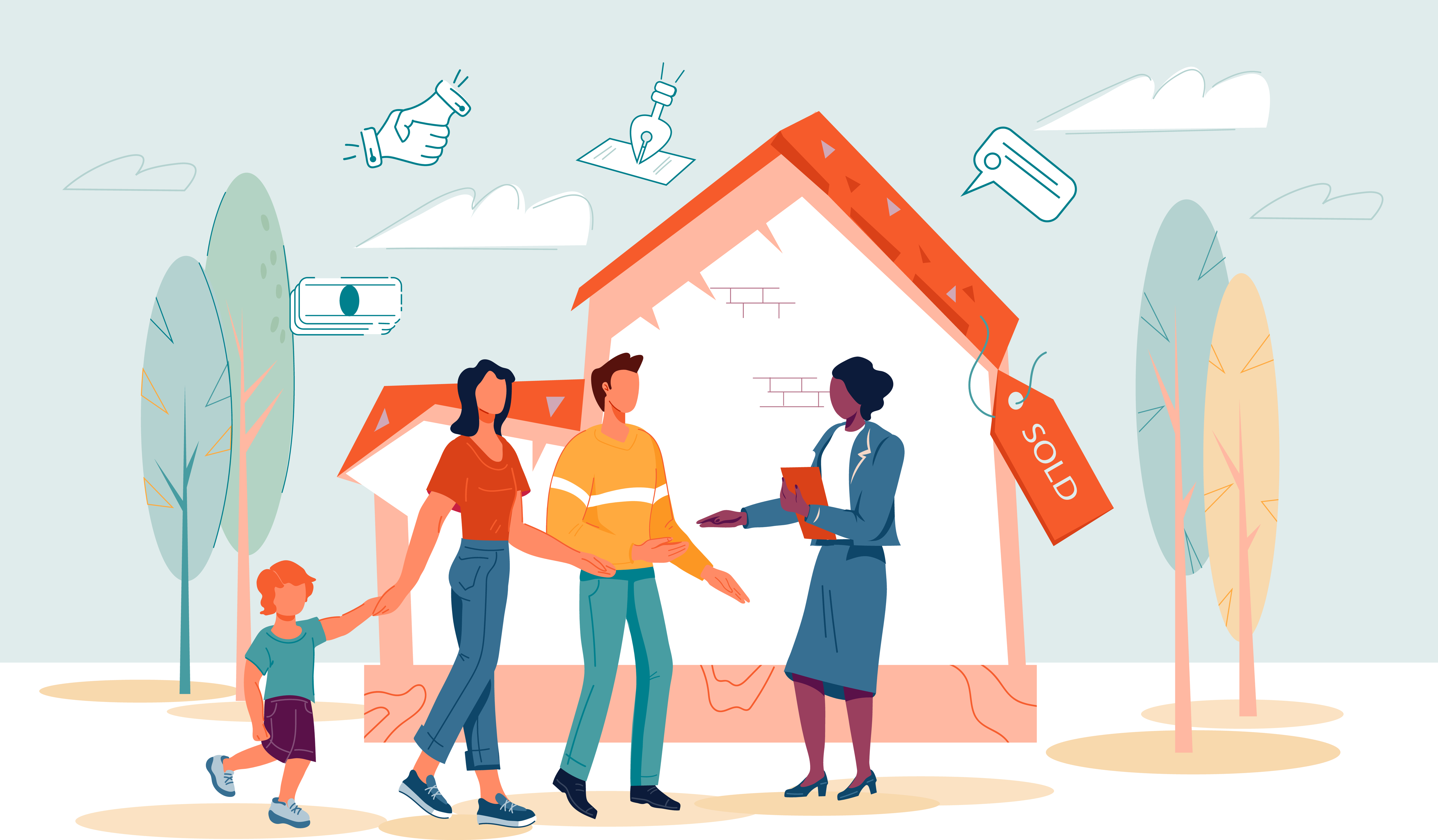 Top 2% commission companies | How real estate commission works | What is a 2% real estate commission? | 2% commission savings | Find a 2% commission realtor | Low commission agents compared
❓ What is a 2% real estate commission?❓
A 2% real estate commission is a discounted rate offered by some seller's agents to cover the costs of listing, marketing, and closing the sale of a home. A 2% commission is lower than the typical 3% seller's agent fee.
Preparing to sell your home can be an exciting prospect, but calculating how much you'll pay in agent commissions can cause major sticker shock. Some listing agents advertise 2% real estate commissions in contrast to the standard 3% – but is it worth the limited services or other fees that could increase the overall cost of selling a home?
The best 2% real estate brokers offer discounted rates and comprehensive, high-quality services. Some discount brokerages and agent-matching services, like our friends at Clever Real Estate, offer commission rates even lower than 2% without skimping on quality.
When you sell with Clever, you get the full-service experience you'd expect from a traditional agent, but at 1% commission or $3,000 if your home sells for more than $350,000. The average seller who lists with Clever saves $9,000 while working with a trusted local agent.
💰 Find out how much you could save with Clever! 💰
Top Companies That Offer 2% Real Estate Commission – Or Less
| Discounted Commission Company | | |
| --- | --- | --- |
| | | |
| | | |
| | | |
How Does a Real Estate Commission Work?
A realtor commission is the fee a real estate agent receives in exchange for listing, marketing, and selling a home — or in the case of a buyer's agent, for bringing a buyer to the table and facilitating the deal. Real estate commissions typically add up to 6% in total, with 3% going to the seller's agent and 3% going to the buyer's agent. That said, the commission split may differ if the agents agree otherwise.
You can negotiate real estate commissions if the agent expects the house to sell quickly, if a luxury home is listed at a high price point, or if the agent otherwise agrees to a reduced rate. Some companies also offer reduced seller commissions closer to 1% or 2% of the home sale price.
Regardless of how you choose to sell your home, make sure the agent provides high-quality services, as extremely low commissions may be a reflection of subpar services.
» Learn More: What is the Average Real Estate Commission? (2022 Data)
Who Pays Realtor Fees?
The seller typically pays both the buyer's and seller's agent fees out of the sale proceeds. However, sellers often address this expense by wrapping it into the listing price. As a result, the cost of real estate agent commissions may ultimately fall to the buyer — whether they know it or not.
What Does a Real Estate Agent Do?
Seller's agents charge a commission because they provide expertise and services to sellers — many of which sellers don't want to take on themselves. If you work with a 2% commission agent, make sure you're not missing out on any of these services.
Review Comparable Sales and Set a List Price
Local realtors understand the market and comparable properties in your area. By reviewing recent sales, an experienced agent can identify a list price that is competitive and realistic while balancing the needs of the seller.
In a recent survey by the Clever Data Center, 20% of sellers reported pricing their house correctly was the most challenging part of selling their home. This is one area where having the expertise of a local realtor can really pay off.
List the Property On the Local Multiple Listing Service (MLS)
Real estate agents list a seller's home in the local MLS database. This way, buyer's agents can easily find your property when searching for their clients' next homes.
» Learn More: How to List on the MLS in 2022 (And Save!)
Market the Home
Because most real estate agents work for a larger brokerage, they often have access to extensive marketing resources like in-house photographers, print ads, and a large network of potential buyers and other realtors. Agents also plan and attend brokers' open houses, public open houses, and individual showings that often require a significant time and financial commitment.
Negotiate the Contract Price
Homes listed by real estate agents generally sell for 26% more than unrepresented homes. This is due in large part to the negotiating skills of real estate professionals and their rapport with other agents in the area.
Provide Access for Inspections
Just like showings, real estate agents provide access to your home for buyer inspections and other appointments during the due diligence period — so you don't have to worry about it.
Facilitate the Transaction Through Closing
Real estate commissions also compensate agents for the time they spend managing paperwork, disclosures, and contracts and otherwise shepherding the transaction to the closing table. An agent may also attend the closing to ensure everything goes smoothly.
How To Negotiate a Real Estate Commission
Real estate commissions are typically around 6% total, but these fees are negotiable. A seller's agent may be willing to reduce their 3% commission if:
They anticipate the home will sell quickly or without the use of marketing resources or open houses

The listing price is high

They have other listings in the neighborhood that will simplify the marketing process
Instead of a reduced rate, you could negotiate additional services like free staging, virtual tours, and other perks that aren't always included. This approach can help a seller access the highest quality representation while still paying the standard commission.
Real Estate Commission Negotiation Tips
Get the most from your commission by following these negotiation tips.
Interview multiple agents to find one that meets your needs, is familiar with the market, and has a record of selling homes similar to yours.

Familiarize yourself with the local real estate market — an agent may be more willing to lower their commission if your home is likely to sell fast.

Let the agent know if you are a real estate investor who plans to purchase multiple homes in the near future.

Don't choose the lowest rate just because it's cheap — make sure you're getting all of the services that will help sell your home quickly.
If you choose to negotiate with real estate agents, keep in mind that they may choose not to work with you if they feel a lower rate won't adequately cover their services.
If you're not comfortable negotiating with an agent, you can always work with a company like Clever that's already done this work for you. Clever pre-negotiates low listing fees of just 1% so you don't have to. Best of all, you'll get full service from agents at top-performing brokerages such as Keller Williams, Coldwell Banker, and RE/MAX.
💰 Save BIG with Clever! 💰
The average Clever customer saves $9,000 on their home sale. Find a great agent and save more with Clever today! It's totally free and there's zero obligation.
What is a 2% Real Estate Commission?
A 2% real estate commission is a seller's agent commission that is lower than the traditional 3% fee. With this discounted commission, the seller's agent receives 2% of the home's total sale price in return for helping you sell your home, resulting in 1% savings for the seller. The seller, however, is still on the hook to pay the buyer's agent commission — usually an additional 3%.
What You Can Save With a 2% Commission Realtor
The small percentage saved with a 2% commission realtor may not seem like a big deal, but that savings can add up quickly. Here's what you can expect to save with a 2% commission realtor as compared to a 3% conventional listing fee.
2% Real Estate Commission Savings
| | 3% Listing Commission (Standard) | 2% Listing Commission (Discounted) | |
| --- | --- | --- | --- |
| | | | |
| | | | |
| | | | |
| | | | |
How To Find a 2% Commission Realtor
If you're ready to sell your house but don't want to pay the full 3% commission, a 2% commission realtor may be a good alternative. But remember, savings aren't everything. The right agent can be worth a higher commission if they're able to sell your home for a higher price, or even just make the process smoother.
To find a 2% commission agent in your area, research and compare local brokerages and agent matching services based on these factors.
Total Costs
Look into the total cost of each real estate agent you're considering, including the advertised commission and minimum fees charged by the broker or platform. Also evaluate whether you'll be charged upfront fees prior to listing. This can be a red flag, as most reputable agents cover upfront costs like marketing expenses out of pocket.
Services
When choosing a 2% commission realtor, look for a full-service provider that will offer the same services as a traditional agent. Many discounted services offer limited services to cut costs and skimp on the in-person support.
One-on-one service can be the difference between selling your home quickly and letting it sit on the market, so choose an agent that's hands-on and committed to marketing your property effectively.
Reputation
Research each agent's reputation by reading online reviews and asking around to family and friends. Interview each agent to evaluate their experience and sales record in your market and at your home's price point.
Some 2% commission platforms don't give clients the ability to choose their own realtor – or only match you with a single agent – so do your research before committing to an agent.
If you want to find top local realtors, but don't want to do all of the research on your own, consider working with our friends at Clever. Clever finds top agents in your area for you and pre-negotiates a 1% listing fee, so you can avoid any awkward negotiations. Interview as many local agents as you like for free, with no obligation!
🌟 Match with local agents and save thousands!
Best Low Commission Realtors
Some low commission realtors offer the level of service you'd expect from any traditional agent, but others may skimp on service to cut costs. The best options include a full suite of listing and marketing services, regardless of the fee. Not sure where to start your search? Here are some of the top-rated real estate companies that offer lower than average commissions.
Our #1 Pick: Clever Real Estate
Clever Real Estate stands out among low commission real estate platforms because it gives you the experience of working with a traditional, local agent at a lower commission than you'll find anywhere. Homeowners can interview multiple pre-vetted agents from trusted brokerages like Keller Williams and Century 21.
When you work with our friends at Clever, you avoid negotiating commission yourself and benefit from pre-negotiated rates — just 1% of the home price or $3,000 for houses that sell for less than $350,000.
Plus, Clever operates in all 50 states and the District of Columbia, and there's no obligation — you can meet as many agents as you like until you find the perfect match for your sale.
👋 Meet your free agent matches and save with Clever today!
2. Redfin
Redfin is a discount real estate brokerage that offers homeowners a 1.5% listing fee with an average savings of $5,550. The commission goes down to 1% for sellers who also use Redfin to buy their next home. Redfin is available in more than 80 U.S. markets, and customers can work with more agents than alternatives like Ideal Agent.
However, sellers work with a team of agents rather than a dedicated agent, and a large portion of the process happens on their online platform.
The bottom line: Our friends at Clever Real Estate offers more personalized guidance with a lower fee.
3. Ideal Agent
Ideal Agent matches homeowners with traditional agents who have agreed to a 2% listing fee ($3,000 minimum).
In contrast to Clever and Redfin, Ideal Agent connects customers with a single agent. And, while Ideal Agent is available nationwide, its negotiated rates are twice that offered by Clever, with less flexibility when it comes to hiring an agent. Still, homeowners can save around $3,750 on average.
🔥 Hot Tip: Shop around! Get to know several discount commission agents. It's completely free to explore your options and find the best fit.
Match with top agents, save thousands
Our friends at Clever connect you with top-rated agents in your area who can sell your home fast AND offer low listing fees of just 1%.

The average seller who lists with Clever saves $9,000!



FAQs About 2% Commission
How much commission do realtors make?
Real estate commission is typically around 6% of the home sale price, with half given to the buyer's agent and the other half to the seller's agent, resulting in 3% each. As the real estate market becomes more competitive, some agents or brokerages offer lower commissions – closer to 1 or 2%. Learn how to find a low commission real estate agent.
What is a 2% real estate commission?
A 2% real estate commission refers to a discounted seller's agent fee that saves sellers money on their home sale. It's 1% lower than the typical 3% commission. Some real estate companies offer 2% commission, while others offer even lower fees. Find the best low commission realtors near you.
Who pays realtor fees?
Traditionally, the seller pays the commissions of both the seller's agent and the buyer's agent for a total fee of 6% of the home sale price. But you can negotiate these fees if the agents agree. Read tips for how to negotiate a real estate commission.
Interested in buying or selling?
We've improved the traditional real estate model with modern technology to cut costs, not quality.
Get started today
Posted in Real Estate Agent Commission, Selling a House