How to Make an Offer on a House (10 Steps!)
Posted on June 24th, 2022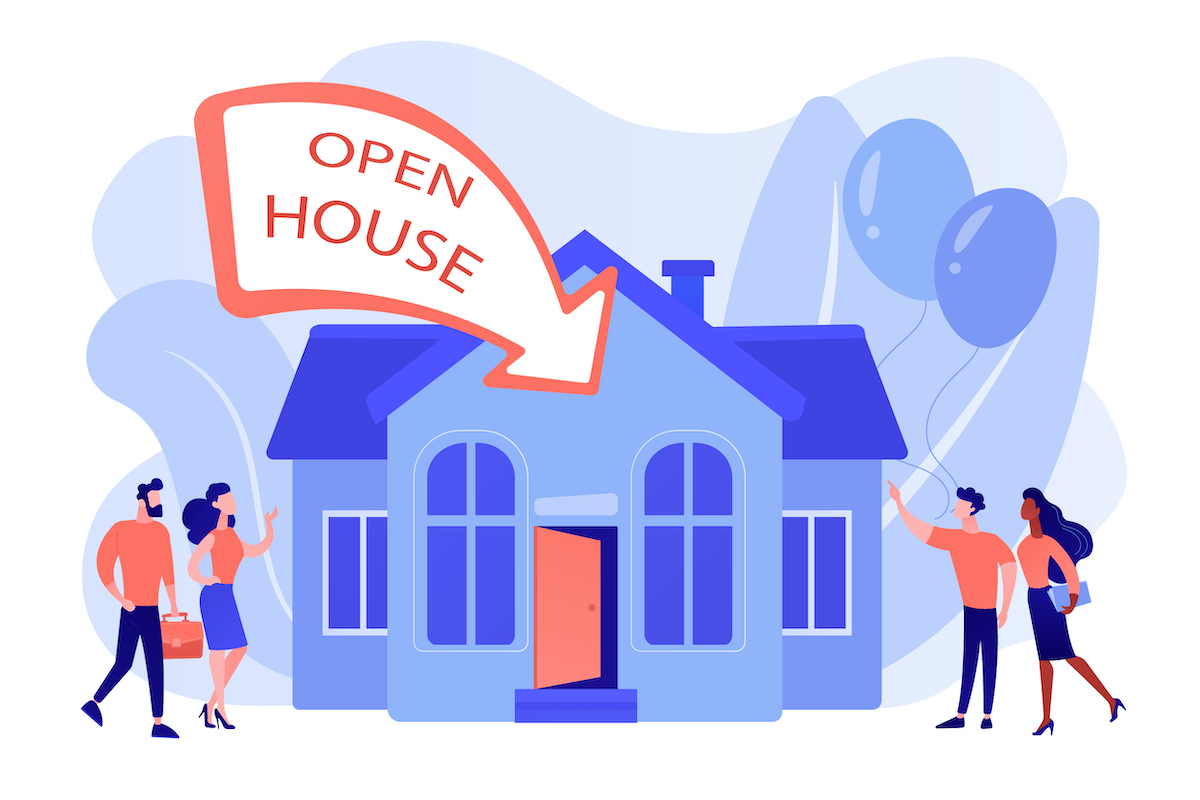 Mortgage preapproval | Finding a realtor | Touring homes | Determining an offer price | Contingencies | Submitting an offer | Negotiations | Signing a contract | Earnest money | Inspections | Closing
A home offer is a serious commitment that could bind you financially for a decade or more. Yet too often, sellers have to act fast and make decisions on the spot. After all, the average house is on the market for just 38 days as of March 2022.
The best way to prepare is to knowing exactly how to make an offer on a house — before your dream home finally hits the market.
If you're serious about successfully landing your dream home, you'll need a real estate agent. A good buyer's agent will help you find properties that match your wishlist, put together a competitive offer, and advise you about the financial implications of your decision.
Plus, you won't have to worry about realtor commission, since the seller traditionally covers buyer's agent commission at closing.
Still looking for an agent? Our friends at Clever can help. They've built a nationwide network of partner agents who come from top-rated brokerages such as Keller Williams, RE/MAX, and Coldwell Banker.
You can get started by connecting with Clever's licensed concierge team, who will personally match you with several agents after learning more about your specific needs. Then, you can interview as many agents as you like before finding the perfect one to represent you!
👋 Meet your free, no-obligation agent matches today!
Before Making an Offer (Steps 1-6)
Step 1: Get Preapproved
Before making the offer, contact at least one mortgage lender to get a preapproval letter. A preapproval letter is proof that a lender is willing to give you a home loan up to a specific dollar amount.
Ideally, this process will help you better understand what a lender is willing to loan you. It'll make things easier if you shop around to lenders first, figuring out which ones offer the best rates, service, and other traits you're looking for in a lender.
Finding the right lender and getting a preapproval letter from them will set you up for easier financing if your offer is accepted.
[object Object]
Step 2: Find a Real Estate Agent
You might think taking the DIY route is an easy way to save money, but not having an agent can cost you more in time, resources and risks in the long run. Plus, buyers don't directly pay for agent commission, so you should take full advantage of the opportunity to have an agent on your side.
An experienced buyer's agent is skilled in making the homebuying process easy. They can provide valuable insights on everything from neighborhood information to market trends. They also know what to look for—from structural issues to potential repairs—and can tell you whether or not a house is priced fairly. And if your offer is ultimately accepted, a good real estate agent will guide you through legal jargon and loads of paperwork that are difficult to navigate on your own.
Don't have an agent yet? Our friends at Clever Real Estate can match you with pre-vetted, local agents who can help you land your dream home. And in most states, you'll even get 0.5% cash back at closing! For a $400,000 home sale, that puts $2,000 back in your pocket — just for finding your agent through Clever.
🤝 Connect with Clever's concierge team to get started today!
Step 3: Find the Right Home
Before making an offer on your dream home, you first have to find it. Consider these main factors before putting in an offer:
The location of the property should be convenient for you and your family members.
The price of the house should align with how much you're able and willing to pay.
The home loan type you choose can impact the amount of your down payment, closing costs and inspections.
This is where a buyer's agent can really shine, especially in a competitive market or one with low inventory. They may know of listings that haven't hit the housing market yet and can help secure a spot for you to see the home before it's gone forever.
Step 4: Decide How Much to Offer
Before you choose how much to offer on a home, you'll want to ask questions. Here are a few of the complexities to consider:
Length of time on the market
Comps (comparative price of similar properties sold recently in the same area)
Potential repairs or upgrades
Number of homes currently for sale in the area
Listing price (and whether it fits in your budget)
» More: 15 Questions to Ask When Buying a House
If you have a preapproval in hand, you're likely shopping for houses within your budget. An experienced agent can help you develop a strong offer that works for your bank account while leaving some wiggle room for seller negotiations.
[object Object]
Step 5: Discuss Contingencies
A contract contingency serves as an "escape clause" that allows the buyer to cancel the agreement without penalty under specific conditions. Common contingencies in an offer include:
Inspection contingency: Allows the buyer to cancel the offer if they're not happy with the home inspections or related negotiations.
Financing contingency: Allows the buyer to terminate the offer if they're unable to secure financing.
Insurance contingency: Allows the buyer to cancel the offer if they're unable to find suitable home insurance for the property.
Appraisal contingency: Allows the buyer to back out of the sale if the appraisal value is lower than the list price or offer amount.
Here's why it matters: An offer becomes a legally binding agreement when both parties sign it. Without contingencies in place, you're on the hook to buy the house no matter what comes up during the inspection or financing process.
Step 6: Draw Up the Offer Letter
Now it's time to put the offer together and submit it. This is where your real estate agent can be your secret weapon. Your agent will draw up the offer letter for you, including all of the necessary legal language and contingencies you agreed on. They can also make sure everything goes through without any unexpected surprises.
What Happens After You Make an Offer? (Steps 7-10)
Step 7: Negotiate With the Seller
When responding to your offer, the seller has three options: accept, reject, or counteroffer.
[object Object]
Negotiations can be nerve wracking to navigate on your own, but a real estate agent will know the best way to approach negotiations. They can help you stay within a budget while getting all the features on your wish list.
Step 8: Sign the Contract
Now that the offer is accepted, it's time to make it official. You'll both sign a contract of sale, often called a purchase agreement. Your real estate agent will send it to your lender, and you'll continue the home loan application process.
Step 9: Make a Good Faith Deposit
Your offer usually includes a good faith deposit. Often called earnest money, it shows you're serious about purchasing the house. It's usually 1% to 2% of the purchase price, but you could hand over as much as 10%.
Earnest money primarily protects the seller. But the earnest money deposit goes toward your down payment or closing costs if the deal goes through. If you back out of the offer based on a contingency in your purchase agreement, you'll get this money back.
Step 10: Schedule Inspections
Once the contract is signed, you'll schedule inspections to ensure everything is in good working order. But be patient—it takes an average of 60 days to close after the seller accepts the offer. In the meantime, gather your documents and review escrow instructions.
Final Step: Closing
When your closing date arrives, you might be nervous. But you don't have to do it alone. Your agent can be present at closing to answer your questions and review the documents you sign to look out for your interests.
Making an offer on a house can be overwhelming. After all, a home is one of the biggest purchases you'll ever make, and so much can go wrong. Before you make an offer on a house, talk to a real estate agent.
Find someone you like and trust who listens to your concerns. The more comfortable you are with your agent, the more they will be able to help.
[object Object]
FAQs
Can you make an offer on a house before preapproval?
You can make an offer on a house before getting preapproved by a lender. But some sellers will only accept offers that include a preapproval letter. Plus, a preapproval letter will strengthen your offer, giving the seller assurance that you're financially capable of obtaining the loan you need to purchase the home. Learn more about the preapproval and prequalification processes for mortgages.
What is a good offer on a home?
What makes a good offer depends mostly on the market. If you're buying in a hot seller's market, a good offer will likely be above asking price and might include additional incentives (like waiving contingencies). But when competition is low, a good offer might be at the asking price or even lower. Just make sure you stick with an amount you can comfortably afford! Learn how a qualified real estate agent can help you make a winning offer.
Interested in buying or selling?
We've improved the traditional real estate model with modern technology to cut costs, not quality.
Get started today
Posted in Buying a House, Closing on a House