Moving to a new place can be stressful ― especially when you think about how many things you need to do before you move if you want it to go smoothly.
We consulted experts and used data from our survey of 1,000 Americans who moved in 2022 to find out how to prepare to move. Based on our findings, we created moving checklists to help you keep track of it all.
⚡️ Download our free, printable moving checklist now (PDF).
Moving Out Checklist
1. Declutter
Before you can get started planning for your move, you need to have an accurate idea of what you want to take with you. The less stuff you have to move, the less your move will cost.
Get rid of anything you don't need to move, especially large items like couches or dressers. You can donate items, sell them online, or call junk removal services to take them away.
After you get rid of your unwanted things, you might be able to rent a smaller truck (for a DIY move), pay for fewer hours of labor (for a local move), or pay for less stuff in the moving truck (for a long-distance move).
2. Make a Budget and Compare Quotes
Moving can be expensive. Our moving trends survey found that 43% of Americans were surprised by how much it cost to move. About half of Americans (46%) spent more than $2,000 on a move.
Get quotes from at least three moving companies. Ask about costs, deposit requirements, services included, and availability.
In order to get an accurate quote, you'll need to decide which services you want to pay for. The cheapest way to move is to do it yourself, but the least stressful way is to hire a mover to do everything for you. Here are the different types of moves, from cheapest to most expensive.
DIY Moves
DIY moves are the cheapest, but you'll have to put in more time and physical effort. There are lots of ways to do a DIY move. You can pack your own vehicle if you're moving a small amount of stuff a short distance in a big car. Or you can borrow or rent a truck and do the packing, loading, driving, and unloading yourself.
Labor-Only Moves
These hybrid moves combine DIY moves and paid services to handle parts of the physical labor. Labor-only moves typically cost more than DIY moves and less than full-service moves, but it depends on how many services you need.
A hybrid move involves hiring someone to do one or more of the following:
Packing
Loading
Transporting
Unloading
Unpacking
Handling specialty items (like pianos)
Whatever you don't pay for, you handle yourself.
Full-Service Moves
Full-service moves are the most expensive kind of moves, because a moving company does everything for you. Long-distance moves with a full-service moving company often cost more than $5,000. But a full-service move is usually a good option if:
You can't do the heavy lifting yourself.
You have a lot of stuff to move.
You have specialty items that need to be packed or transported a certain way.
You're moving a long distance.
You have a bigger budget.
Comparing Quotes
Once you have quotes from at least three companies for different moving services, you can compare them to see which moving company and service level best fits your unique needs and budget. Don't forget to include other moving costs (like tipping your movers) in your budget calculations.
3. Book a Mover (or Truck Rental)
When you've chosen your service level and moving company, you can book your move. Try to book about a month in advance, and potentially even earlier for a long-distance move. That way, your mover of choice is more likely to have room in their schedule.
If you don't have that kind of notice, don't panic. Many movers still have availability a couple weeks out, and some can even squeeze in last-minute moves.
When you book your mover or truck rental, make sure you and the moving company are on the same page about which services you need. Ask the mover what you need to do to prepare ― like booking your apartment's elevator or clearing some room on the street for the truck to park.
4. Figure Out a Labeling and Packing System
Whether you're packing your things yourself or paying someone to pack, a good labeling system will make it easier to unpack and find things later.
We recommend labeling and packing one box at a time and one room at a time. Number each box and input that ID number in a spreadsheet, along with a list of the items each box contains. Then label your boxes based on the room they will need to go in. Put the label and number on each side of each box so it's easily identifiable no matter what position it's in.
Then when you get to your new home, you can make sure boxes go to the right room. You'll also know where everything is and can notice if anything is lost during the moving process.
Packing
If you're paying someone to pack for you, trust the experts to safely pack your items.
If you're packing yourself, get sturdy boxes and packing supplies. Then start with the heavy stuff on the bottom of the boxes (you don't want to crush any lighter items by putting something heavy on top of it). Try to distribute the heavier things among the boxes so you don't have extremely heavy boxes that are hard to lift. Medium-sized boxes are great because they probably won't get too heavy and they don't take up much space.
Carefully wrap fragile items, like TVs. You may also want to review the best ways to pack shoes and to pack clothes for moving to help you deal with those awkward items.
Packing a "first night" box
One of the best things to do before a move is to pack a box for your first night in your new place. Then you won't have to unpack a bunch of boxes just to have what you need right away.
This box should include anything you need to keep you comfortable in your new home before your stuff arrives, like:
Air mattresses or sleeping mats
Basic tools to reassemble furniture
Box cutters
Chargers
Clean clothes
Cleaning supplies to deep clean your new place
Disposable dishes and cutlery
Essentials for pets or kids
Toiletries and hygiene products
Medications and an emergency kit
Nonperishable food
Pillows
Sheets and linens or sleeping bags
Towels
Trash bags
5. Organize Your Documents
Keep your important documents with you during your move. Put the moving company or truck rental contract, insurance policy, proof of value for more expensive items, and any other documents related to your move in a folder. That way, if you run into any issues, you'll have them available.
You may also want to include other important documents, like birth certificates or marriage licenses, in your folder. Then they won't be at risk of getting lost or damaged during your move.
6. Change Your Address
Once you have your new address, update your address with USPS to make sure you don't miss any important mail. You can do this in person at your local post office or online.
Fill out the USPS change-of-address form with your old and new address information. Then pay the very small fee (currently $1.10) to finalize the change. USPS will forward your mail to your new place for up to one year.
Change your address directly with any companies you do business with, like doctors, banks, and other providers.
7. Cancel Your Utilities
A week or so before you move, contact your utility company to cancel your utilities. Give the representative your name, account number, and date you want service to end. This will keep you from paying for the next resident's usage.
Most people will need to cancel power and water. You may also need to cancel utilities like garbage, gas, internet, phone, and cable. Don't forget to pay your final bill.
8. Deep Clean
For renters, a little cleaning can end up saving you lots of money. You'll need to leave the place in good condition to get your deposit back. Use a cleaning checklist to help you get all the nooks and crannies your landlord will check.
Moving In Checklist
1. Set Up Utilities
Research your new utility providers before you move and keep names and contact info in a moving planner or folder. When the time comes, call them to set up an appointment to turn on your utilities. We recommend setting the appointments for when you're home, so you can keep track of what's been done.
2. Deep Clean
Before you unload the moving truck, take some time to deep clean your new space without worrying about working around boxes. You can hire someone to do the cleaning for you if you want to save your energy. Or you can use a move-in cleaning checklist to guide your DIY deep clean.
A deep clean can make your space feel nicer and keep your stuff from getting dirty once you unpack. And deep cleaning can help you spot small issues in your new home ― like chipped enamel in the bathtub or loose cabinet pulls.
3. Make a Project Wishlist
Write out a list of desired repairs and upgrades you want to make. Then prioritize them and tackle anything that would be simpler before unpacking.
For example, maybe you want to remove your popcorn ceiling. It's much easier (and cleaner) to do that before you fill the room with your things. Or if you spot a room that needs a new paint color, you'll have an easier time painting it before you put a heavy dresser against the wall.
4. Unpack and Organize by Room
If you followed a good labeling system, your boxes should already be in the right rooms. If not, just take the boxes to the rooms that make the most sense to unpack them in. Start unpacking the rooms you spend the most time in (like the bedroom and bathroom).
Set up the biggest things in the room first, like furniture. Then unpack one box at a time. Hopefully you put numbers on each box so you know what's in them and can unpack the most important things first. Then pull out medium-sized things, like clothes, electronics, and bedding. Finally, unpack smaller, less important things, like knick-knacks and decorations.
To get rid of your mountain of boxes easily, just offer them for free on Craigslist or Facebook. People always need moving boxes, so someone will probably take them off your hands.
5. Change Your Locks
The last step on our house moving checklist is to change the locks on your exterior doors.
If you're feeling handy, you can change the locks yourself. Just pick up some new locks at your local hardware store. If you'd rather have a pro do the work, you can find a locksmith through HomeAdvisor.
For homes with a keypad or garage door, make sure you change the code. Check to see if the last resident left an owner's manual that explains how. Otherwise, you can Google the keypad brand to find instructions.
Moving Timeline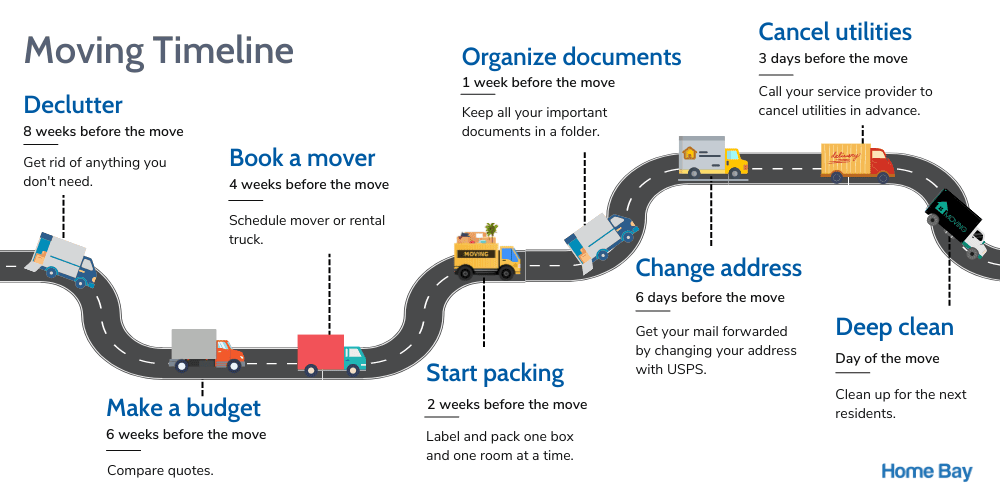 We suggest following a moving timeline that starts eight weeks before your moving date.
8 weeks before ― Get rid of anything you don't need.
6 weeks before ― Compare quotes.
4 weeks before ― Schedule mover or rental truck.
2 weeks before ― Label and pack one box and one room at a time.
1 week before ― Keep all your important documents in a folder.
6 days before ― Get your mail forwarded by changing your address with USPS.
3 days before ― Call your service provider to cancel utilities in advance.
Day of the move ― Clean up for the next residents.
🚚 Skip the search. Connect with a trusted moving company.
Don't waste your time with expensive quotes. Clever Move can connect you with trusted movers and provide personalized recommendations.
Next Steps
Related reading