Redfin vs. Zillow: Which Estimator Should You REALLY Trust?
Posted on June 30th, 2022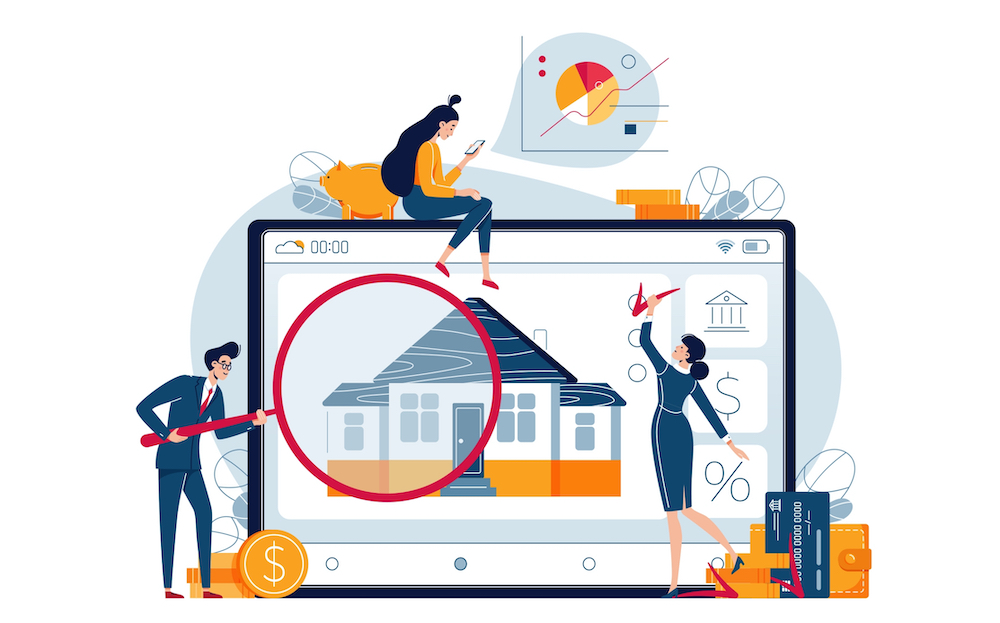 Zillow vs. Redfin accuracy | Estimators vs. realtor | Redfin Estimate accuracy| Zestimate accuracy | Differences | FAQs
Online home value estimators can be useful tools for estimating a home's price, and both Zillow and Redfin offer very popular options. But just how accurate are they, and which one should you trust?
Zillow's home value estimator (the Zestimate) relies on both public and user-submitted data for its own proprietary formula. So does the Redfin Estimate. Overall, Zestimates tend to be slightly more accurate — but both companies' accuracy drops when estimating precise sale prices.
The big issue is that neither estimator is very accurate when it comes to pricing your home before it goes on the market — which is a vitally important part of selling your home.
If you want to get the most accurate home value estimate, we recommend speaking with a few local real estate agents in your area. Most agents are happy to provide a free comparative market analysis (also known as a CMA or "comps") — all you have to do is ask!
The easiest way to connect with local realtors is by connecting with our friends at Clever Real Estate. Their licensed concierge team will personally introduce you to the best local agents from top-rated brokers such as Keller Williams, Coldwell Banker, and RE/MAX.
Clever is a completely free, no-obligation service designed to help save you time and money. Meet your agent matches and find out how much your home is worth today!
Is Zillow or Redfin More Accurate?
Redfin's home value estimator is a bit less accurate than Zillow's when it comes to estimating close to the sales price.
According to Redfin, its estimates are approximately 76% accurate within 5% of the sales price for listed homes. By comparison, Zillow says it's 82% accurate within 5% of the sale price for listed homes.
That's a difference of about 6.5 percentage points for Redfin's listed homes, compared to Zillow.
But Zillow and Redfin's algorithms are more reliable for general estimates than precise ones. Both companies can be very accurate — about 95-99% — when estimating within 20% of a home's sale price. But that accuracy drops to just 70-85% when estimating within 5% of the sales price.
These estimates also vary locally. If you'd like to check margins of error near you, Zillow lists its accuracy rates at the national, state and metropolitan levels. Redfin also lists its national and state accuracy rates, but it breaks down states by county rather than metro area.
Why are Zillow and Redfin estimates so different?
Put simply, Zillow and Redfin estimates are different because they use different models. Specifics for those models are kept under lock, key, and non disclosure agreements, so no one except for Zillow and Redfin employees understand exactly how they work.
Redfin says it only provides a Redfin Estimate if there are "enough similar properties sold nearby within the last year." Zillow, on the other hand, says its Zestimates "rely on much more than comparable sales in a given area."
Overall, we can identify three major factors: number of homes evaluated, market conditions and accuracy levels.
But Redfin and Zillow's home value estimates shouldn't be drastically different for a single home. If that's the case, it's likely that one site has inaccurate or outdated information about that home. Both sites allow the user to edit home facts, but they have to claim the property as an owner to do so.
Reason #1: Zillow covers more homes than Redfin
Officially, Redfin says it provides home value estimates for over 92 million homes, although its weekly updated data indicates its closer to 97.6 million — only about 1.3 million are active listings. Redfin operates in 43 states and the District of Columbia.
By contrast, Zillow provides estimates for more than 104 million homes in all 50 states. Like Redfin, the majority are off market, with only 1.5 million active listings.
It's also worth noting that Zillow uses data from a much larger geographic region than what a traditional realtor or appraiser would use — instead of just using comps from your neighborhood, Zillow can pull data from an entire county to calculate its Zestimate.
Reason #2: Hot markets, renovations can mess with home prices
Redfin and Zillow can't account for renovations and additions if they aren't reported, nor can they gauge the quality of those upgrades and the perspective of potential buyers.
Also, in very hot markets, homes go on and off the market fast and can sell for way over asking. That can make accurate estimates difficult for home value estimator algorithms.
Reason #3: Error Margins and Accuracy Updates
Zillow's median error rates are less than 1% more accurate than Redfin's, so in practice, the two estimates are practically equal.
However, Zillow does not publicly update their accuracy or error margins as frequently as Redfin. Zillow last updated its accuracy numbers on May 27, 2021. Redfin updates its accuracy rates weekly.
Note: Accuracy Drops for Off-Market Homes
Neither Redfin nor Zillow are very accurate for determining the value of off-market homes. In fact, both companies' home value estimators are accurate for just 2 in 5 off-market properties.
[object Object]
That huge drop in accuracy for off-market homes is surprising, especially since many home sellers believe artificial intelligence could outperform a flesh-and-blood agent.
Our Data Center's 2022 survey of 1,000 American home sellers found that people were split over whether or not current AI tech could outperform a real estate agent — but 47% put their faith in the robots.
[object Object]
Zillow and Redfin vs. Hiring a Realtor
Where Zillow and Redfin use automated data points to estimate a home's value, a realtor looks at your home in-person and is knowledgeable about your local market. Both use a CMA, but a realtor's comps are going to be more accurate.
Zillow and Redfin can only evaluate the home so much — typically by square footage and number of bathrooms. Zillow says it uses the listing description as well, but it doesn't say how it uses that information.
Both Zillow and Redfin's pricing evaluations depend on the amount and recency of data available in your market. If either site has inaccurate data, it would affect the price forecast.
Realtors have access to the most accurate and up-to-date information, often by networking with other agents and having knowledge of nearby homes. Listing agents use comps to look for similarly-sized homes as well as homes with comparable features in your neighborhood. Algorithms can't tell if a home has warped floorboards or carpeted bathrooms.
Algorithms also struggle to produce accurate estimates if your home for sale is unique to the area. It's easier to estimate the cost of a brick ranch in a suburb full of brick ranches, but more difficult to estimate a Queen Anne in a neighborhood with salt boxes and craftsman homes.
Instead, we recommend shopping around for a qualified real estate agent who's familiar with how much homes are selling for near you. Our friends at Clever make it simple to find the best agents from Keller Williams, Coldwell Banker, and more. You'll tell their licensed concierge team about your home and financial goals, then get matched with hand-picked agents who can help you price and sell your home.
With more than 1,600 Trustpilot reviews and an average 4.9 star rating, Clever has earned a reputation for providing great service and simplifying real estate for homeowners across the nation.
[object Object]
How accurate is the Redfin estimate?
The Redfin estimate is a calculation of a home's individual value in the market. Redfin states their estimates are very accurate, with a median error rate of just 2.3%.
The closer Redfin gets to pinpointing a home's actualized price, the accuracy gap widens:
[object Object]
Redfin is careful to note their estimates are just a place to start and should not take the place of an actual appraisal or the judgment of a professional real estate agent. But they also claim that their online home value estimator is the most accurate one out there.
[object Object]
How accurate is Zillow's Zestimate?
Zillow estimates market values for about 104 million homes by using data such as:
Size, location and number of bedrooms and bathrooms

Listing price, description and comparable homes

Tax assessments, sales history and other records

Market trends
Zillow's algorithm can automatically compute values that are based on both public-submitted as well as user-submitted data points for each property. The true accuracy of a Zestimate will vary based on a number of factors, including property location and what kind of data is available.
Like Redfin, the closer Zillow tries to estimate the actual sales price, the less accurate it gets:
[object Object]
Zillow tries to combat inaccuracy issues by allowing homeowners to update data like sale price and tax history on their own, which can affect the Zestimate. Zillow refreshes Zestimates for every home in its database daily.
Zillow also takes into account market trends and seasonality, which play a significant factor in price.
[object Object]
Don't Underestimate Your Home's True Value
Your home is one of your most valuable assets — so you shouldn't base your understanding of its value solely on an online estimate.
Neither Redfin nor Zillow is terribly accurate when it comes to estimating a value within 5% of the sales price. And both sites are inaccurate when it comes to estimating the value of off-market homes.
As a result, both Redfin and Zillow say their home value estimates are a jumping off point, and shouldn't be used as an actual CMA or an appraisal. (Note: There's no such thing as a Redfin or Zillow appraisal — an appraisal must be done by a licensed appraiser.)
By contrast, most real estate agents are happy to offer free home value estimates — and tell you how your home might be able to sell for more. When you work with an experienced realtor, you'll receive expert advice about how to market your home and negotiate the best outcome, based on your goals for the home sale.
Agents may have differing opinions, so we recommend shopping around with at least two to three agents. And if you're looking for great local agents who can help you estimate your home's value, our friends at Clever Real Estate can help!
Clever provides the easiest way to meet the best agents near you. You'll start by telling Clever's licensed concierge team about your goals, then get personalized introductions to the best agents who have experience selling homes like yours. It's a completely free service, with zero obligation.
Best of all, Clever's pre-negotiated listing fees can help you save thousands. At just 1% for most homes, the average seller who finds an agent with Clever saves $9,000!
[object Object]
Related Reading
FAQs About Redfin and Zillow Home Value Estimators
How often does Zillow update?
Zillow updates its Zestimates several times a week. However, Zillow rarely updates its accuracy or error rates publicly.
What does hot home mean on Redfin?
A Redfin hot home is a home that Redfin thinks will sell faster than its neighbors. Hot homes are typically selected as "hot" as soon as they are listed, but already listed homes can become hot homes. Learn what conditions Redfin hot homes must meet.
Does Zillow own Redfin?
Zillow is an online real estate company that owns Trulia. Redfin is a brokerage. Both are based in Seattle and have their own competing home evaluation estimators, with different accuracy and error rates. Learn which estimator is more accurate.
Interested in buying or selling?
We've improved the traditional real estate model with modern technology to cut costs, not quality.
Get started today
Posted in Selling a House