The 5 Best Places to Buy Rental Property in Texas
Posted on June 27th, 2022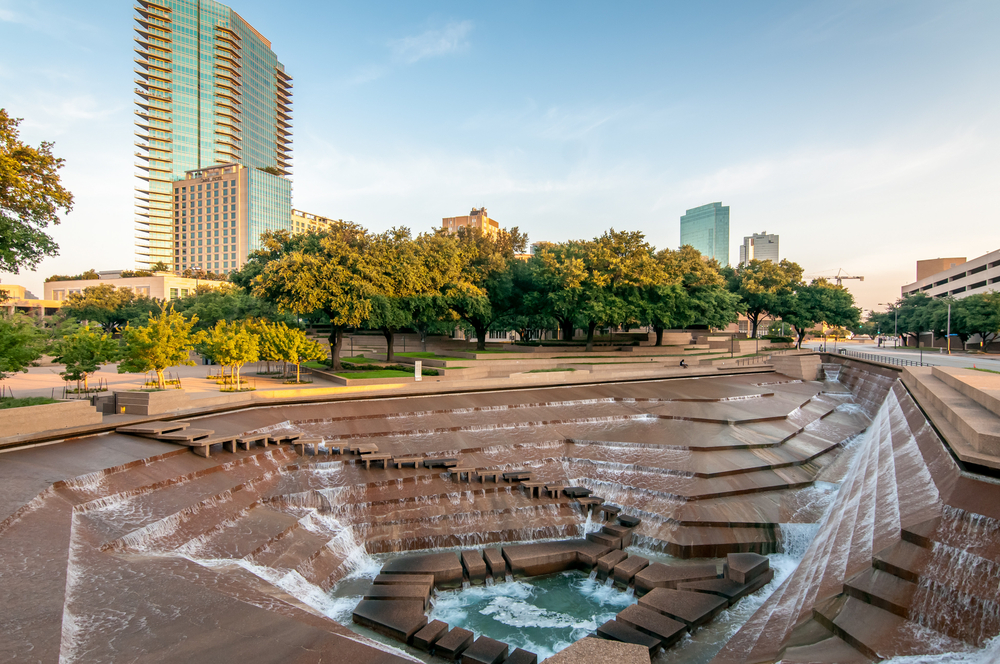 💰 What is the best place to buy rental property in Texas? 💰
Fort Worth is the best place to buy rental property in Texas, followed by Austin and Dallas.
Fort Worth | Austin | Dallas | Houston | San Antonio
We strive to provide objective, independent advice and reviews. When you decide to use a product or service we link to, we may earn a commission.
With an impressive inventory of moderately priced homes, Texas is one of the best places to buy rental property. An abundance of affordable rental properties, its flourishing economy, landlord-friendly laws, a growing population, and no state income tax make Texas an alluring draw for investors.
This enormous state attracts a steady flow of potential residents. Sports are a huge draw, and several cities host notable colleges and universities. Texas also has an enviable food scene and offers festivals, concerts, art exhibits, and outdoor recreation year-round. It's no surprise that the short-term rental market is booming here.
Texas is one of the best states to invest in real estate. To discover which cities deliver the highest return on your real estate dollars, we evaluated the investment considerations of the five most populous cities in Texas.
Ready to invest in Texas? Our friends at Clever Real Estate can help. Clever is a free, no-obligation agent matching service that will introduce you to qualified, pre-vetted realtors from trusted brokerages including Keller Williams, RE/MAX, and Coldwell Banker. You can meet as many agents as you like until you find the best one to advise you on your real estate investment journey.
With Clever, you'll also be able to easily take advantage of buyer rebates in Texas. You'll get up to 0.5% cash back after closing — and in Texas, where the median price for a single-family home is $302,730, that puts around $1,500 back in your pocket.
👋 Contact Clever's licensed concierge team to meet top-rated real estate agents in Texas today!
1. The Best Place to Buy Rental Property in Texas: Fort Worth
🏡 Median Home Value


$311,106


📈 Home Value Growth (1-Year)


30%


💰 Median Rental Price*


$1,149


🙂 Population in 2022


958,692


📈 Population Growth Since 2010


28%

Fort Worth tops our list of the best places to buy rental properties in Texas. It ticks all the boxes with reasonable real estate prices, surging property values, solid rental rates, and appealing amenities.
The median home value increased 30% over the last year to $311,106, but it's still below the national average. A 114% home value increase since 2015 reflects a reliable growth pattern. Considering that home prices in Texas as a whole have only grown 80% in the same period, it's clear that the Fort Worth real estate market represents solid investment potential.
More importantly, the rental market here is strong, and 41% of the city's population rents rather than owns. The median rent for a two-bedroom apartment is $1,590, up 18% over 2021 and an impressive 64% since 2015. Fort Worth also enjoys a solid short-term rental rating, with a 49% occupancy rate in March 2022.
Fort Worth is an up-and-coming city. Between 2010 and 2020, the population grew 24%. The city is popular with young professionals – a critical rental demographic. As of January 2022, the unemployment rate was below the state and national rates, thanks to the plentiful jobs in oil and gas, manufacturing, distribution, technology, and defense. A few of the top employers include American Airlines, Exxon Mobil, and AT&T.
It's not all about work in Fort Worth. The city offers spectator sports like rodeos, football, and racing. Plus the Fort Worth Texas Motor Speedway is one of the nation's largest racing facilities, with close to 155,000 seats for racing fans.
2. Austin
🏡 Median Home Value


$676,077


📈 Home Value Growth (1-Year)


39%


💰 Median Rental Price*


$1,884


🙂 Population in 2022


1,028,225


📈 Population Growth Since 2010


27%

If low real estate prices were the only consideration, Austin would be out of the running with a median home value of $676,077. However, there's more at play. The residential real estate market has exhibited extraordinary growth. Median values are up 39% since last year and reflect a 119% increase since 2015.
Rising housing costs aren't discouraging migration to the city. Its population has grown an impressive 34% since 2010, and renters outnumber homeowners in Austin by 3:5. Those tenants are currently paying a median of $1,884 for a two-bedroom apartment. That's the second-highest median rent among Texas's most populous cities. Austin is also a big hit in the short-term rental market with March 2022 occupancy rates at 49%.
WalletHub says Austin is one of the nation's best cities for renters. It ranked second in the state in job opportunities and boasted a 3.3% unemployment rate as of January 2022. Tech companies like Apple and PayPal attract young professionals and a large millennial population. It even earned the nickname "Silicon Hills."
Turning to amenities, Austin is notable for great live music, diverse culture, outdoor recreation, green spaces, and much more. Austin tops multiple lists ranking places to live, work, and visit. All things considered, if you can afford to purchase rental properties in Austin, the payoff potential is promising.
Ready to Invest in Rental Property?
We've partnered with DealMachine, a leading real estate investing and wholesaling software that can help you scale your business.
DealMachine connects you with:
📊 Accurate real estate data on foreclosures, county records, and more
☎️ Contact information that connects you directly to property owners
🏡 Mobile maps and property filters to help you identify and track opportunities
…and more! With a 4.8 star rating across 3,500+ user reviews, DealMachine is a tool serious real estate investors trust.
Start your free trial today!
3. Dallas
🏡 Median Home Value


$310,959


📈 Home Value Growth (1-Year)


22%


💰 Median Rental Price*


$1,930


🙂 Population in 2022


1,348,886


📈 Population Growth Since 2010


12%

Dallas is another solid contender in the Texas rental market. The median home value of $310,959 comes in below the national average. Property values have grown 113% since 2015, outperforming the state and the nation.
Dallas commands the highest rental prices on our list. Renters make up 44% of the city's residents, and they pay a median rent of $1,930 for a two-bedroom apartment. In the short-term rental market, Dallas had a 49% Airbnb occupancy rate in March 2022.
Dallas is a top city for young professionals and the region's post-COVID employment growth is impressive, coming behind only New York and Los Angeles in non-farm job growth among large U.S. cities.
But Dallas offers more than jobs, with plenty of fun things to do. It even boasts the largest urban forest in the U.S., encompassing 42 square miles of greenery. Plus the city's 20 blocks of cultural attractions represent the nation's biggest urban art district.
4. Houston
🏡 Median Home Value


$256,143


📈 Home Value Growth (1-Year)


20%


💰 Median Rental Price*


$1,711


🙂 Population in 2022


2,325,353


📈 Population Growth Since 2010


11%

Houston may be the right choice if you're trying to make your investment dollars stretch. Home prices are lower here than in the other four cities, with a median price of $256,143. That value has increased 63% since 2015, and nearly 20% of this growth was over the past year.
Investors can enjoy a strong rental market in Houston. WalletHub ranks Houston above Dallas in its best places to rent list. Median rental rates for a two-bedroom apartment grew 36% over the past seven years to $1,711. That rate is slightly higher than our number one pick – Fort Worth. There are also slightly more renters than homeowners in Houston, providing a more than adequate renter pool.
Houston's major industries include aerospace and aviation, digital tech, energy, life sciences, and biotechnology, making the city attractive for young professionals. It's also an Indeed top pick for job seekers.
Residents and visitors enjoy Houston's beautiful parks, golf courses, museums, space exploration centers, performing arts offerings, and enticing food. The city's unique seven-mile tunnel system connects hotels, shops, and other city features, giving pedestrians an indoor route to many attractions.
5. San Antonio
🏡 Median Home Value


$287,310


📈 Home Value Growth (1-Year)


24%


💰 Median Rental Price*


$1,720


🙂 Population in 2022


1,598,964


📈 Population Growth Since 2010


20%

While home values in San Antonio grew 80% since 2015, the $287,310 median home value still undercuts the state and national average. San Antonio's stable housing market offers affordability and modest investment potential for long-term rentals. Renters pay a median rate of $1,720 for a two-bedroom apartment.
The short-term rental market is where San Antonio shines in real estate investment opportunities. San Antonio is the best city on the list for Airbnb investment. This popular tourist destination boasts a 60% occupancy rate for short-term rentals in March 2022.
San Antonio is a tourist hotspot attracting more than 34 million people each year. They flock there to visit Sea World, the Botanical Gardens, the UNESCO World Heritage Site, The Alamo, and more. The city enacted short-term rental regulations in 2018, but they're not overly strict. With sufficient due diligence and the help of a knowledgeable investing real estate agent, you can acquire a profitable short-term rental property in San Antonio.
Next Steps for Your Rental Property Investment
From Fort Worth's healthy rental property market to San Antonio's thriving short-term rental market, real estate investment opportunities are plentiful in Texas.
If you're serious about investing in rental property, you'll need a great local agent. Our friends at Clever Real Estate have built a network of trusted partner agents in Texas and beyond. It's free to meet agents through Clever, with zero obligation!
Best of all, real estate investors who find an agent through Clever can easily take advantage of Texas's buyer rebate opportunities. You can receive up to 0.5% cash back at closing, which you can use to offset closing costs, get your new property ready for renters, or simply enjoy as extra money in your pocket.
🙌 The Easiest Way to Get Cash Back After Closing!
Did you know 42 states and Washington D.C. allow cash rebates for home buyers? Our friends at Clever can match you with trusted local real estate agents and help you get 0.5% cash back. You can spend your money any way you'd like — no questions asked!
FAQs
Is rental property a good investment in Texas?
The Texas housing market is ideal for real estate investment. The strong economy has ushered in some of the fastest-growing populations in the country, and home prices are rising steadily. Learn more about the best places to buy rental property in Texas.
Is Texas good for landlords?
Texas is a friendly state for landlords, without a lot of legal restrictions to worry about. The steady population growth ensures a continued demand for rental properties. For even more insight, a realtor can help you find the best Texas real estate markets that are friendly to landlords. Learn which Texas cities are best for rental property investing.
Interested in buying or selling?
We've improved the traditional real estate model with modern technology to cut costs, not quality.
Get started today
Posted in Investment Property, Real Estate Investing