Looking for a Home Buyer Rebate? Read This First
Posted on June 27th, 2022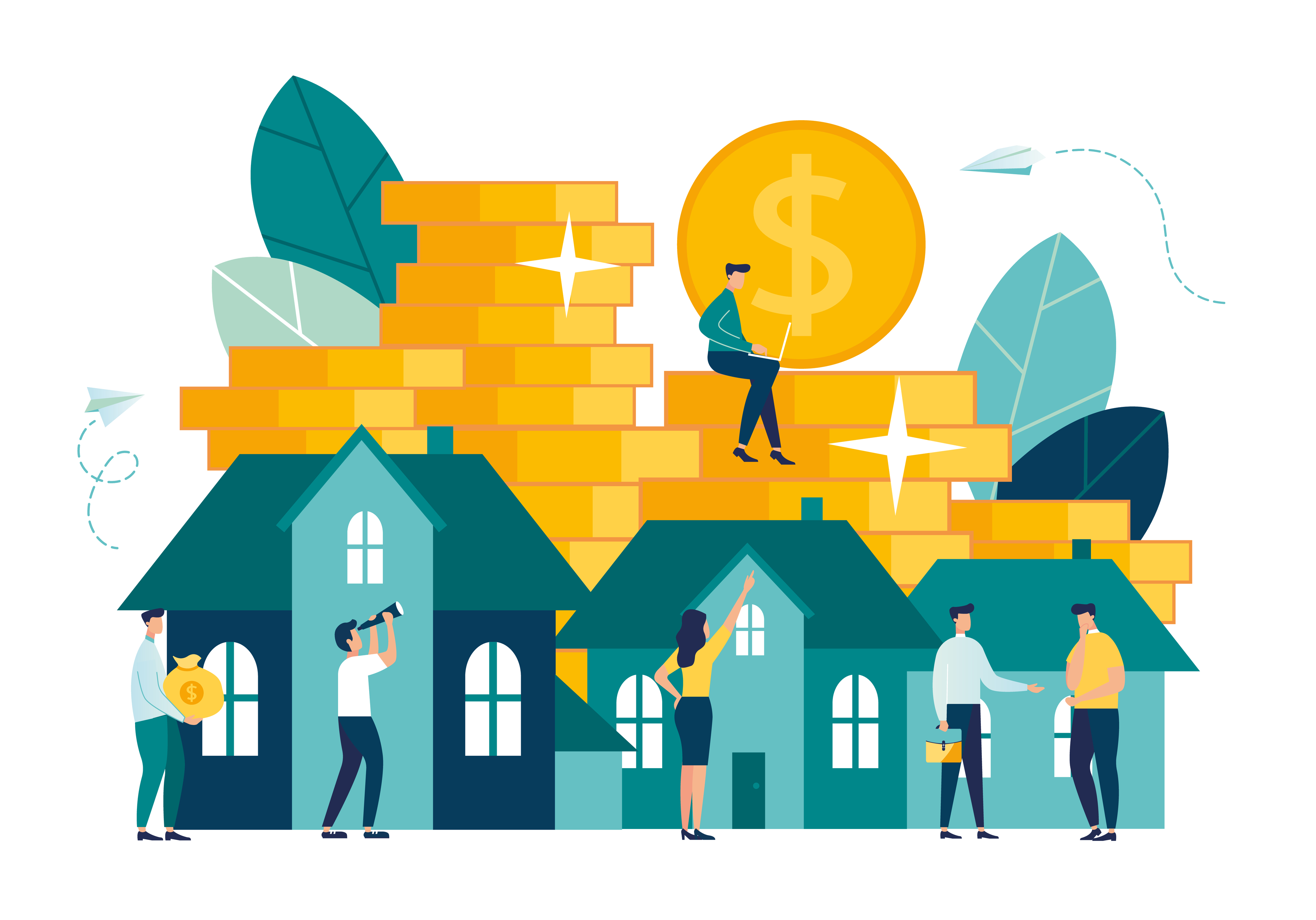 Best Home Buyer Rebates | How Much Can You Save? | How to Negotiate a Rebate | Are Rebates Legal? | FAQs
If you're buying a house in Washington D.C. or one of the 42 U.S. states that allow home buyer rebates, you should absolutely try to get one. You receive cash back in your pocket after closing, and there are no trade-offs.
So where does that money come from? A home buyer rebate is basically a commission refund. Buying agents offer you a portion of their commission to secure your business. It's a win-win!
In an increasingly competitive real estate industry, home buyer rebates are becoming more and more common. Depending on where you live, you can probably choose between multiple home buyer rebate programs. This guide can help you decide which home buyer rebate is best for you.
[object Object]
Want to get the most out of your home buying experience?
We recommend our friends at Clever Real Estate. We've partnered with Clever to match you with top local agents from trusted firms like Keller Williams and Coldwell Banker. If your home is eligible for Clever Cash Back, you'll get a rebate of up to 0.5% of your home's purchase price.
🌟 The Best Way to Find an Agent AND Get Cash Back!
Best Home Buyer Rebate Programs
[object Object]
Clever Real Estate
[object Object]
Clever Cash Back issues a check to eligible buyers shortly after closing in the amount of up to 0.5% of the home's purchase price. That means that on a $300,000 home, you'd receive a rebate of up to $1,500.
Because this is technically a cash back reward, as opposed to a home buyer rebate, there are no restrictions on what you can spend it on.
While other companies may offer slightly larger rebates, Clever buyers receive full service from an experienced agent and support from Clever's Concierge Team throughout the transaction. And at the end of the transaction, you receive cash back with no strings attached. We recommend this as the gold standard of home buyer rebate programs.
💰 Find an agent through Clever and earn cash back after closing!
Redfin
[object Object]
Redfin's home buyer rebate program differs from market to market. In some regions, you may get cash back, and in others, you may only be eligible for closing credits. Be sure to do your research into what kind of buyer rebate — if any — you're eligible for in your market, and at your price point.
Our research suggests that the average Redfin buyer rebate is only 0.22% of the purchase price, which is less than half of Clever's standard home buyer rebate. And again not all buyers, purchases, and markets are eligible for a rebate.
Redfin customers will also have to work with a salaried Redfin agent that doesn't make a commission and handles a very high volume of customers. Buyers who need personalized attention may find their agent experience less than satisfying.
In the end, Redfin's rebate program is really only worthwhile for buyers who live in the few specific markets where Redfin offers substantial rebates.
UpNest
[object Object]
UpNest is a free agent-matching service that might offer some buyers a home buyer rebate, but it doesn't have a blanket policy. Some of its agents offer rebates, and some don't. You won't know who offers what, or if you're eligible until you sign up.
Buyers who do get a rebate through UpNest will receive it in the form of closing cost credits. Closing credits can only be put toward a few specific costs, unlike cash back rewards. They're also subject to lender approval and potentially lender veto.
UpNest does offer every buyer a $150 Amazon gift card, but that's quite small compared to the standard rebate offered by other companies.
Prevu
[object Object]
Prevu offers up to a substantial 2% commission rebate for buyers, but there are some strings attached. To qualify for that 2% rebate, buyers have to purchase a home worth close to $1 million or more. Buyers who purchase less expensive homes will get much more modest rebates.
Many experts compare Prevu's buying experience to Redfin's. Its agents handle a substantial volume of customers and are more hands-off than a traditional full-service agent. But if you're in one of their six operating states*, buying a very expensive home, and don't need a lot of attention or guidance from your agent, Prevu might be the company for you.
*Prevu offers home buyer rebates in California, Connecticut, Massachusetts, New York, Pennsylvania, and Washington.
Trelora
[object Object]
Trelora's rebate program favors buyers on the lower end of the price spectrum, offering a rebate of 1-1.5%, capped at $6,000. That rebate cap means that, if you're buying a higher-priced home, you can score a more generous rebate from other companies.
One thing worth noting: Trelora agents handle an extremely high volume of customers — up to twenty times as much as the average realtor. Agents who handle that much business will have a hard time giving every client personalized, hands-on attention.
Simple Showing
[object Object]
Simple Showing rewards customers for minimizing the time agents spend showing them homes. The problem is that most customers won't be able to maximize their rebate.
To earn the maximum rebate that SimpleShowing allows, you'll have to tour five or fewer homes before buying. Look at more homes than that, and the rebate starts to diminish with each additional showing.
If you've already narrowed down your choices before signing with SimpleShowing, you might be able to come in under the limit. However, keep in mind that the average buyer looks at nine homes before buying. In very competitive markets, buyers may have to look at a succession of homes simply because they keep losing bidding wars.
SimpleShowing's rebate comes in the form of a closing cost credit for up to half of the buyer's agent commission.
Homie
[object Object]
Homie offers a commission rebate for up to half of the buyer's agent fee — but there are strings attached. To qualify for this rebate, you must use Homie's in-house mortgage and title services.
If you already have a lender you want to work with, you'll have to abandon them to get Homie's rebate. And if Homie's mortgage and title rates are higher than other financing options, those fees will likely offset any savings you get from the buyer rebate.
Like a few other companies on this list, Homie's agents handle a very high volume of customers. At around ten times the volume of an average realtor, you may not get the level of communication and attention you want from your Homie agent. However, if you're willing to use Homie's in-house services to get their buyer rebate, that lower level of service might be worth it to you.
How Much Can You Save With A Home Buyer Rebate?
[object Object]
How much you save with a home buyer rebate depends on several factors — some of which may not be under your control.
First, the home buyer rebate is percentage-based, so the exact amount depends on the final sale price of the home you buy.
Second, it depends on the rebate your agent is willing to give you. This rebate comes out of your agent's commission, so they're essentially giving you a portion of their paycheck to secure your business. How much of their commission they're willing to give you depends on how much they want to work with you, and how good you are at negotiating.
Finally, your home buyer rebate is subject to the lender's approval. If they want to, they can veto the home buyer rebate, and lenders sometimes do that.
Why Do Agents and Brokers Offer Home Buyer Rebates?
While some agents and brokers remain anti-rebate, home buyer rebates are a great way for agents to attract and retain new customers. Most home buyers are under increasing financial stress during the purchase and closing processes, and a rebate offers some much-needed cash at a crucial moment.
A home buyer rebate comes out of the buyer's agent commission, so offering a realtor rebate doesn't keep a broker from making money — it simply returns a small portion of the commission to you.
As more companies offer home buyer rebates as a standard feature, agents feel more pressure to follow suit. As realtor rebates become legal in more U.S. states (they're currently allowed in 42 of 50), they'll become more and more common.
How To Negotiate A Home Buyer Rebate With Your Agent
A home buyer rebate comes out of the buyer agent's commission, so your agent may be reluctant to part with a percentage of their paycheck. However, if you're a high-value buyer with a lot of leverage, they may decide it's worth their while.
What is a High-Value Buyer?
Buying a home in a low-demand area: There simply aren't many buyers in the area, so your business is precious.
Ready to make an offer: You've already surveyed the market and have a specific property in mind. You won't need a lot of hand-holding and won't take up much of the agent's time.
Buying and selling with the same agent: The agent is in a position to make two commissions — so it doesn't sting so much to reduce one of them a little.
Going to buy a high-priced home: Agents don't mind taking a smaller slice of a bigger pie. 1% of $1 million is more than 3% of $250,000.
Should You Try to Negotiate a Rebate on Your Own?
While it's possible to negotiate a rebate on your own, it won't be easy. Real estate agents are professional negotiators, and you're trying to persuade them to take less money to do their job.
Your best course of action is to work with a company that's already pre-negotiated a home buyer rebate for you. Agent matching services like Clever Real Estate connect you with local buyer's agents who've already agreed to give buyers cash back — no negotiation required!
Why Have these Agents Agreed to a Cash-Back Buyer Rebate?
Agent-matching services supply them with serious, high-quality leads that take less time and effort to close than conventional leads. So even if they're making less per individual deal, they're closing more deals, making up the money in volume. Even better, the more deals they close, the more word-of-mouth referrals they'll get — most of whom will pay full commission.
[object Object]
Are Home Buyer Rebates Legal?
Yes, home buyer rebates are legal in most, but not all, states.
Some States Don't Allow Buyer Rebates
As of May 2022, 42 out of 50 U.S. states, plus Washington D.C., all allow home buyer rebates. The ones that don't allow them are:
Alaska
Kansas
Louisiana
Mississippi
Missouri
Oklahoma
Oregon
Tennessee
Iowa allows home buyer rebates, but not in all cases. To qualify, you and your buyer will have to use the same real estate broker for the transaction — a process known as dual agency.
The good news is that trends are moving in favor of the realtor rebate, as more states move to legalize them. The U.S. government supports making buyer agent rebates legal in all 50 states, believing (correctly) that they increase competition in the industry.
Buyer Rebates are Usually Subject to Lender Approval
[object Object]
Your home buyer rebate is usually subject to lender approval. That's because the rebate changes the loan-to-value ratio of your mortgage, which requires some adjustments to your financing.
A lot depends on whether your rebate comes in the form of cash back or a closing credit.
Cash back is exactly what it sounds like — cash into your pocket, with very few restrictions.
Closing credits, on the other hand, can only be applied to certain things and are subject to lender approval.
Always ask what form your home buyer rebate is going to take before you sign with an agent.
Also, keep in mind that you typically won't be able to use your home buyer rebate to fund your down payment.
Are Real Estate Commission Rebates to Buyers Taxable?
✅ Good news: Real estate commission rebates are not taxable income, according to the IRS.
That's because the buyer agent rebate isn't income, in the sense of money someone is paying you. It's actually your money coming back to you — which you already paid taxes on at the time you earned it — at the end of the transaction.
However, receiving a home buyer rebate could affect your capital gains taxes.
Capital gains taxes are paid on the increase of your home's property value, and a home buyer rebate lowers the original cost basis of your property. So when you do eventually sell, capital gains will be calculated using that lower cost basis, resulting in a slightly higher capital gains tax bill than if you hadn't gotten a rebate.
Home Buyer Rebate FAQs
What is a Home Buyer Rebate?
A home buyer rebate is a portion of a real estate agent or brokerage's commission that they share with a buyer. This rebate is meant to encourage the customer's business and is usually given as a percentage of a home's sale price after closing.
How Does a Home Buyer Rebate Work?
You'll typically receive a home buyer rebate in the form of a closing credit. That means you get a discount on some of your closing costs. However, with a closing cost credit, you have limitations on how you can use it. That's why cash back is often preferable: you receive a check after the purchase is complete, and you can spend the money however you want to.
What Real Estate Company Offers the Best Home Buyer Rebate?
For the best home buyer rebates available across the United States, we recommend Clever Real Estate, UpNest, or Redfin. You can also find a good fit with another company depending on your location and budget. Explore the top realtor rebate programs.
Is a Home Buyer Rebate Taxable?
Home buyer rebates are not considered taxable income, according to the IRS. However, you may have to pay more capital gains if you get a rebate. This is because the rebate can change your home's cost basis. Learn more about home buyer rebates.
Interested in buying or selling?
We've improved the traditional real estate model with modern technology to cut costs, not quality.
Get started today
Posted in Buying a House