Bellhop Movers: An Honest Review
Posted on December 29th, 2022
Value | Customer Experience | Credibility | About Bellhop Movers | How We Researched | FAQ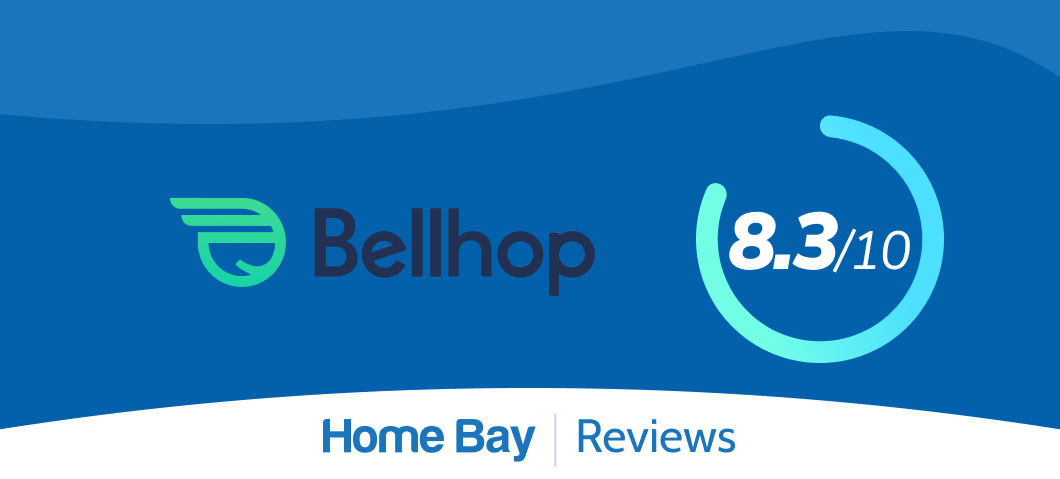 When you work with one of our affiliate partners, we may earn a small commission. However, our reviews are based on objective, independent research. Learn more about Home Bay's editorial policy and why you should trust us.
Bellhop moving company offers moving services in 27 states across the U.S. It handles both local and long-distance moves, and you can choose from just labor help or labor and a truck. Bellhop takes a modern approach to moving with online booking and QR code-enabled billing.
Overall Score: 8.3/10
Bellhop offers several ways to save, like discount codes, prorated hourly rates, and variable pricing by date. Its base prices are in line with other moving companies.
Bellhop moving reviews are mostly positive. The biggest complaints are about canceled moves and damages to items.
Bellhop has all the necessary registration and insurance. Plus, it gets very few formal complaints.
Bottom line: Bellhop moving company is a great choice for local and long-distance moving, if you live in its service area. Bellhop moving makes it easy to book and you can save money with unique discounts. Plus, the majority of customers have positive things to say about Bellhop.
To make sure you hire the best moving company for your next move, we suggest talking to a moving broker. A broker can help you pick the right local mover (for free!), and they may help you get insider rates.
🚚
Ready to get moving?
Talk to a moving broker, get personalized recommendations and the most competitive rates. 100% free with no obligation.
Get started
.
Bellhop Movers vs. the Competition
| | Bellhop Movers | Colonial Van Lines | Mayflower Moving |
| --- | --- | --- | --- |
| Overall score | | | |
| Value | | | |
| Customer experience | | | |
| Credibility | | | |
We think Bellhop is the best mover for most people, thanks to its excellent customer reviews and options for saving money. If you want a full-service mover, Mayflower Moving is the better choice ― though you won't get discounts or labor-only pricing. Colonial Van Lines services the most states, but most customers report worse experiences with it.
Bellhop Movers: In-depth Breakdown
Value
📊
Our rating: 8/10
Overall, we think Bellhop offers above-average value.
Prices are competitive, but you can compare dates and use coupons to save.
You can customize the service to your needs, but you can't get help for extra tasks like furniture assembly.
Bellhop offers more value than your average mover.
Bellhop's base prices seem similar to costs from other moving companies (based on an online quote we got and customer reviews). In other words, expect to spend somewhere around the national average of $1,000 and $2,500 for a local move (according to HomeAdvisor's moving cost data).
Unlike many other large moving companies, Bellhop moving company offers coupons and discounts. Plus, when you book online (at getbellhops.com or on the Bellhops app), Bellhop shows you a calendar that lets you compare pricing by date. You can pick a cheaper day to save money.
Bellhop gives you a QR code that its mover scans at the beginning and end of your move, so you know exactly how long you're getting billed for.
You can also save money with Bellhop moving by hiring just labor help and renting your own truck, instead of hiring labor and a truck.
As you compare costs between Bellhop and other movers, though, keep in mind that Bellhop movers doesn't offer the same kind of full-service moves as some other companies. Bellhop won't help you assemble large furniture items, hook up televisions, or install appliances.
⚡️
Quick tip:
Moving quotes are generally case specific, so what you see advertised on company websites isn't always what you get. We recommend reaching out to an independent moving broker to
request a quote today
.
Customer Experience
📊
Our rating: 8/10
Bellhop generally gets positive customer reviews.
We noticed a pattern of canceled moves in the Atlanta area, which might just be a local staffing issue.
On the whole, Bellhop gets better-than-average customer reviews.
For example, Bellhop earns a 4.8 out of 5 on Google and a 4.3 out of 5 on Trustpilot. Positive Bellhop movers reviews rave about easy booking, friendly service, and quick movers.
A few negative Bellhop reviews focused on issues like item damage and minor home damage.
That said, we did notice an unusual number of complaints about Bellhop canceling moves or failing to show up for moves. Most of these complaints were in the Bellhop Atlanta service area, though, so this is probably a localized staffing issue.
Obviously it's a big deal if your movers don't show up. But most customers say great things about Bellhop moving. Odds are you'll have a positive experience.
Credibility: 9/10
📊
Our rating: 9/10
Bellhop is properly registered and insured.
We only found two formal complaints against the company ― a great track record for a large moving carrier.
Bellhop moving company appears to be legitimate and to comply with industry standards.
We looked up Bellhop moving in the U.S. Department of Transportation (U.S. DOT) mover database. According to its record, Bellhop has current U.S. DOT registration, carries all required insurance policies, and hasn't had any crashes in the past two years.
Even more impressive for Bellhop? It has just two formal consumer complaints during the past two years ― less than most moving major companies.
You can feel confident using Bellhop moving.
About Bellhop Movers
Bellhop (formerly Campus Bellhops and then Bellhops) has been in business since 2011, beginning with the Bellhop Chattanooga location. It now services more than 120 cities across 27 states.
How We Researched
We analyzed Bellhop moving reviews, its U.S. Department of Transportation records, and moving quotes we requested from its website. We also compared Bellhop movers to similar national moving companies to get our Bellhop review.
FAQ
Yes, Bellhop movers is legit. It's registered with the U.S. Department of Transportation and complies with industry regulations. Read our full review.
The Bellhop cancellation policy says you can cancel with no charges within 48 hours of booking. After that, you'll forfeit your 10% deposit.
Related Reading
Interested in buying or selling?
We've improved the traditional real estate model with modern technology to cut costs, not quality.
Get started today
Posted in Moving