What's a Buyer's Market in Real Estate? How to Tell (and Avoid Mistakes)
Posted on June 24th, 2022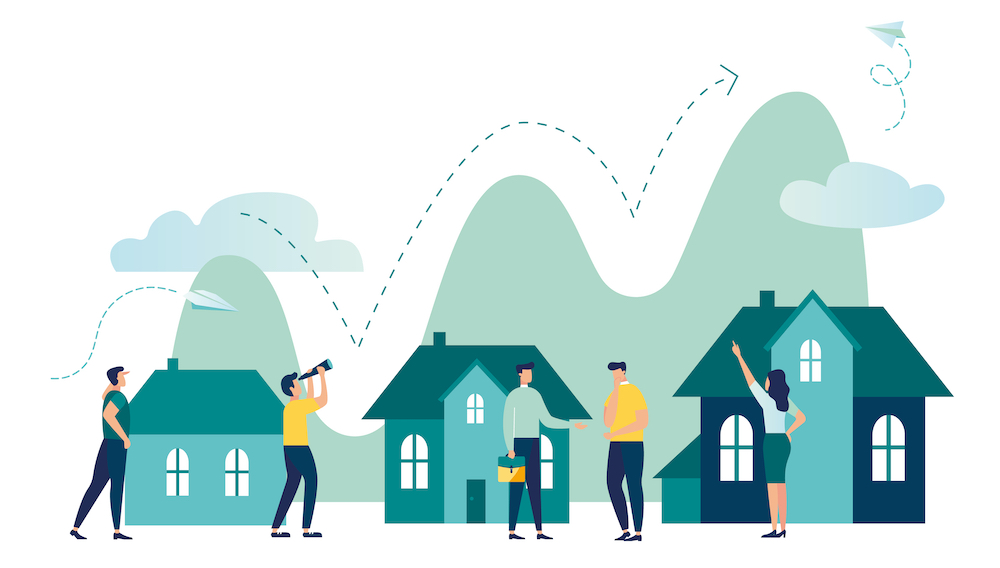 Whether you're buying or selling a home, it's crucial to know how the real estate market is trending.
There are three types of real estate markets you may face:
A buyer's market that favors home buyers
A seller's market that favors home sellers
A transitional market that is fairly neutral
While national trends matter, it's more important to know how the real estate market is leaning in your specific location. That's why we recommend contacting a qualified local real estate agent who knows if now is a good time to sell — or whether it's a mistake you'll later regret.
Our friends at Clever Real Estate make it easy to shop around for real estate agents near you. Clever's licensed concierge team will learn about your specific goals, then match you with agents from national brokerages like Coldwell Banker, Keller Williams, and RE/MAX. It's 100% free, with zero obligation.
If you meet an agent you click with, you can take advantage of Clever's pre-negotiated savings — with affordable listing fees of just 1%, the average home seller saves $9,000!
👋 Start your real estate journey today!
What's a Buyer's Market in Real Estate?
⚡ Definition: There's an abundance of homes for sale, giving buyers the upper hand in negotiating a favorable deal.

A buyer's market refers to a real estate market where the housing supply exceeds demands. In this type of market, the buyer has the advantage because they're able to negotiate a low price more aggressively.
If you've been planning to purchase a home, waiting for a buyer's market can help you:
Get more house for your money, thanks to lower purchase prices
Shop around and compare different houses, thanks to plentiful inventory
Negotiate a lower price, since sellers tend to be anxious to sell
Negotiate favorable contingencies, such as extra repairs
But if you're a homeowner who plans to sell, buyer's markets can be challenging. If your timeline allows it, we recommend waiting until inventory dips to give you a more competitive edge.
What's a Seller's Market in Real Estate?
⚡ Definition: There are so few homes available that buyers must compete — and typically pay more, give up contingencies, or both.

A seller's market is the opposite of a buyer's market. In a seller's market, there are typically more buyers than there are homes for sale. Since the supply is lower than demand, buyers are typically at a bit of a disadvantage.
The benefits are essentially the opposite of a buyer's market. You'll likely:
Earn a higher profit from your home sale
Experience bidding wars between interested buyers
Sell quickly, thanks to hot competition among buyers
Negotiate favorable contingencies, such as skipping an inspection
It's not always possible to align your home sale with market fluctuations, but waiting for a seller's market is ideal if you can swing it.
Transitional Real Estate Market
⚡ Definition: A balanced market in which supply and demand are fairly well aligned.

A transitional real estate market refers to the interim period between a buyer's or seller's market. This period of time is generally pretty neutral, meaning it's neither good nor bad for buyers and sellers.
During a transitional market, you can expect:
Sellers who "play the market" and wait for the perfect offer
Buyers who can shop around among a moderate number of homes
A transitional market isn't advantageous to either party, making it a fine time to either buy or sell a home. This may be especially helpful if you're a homeowner who needs to align the sale of your current home and your purchase of the next one.
Next Steps: Talk to a Real Estate Agent
You don't need to be an economist to successfully buy or sell a home — you just need a great agent on your side.
A trustworthy real estate agent knows exactly:
How the market is trending in your area
How to weather challenging conditions
How to make the best of your next real estate transaction
To get started, we recommend connecting with our friends at Clever Real Estate. They offer a free, no obligation agent matching service. You'll be matched with top-rated agents with strong performance records in your local market — and you can speak to as many agents as you'd like until you find the perfect match.
If you click with an agent, you'll get excellent full service from familiar brokerages like Keller Williams, Century21, and Coldwell Banker — and cost savings Clever negotiates on your behalf.
Next Steps: Talk to an Agent
If you're weighing your options for buying or selling a house, Clever can help! With our friends at Clever: 
✅ You'll only pay $3,000 or 1% to list your home 
✅ In eligible states, you'll get 0.5% cash back when you buy a home 
✅ You'll work with a full-service realtor from a top broker, like RE/MAX or Keller Williams 
Saving on realtor fees doesn't have to mean sacrificing service.
⭐ Find a top local agent today and save! ⭐
Recommended Reading
Interested in buying or selling?
We've improved the traditional real estate model with modern technology to cut costs, not quality.
Get started today
Posted in Selling a House