We Buy Ugly Houses rating | Reviews | Customer experience | Speed | Credibility | Next steps
✍️ Our take: We don't recommend We Buy Ugly Houses as it doesn't meet our standards for essential cash-for-homes services. And while the company itself is legitimate, its franchise model has been known to promote predatory behavior.
We Buy Ugly Houses is a nationwide franchise that pays cash for homes. Franchisees are willing to purchase your property as-is, so you won't have to worry about fixing it up. However, in exchange for a quick transaction, sellers can expect to take a rock-bottom price compared with what it's actually worth.
Consider giving other potential buyers a chance to present offers to see what your house could fetch in the current market. Then you will at least have a baseline of what people are willing to pay whether or not you decide to have a professional enter the picture.
Get fair offers from cash home buyers now
Compare offers from top cash buyers and then get a local realtor's opinion on what your house is worth.
We Buy Ugly Houses at a glance
| Our rating | 2.75 |
| --- | --- |
| We Buy Ugly Houses reviews | 2 |
| Customer experience | 2.5 |
| Speed | 3 |
| Credibility | 3.5 |
Ratings based on 1–5 scale, with 5 being the best. Learn more about our methodology.
How does We Buy Ugly Houses work?
We Buy Ugly Houses is a service that buys houses for cash, which removes any uncertainty around a buyer securing a mortgage.
Sellers can contact the company online or by calling it directly. Once a representative has a chance to examine the property, the property specialist will decide if they want to invest. If they do, you can expect them to make an all-cash offer for your home and suggest a closing date.
If the homeowner agrees, they sell their property directly to the company without the involvement of real estate agents. Closings are quick and can be completed in as quickly as three weeks.
The property specialists are connected to individually owned franchises, not all of which operate with the same level of professionalism. Some of them have been accused of not honoring verbal offers.
Because We Buy Ugly Houses makes money from fixing and flipping properties, it won't pay the full market value of the property they are buying.
We Buy Ugly Houses reviews
According to We Buy Ugly Houses reviews, home sellers might want to proceed with caution. While price is an issue for some, homeowners might want to remember that it comes with the territory from companies that buy houses for cash.
In some cases, We Buy Ugly Houses shines for its attentive customer service and non-pushy sales professionals. However, because it's a franchise, not all of the offices show the same level of professionalism.
Worth noting: Some reviewers are homeowners who are frustrated with how We Buy Ugly Houses targets them with its marketing campaigns.
Communication
Reviewers on Google generally like We Buy Ugly Houses for its customer service, describing the team as "professional and trustworthy." Several satisfied customers identified the franchisees by name.
We Buy Ugly Houses is all about fast turnarounds, so response times are usually quick. However, there have been reports of no-show appointments by team representatives.
Price: How much does We Buy Ugly Houses pay?
Reviewers on the Better Business Bureau website accuse We Buy Ugly Houses of bait-and-switch tactics on price. One customer in particular complained that the company didn't honor a verbal offer that she received.
On the other hand, several We Buy Ugly Houses reviews on Google were from customers satisfied with the offers they received. These sellers were seemingly happy to have funds in their accounts in a matter of weeks.
We Buy Ugly Houses won't be your best offer. Most cash-for-homes companies won't pay more than 70% of a home's fair market value. But the offers that We Buy Ugly Houses makes can be all over the map.
One local team made an offer that was only two-thirds of a home's actual value. Another home was appraised for $165,000 more than what they offered. And yet another bought a home for $175,000 below market value.[1]
The company website advises homeowners to do their own research to learn what the property values are like in a given neighborhood. Remember: you are not obligated to accept an offer until you've signed a contract.
The reality is that companies that buy houses for cash are in the business of quick deals, and they won't pay you the full value for your listing. Knowing this means you won't be blindsided by any low-ball offer that We Buy Ugly Houses makes.
Marketing
Reviewers on Yelp and BBB alike dislike We Buy Ugly Houses for its marketing tactics.
Its parent company, HomeVestors of America, has been accused of badgering families when there's been a death and offering its services to help with probate. Whether or not that's intentionally predatory, the families definitely don't appreciate it.
Other homeowners were insulted to be contacted by a company that targets "ugly houses."
Reviewers on the BBB call out We Buy Ugly Houses for its unsolicited mailings, calls, and texts. One recipient of these advances described it as "cheeseball marketing."
💰 Sell Fast, Earn More 💰
Need to sell fast? Our friends at Clever can match you with agents who can help you sell fast for top dollar. The average seller saves $9,000 with Clever, thanks to pre-negotiated listing fees of just 1.5%.
Customer experience
Pros
You'll meet the person buying your home face- to- face.

You can expect to get the cash in your account within three weeks of getting an offer.
Cons
Somewhat shady tactics leave vulnerable people at risk of making a deal they later regret.

The parent company takes little accountability when things go wrong.

Aggressive marketing can become invasive after a while.
We Buy Ugly Houses has a simple online form for scheduling a no-obligation consultation. The online form requires you to submit your name, phone number, email, and address. A local representative should make themselves available to answer any questions you might have about the process.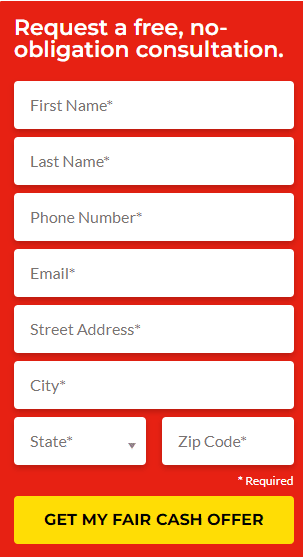 Unfortunately, in a couple of markets, customers were left out to dry. The We Buy Ugly Houses team proved to either be a no-show for appointments or never bothered to respond to a potential customer's inquiry at all.
Speed
Pros
Response and follow-up times tend to be fast.

You could have a same-day cash offer on your house when a property specialist visits.

The cash could be in your account in as little as three weeks.
Cons
Some franchisees could be difficult to reach, leading to delays.

An abbreviated sales process means less time for deep decision-making.

You could miss out on higher offers by moving quickly.
Once you connect with somebody at We Buy Ugly Houses, they won't waste any time visiting your property, most of the time. Since its business model is all about fast turnaround times, and the response times are usually very quick.
Closings are quick and can be completed in as quickly as three weeks.
Credibility: Is We Buy Ugly Houses legit?
HomeVestors of America, the parent company of We Buy Ugly Houses, is a legitimate business that's been around for 25+ years. It's an accredited business with a BBB rating of A+.
However, the franchise model lends itself to some controversy. In 2017, a We Buy Ugly Houses franchisee was found guilty of wire fraud, for example.
Marketing reps have also been known to implement predatory marketing behavior, targeting people at the most vulnerable times in their lives.
We Buy Ugly Houses seems to hide behind the fact that franchises are independently owned and operated and therefore they are not responsible. In addition, the company warns customers of fake real estate scams imitating the brand and seeking to take advantage of homeowners.
Next steps
We don't recommend We Buy Ugly Houses. Consider using a higher quality brand that helps you sell for cash, such as:
Clever Real Estate, which matches you with an experienced local agent to bring you verified cash offers and help you decide if it's worth selling on the open market instead.
Opendoor, which doesn't rush you to move out after the closing. Better yet, consider
We Buy Houses, which will connect you with a local real estate professional and still get you an offer quickly.
💡If you want to sell to a cash buyer and compare offers, try Clever's cash buyer program and compare cash offers on your home!
👋 Match with top agents, save thousands
Our friends at Clever connect you with top-rated agents in your area who can sell your home fast AND offer low listing fees of just 1.5%.
The average seller who lists with Clever saves $7,000!
Methodology
We evaluated each cash buyer service based on four core criteria:
Reviews
During our evaluation, we:
Aggregated customer reviews from across the web and created a weighted average rating
Checked for complaints with the Better Business Bureau
Customer experience
During our evaluation, we:
Checked how easy the company app or portal was to use
Speed
Cash buyer companies should provide basic services, including:
A fast offer (typically between 48 and 72 hours)
Rapid closing
We noted add-on services that actually help you, like the option to stay in your home after you close.
Credibility
We reviewed the company's Better Business Bureau profile to see if it's accredited. Additionally, we searched government sites to see if there's any legal action against the company. We also read Glassdoor reviews to see if any employees mention unethical practices.