Should You Use Mayflower Moving? An Honest Review
Posted on November 16th, 2022
Value | Customer Experience | Credibility | About Mayflower | How We Researched | FAQ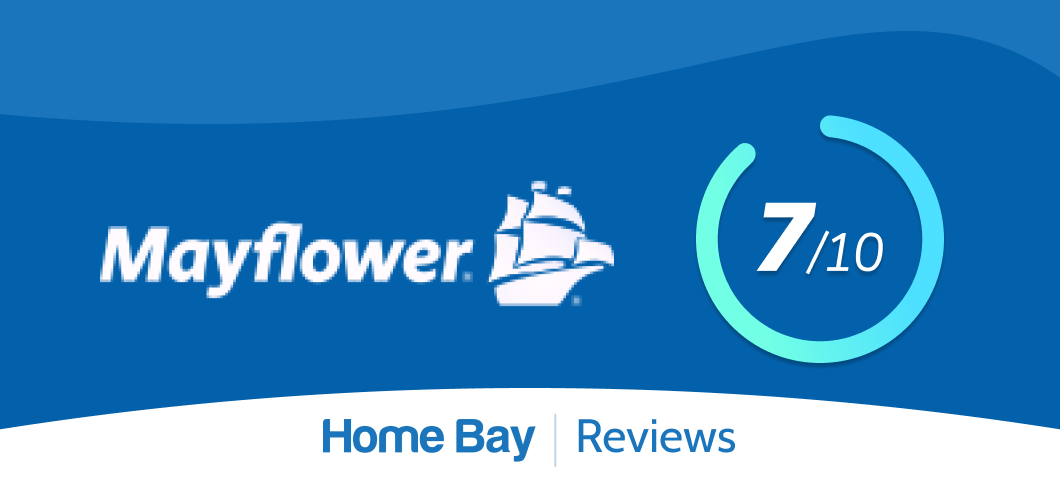 When you work with one of our affiliate partners, we may earn a small commission. However, our reviews are based on objective, independent research. Learn more about HomeBay's editorial policy and why you should trust us.
Mayflower Transit, or Mayflower Moving, has been moving people for more than 90 years. It currently offers local, long-distance, and even international moving services. Aside from full-service moves, Mayflower Moving offers extras, including car shipping, debris removal, and packing. It's very customizable for your specific moving situation.
Overall score: 7/10
Mayflower has pricing in line with other full-service moving companies. You shouldn't expect any freebies, but you don't have to worry about unusual fees.
Mayflower moving reviews from actual customers don't show any unusual problems. But keep in mind, your experience will largely depend on your local Mayflower franchise.
Mayflower's insurance and registration are all in order, and it has a solid safety record. You can feel comfortable putting your things on a Mayflower truck.
Bottom line: Mayflower works best for full-service moves. It has customizable moving packages, a solid track record, and a nationwide (even international) service area. You won't get the lowest rates from Mayflower shipping, but you will get an experienced moving company that can handle all kinds of moves.
That said, every move is unique. We recommend working with a moving broker to get personalized recommendations and insider rates.
🚚 Ready to get moving?
Talk to a moving broker, get personalized recommendations and the most competitive rates. It's 100% free, with no obligation.
Get started.
Mayflower Moving: In-Depth Breakdown
Value: 6/10
We haven't been able to get a quote from Mayflower just yet, but our research suggests its pricing is pretty standard. For example, a local move would be around $1,700, according to HomeAdvisor.
Mayflower offers just about every moving service you could need (like packing, car shipping, and debris removal). But it does charge for every service. Fortunately, you can pick and choose exactly what you need. And if you don't need much, your Mayflower movers cost will be lower. And we haven't spotted any unusual fees from Mayflower van lines.
Your free Mayflower quote will automatically charge you for Full Value Protection coverage — extra liability coverage for belongings over the minimum $0.60 per pound. Most professional movers include extra coverage in your quote. But Mayflower does give you the option of removing the extra coverage if you don't want it. You can ask for a quote without Full Value Protection.
⚡️Quick tip:
Moving quotes are highly customized and case specific, so what you see advertised on company websites isn't always what you get.
We recommend reaching out to an independent moving broker
to request one or more quotes so you can compare options and get the best fit and value.
Customer Experience: 7/10
Remember, Mayflower Moving Company is actually Mayflower Moving Companies. It's a bunch of franchises. So reviews for your local Mayflower agent will be more helpful than general company reviews.
Based on our analysis of company reviews, we expect you to have a positive customer experience with Mayflower Moving.
The U.S. Department of Transportation (DOT) collects consumer complaints about moving companies. Here's how Mayflower has done in the past three years:
16 complaints in 2021
11 complaints in 2020
The complaints include problems like loss and damage, discrepancies between estimates and final charges, and issues with pickup and delivery (mostly in 2021).
Those complaints match third-party review sites, like Trustpilot and the Better Business Bureau. Customers on those sites complained about the same things, as well as the shortage of drivers in 2021.
Still, the number of complaints to the U.S. DOT is on par with other large moving companies. And Mayflower van lines have more than 850 trucks, so a dozen or so complaints per year doesn't look so bad. According to Mayflower's website, it averages a 4.3 out of 5 rating from more than 7,300 Mayflower Moving reviews.
Credibility: 8/10
Mayflower checks out. It's properly registered, has active insurance policies, and earns a satisfactory safety rating from the U.S. DOT.
Mayflower does, as we mentioned, have a few complaints filed against it with the U.S. DOT. But there's nothing out of the ordinary for a large moving company.
In other words, you can trust your stuff with Mayflower's moving and storage services. There were no big red flags.
About Mayflower Moving Company
Mayflower Moving (officially Mayflower Transit, LLC) has been around for more than 90 years. It has agents in 46 states (all but Delaware, Hawaii, Rhode Island, and West Virginia).
Mayflower is owned by UniGroup, Inc. ― the same parent company as United Van Lines.
| | |
| --- | --- |
| Headquarters | Fenton, MO |
| Website | https://www.mayflower.com/ |
| U.S. DOT # | 125563 |
| Specialty | Long-distance moves |
How We Researched
To write our Mayflower review, we:
analyzed Mayflower customer reviews,
compared Mayflower to dozens of other popular moving companies,
evaluated average moving costs from Homeadvisor,
and searched moving industry databases like the Federal Motor Carrier Safety Administration to check insurance records and damaged goods claims.
FAQ About Mayflower Shipping
A move with Mayflower Movers costs about what any other major moving company costs. It will vary depending on your home size, move distance, and move date. To get an exact Mayflower Movers cost, get a quote from Mayflower. Learn more about moving with Mayflower.
Moving quotes are estimates from the moving company that give you a rough idea of how much your move will cost. You can get free quotes for Mayflower Moving and Storage. Learn more about moving with Mayflower.
Related Reading
Interested in buying or selling?
We've improved the traditional real estate model with modern technology to cut costs, not quality.
Get started today
Posted in Buying a House, Selling a House