If you're moving across state lines, you need to hire a trustworthy relocation company with the right equipment, licensing, and insurance for an interstate move. After contacting more than 50 out-of-state moving companies, we narrowed it down to the top 5 based on coverage area and customer experience.
Bottom line: Bellhop Movers is the best out-of-state moving service overall. People say moving with Bellhop is smooth and straightforward. Customer reviews are mostly positive (4.4 out of 5 stars on Trustpilot). Plus, Bellhop adds value with online coupons and intel on the cheapest moving dates.
Other out-of-state movers, like Mayflower and Allied, are also great choices. These moving companies have solid reputations and nationwide availability, but you might pay more.
Best out-of-state movers
🥇 Best overall
Bellhop Movers
Learn More
Best for
Most long-distance moves
Availability
25 states, DC
Years in Business
12 years
Overview
Locations
Contact info
Bellhop Movers is a modern moving company that offer local and long-distance moves in 25 states and Washington, DC. It has great customer reviews and transparent prices. And it uses online booking and payment via QR code.
AL, AZ, CA, CO, DE, FL, GA, IL, IN, KS, MD, MA, MI, MN, MS, NV, NY, NC, OH, OR, PA, TN, TX, VA, WA, DC
Bellhop Movers is our top pick for value and customer experience.
Customers love this out-of-state moving company. It has a 4.3/5 on Trustpilot and many rave reviews. It's easy to book a move online with Bellhop. Pricing is transparent and affordable, especially for cross-country moves. The company website even shows the cheapest dates to move. Plus, Bellhop customizes services so you only pay for what you need. For instance, if you want to rent and self-drive a moving truck and hire Bellhop only for unloading and unloading, you can.
The main downside with Bellhop is that the company doesn't offer full-service moving. Bellhop movers won't reassemble furniture, hook up appliances, or store your stuff. If you need extra services, check out Mayflower.
Mayflower Moving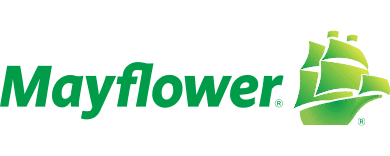 Learn More
Years in Business
96 years
Overview
Locations
Contact info
Mayflower Transit, or Mayflower Moving, has been moving people for more than 90 years. It currently offers local, long-distance, and even international moving services.
Mayflower operates in 32 states, but it has partners in all 50.
If you want a well-established full-service mover with nationwide service, Mayflower is a great option. Though it only operates in 32 states, it has partners in all 50.
An out-of-state move can be overwhelming, but Mayflower moving should have your back. The number of formal loss and damage complaints is small (13 in 2022), considering the company's size and how many out-of-state moves it completes annually.
The downside is that Mayflower movers' out of state cost won't save you money. Moving across state lines is usually considered long-distance, and Mayflower quoted $8,500 for that. If you're on a budget, consider Bellhop or Allied Van Lines.
Allied Van Lines

Learn More
Years in Business
95 years
Overview
Locations
Contact info
Allied Van Lines is an Illinois-based moving service that offers local and long-distance services nationally and internationally. This large, well-known company has been around since 1928.
Allied Van Lines is a solid choice if you're looking for a full-service out-of-state moving company.
According to the quote from an Allied representative, its average moving cost is $5,250. That's much lower than Mayflower's quote. And unlike Bellhop, Allied offers storage, packing, and furniture assembly.
But Allied Van Lines doesn't seem to offer a standardized customer experience. Customer ratings vary wildly depending on the location. So if you're considering Allied for your out-of-state move, we recommend reviewing your location's reviews before putting money down.
American Van Lines

Learn More
Overview
Locations
Contact
American Van Lines is a full-service moving company that operates nationwide. It offers specialty services like piano moving and storage. 
FL, TX, and NC.  Available nationwide through partners.
American Van Lines may be the best mover for you if you need storage facilities during your out-of-state move. The company has storage units in fireproof, storm-proof buildings, so you should be able to trust them with your belongings.
The company has locations in Florida, Texas, and North Carolina. If you're moving in and out of other states, you might work with one of their nationwide partners.
Still, customer reviews are mixed. Reviews on the Better Business Bureau complain about poor communication. We recommend checking reviews for your local American Van Lines since service can vary from place to place.
Suddath

Learn More
Best for
White-glove service
Overview
Locations
Contact
Suddath Moving is a long-distance moving company that's over 100 years old. It offers specialty services like car and piano shipping. Suddath has a 4.8/5 average rating from over 6,000 reviews.
California, Georgia, Florida, Minnesota, North Carolina, Oregon, Texas, and Washington. Available nationwide through partners.
Suddath is your best option for a high-end out-of-state move. This company's white-glove concierge service includes a dedicated move manager and special handling of fragile and valuable items.
Of course, this type of service comes at a cost. Suddath couldn't give us a general estimate for an out-of-state move. You need to call the company for a custom quote based on your needs.
Customer reviews are generally positive. But communication might be challenging since you can only contact Suddath by phone. If you want to book your out-of-state movers online, consider Bellhop or Mayflower.
How do I find out-of-state movers near me?
A quick Google search is the best way to find out-of-state movers in your location. Skip the ads at the top of the page and focus on results from user-generated review sites like Yelp. Make a short list of companies with positive customer feedback.
Check each company's website to find out if they offer out-of-state or interstate moves. Companies that cross state lines are required to register with the U.S. Department of Transportation (US DOT). Check for those credentials on the FMCSA database. Search for the moving company and verify that it's actively registered and insured with the DOT.
Methodology
We contacted over 50 major moving companies nationwide to request quotes and verify their out-of-state moving services. We narrowed down the list to companies licensed and insured for out-of-state moves. Then we rated the top choices for out-of-state movers based on coverage area and overall customer rating.
Learn more about HomeBay's editorial policy.
Related reading