How To Buy Another House Before Selling Yours in 6 Steps
Pros and Cons | How to Buy a House Before Selling | Buy-Before-You-Sell Programs | Pay Two Mortgages at Once | Get a HELOC or Other Loan | Cash-Out Refinance | Find a Renter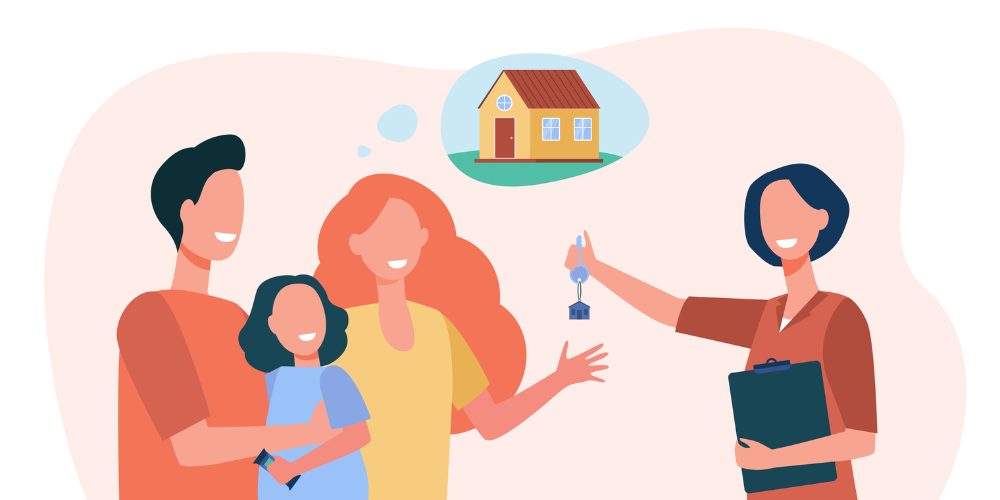 Figuring out the timeline of selling your home and buying a new one can be overwhelming.
Sellers often opt to sell their home first because they need the profits from their sale for a down payment on a new home. This is a common problem: In a recent survey of 1,000 Americans, Home Bay found that 52% of Americans who are unhappy with their current location can't afford to move.
But there are situations where you might want to buy before you've had the opportunity to sell your current residence. Maybe you found the perfect home at a great price and you need to move quickly — or maybe it's a buyer's market, and you know you could make more if you wait to sell.
Buying a new house before you sell your old one isn't always logistically easy, but with some creativity, it can be done. Here, we'll detail your options for buying a house before you sell and how to avoid complications along the way.
It's worth noting that a real estate agent can make this process a lot easier — they have years of experience helping buyers and sellers through this exact situation.
Our partners at Clever Real Estate can match you with a local agent who has specific experience dealing with this kind of complicated transaction. And when you find an agent with Clever, you'll save on both ends of the deal.
Most Clever home buyers receive 0.5% cash back after closing. And when you sell, you'll pay just 1% in listing fees — meaning you'd save $8,000 on a $400,000 home sale!
Best of all, you'll still get full service from an agent with a major brokerage like Keller Williams, RE/MAX, and more.
🤝 Match with local agents and get the expertise you need!
Pros and Cons of Buying a House Before Selling Your Current House
[object Object]
The biggest advantage of buying a house before selling your current one is not having to find a new home quickly after selling. You can avoid the awkward window of time between homes, staying with family or in temporary housing.
If you don't intend to sell your original home at all, you'll also be able to collect passive income by renting it out. Plus, it may be possible to sell your home for more by waiting for a strong market or giving it additional time to appreciate.
On the other hand, you'll have to make double mortgage payments for a period of time. You also won't be able to use sale proceeds for a down payment on the new home, and it may be more difficult to qualify for a new mortgage with your current debt.
How to Buy Another House Before Selling Yours (6 Expert-Approved Steps!)
1. Connect With a Realtor and Find the Home You Want to Buy
When you're ready to buy a new home, work with a real estate agent who understands your unique needs. Look for an agent who is familiar with the area where you want to live and is experienced in working with buyers who still own their previous home.
Your agent can help you find properties that meet your criteria, negotiate with sellers on your behalf, and move forward with the purchase once you find the perfect home. An experienced agent can also work with your preferred timeline.
If you love working with them, you may even choose to hire them as your seller's agent as well!
👋 Need a great agent?
If you're weighing your options for buying or selling a house, Clever can help! With our friends at Clever: 

✅ You'll only pay $3,000 or 1% to list your home 

✅ In eligible states, you'll get 0.5% cash back when you buy a home 

✅ You'll work with a full-service realtor from a top broker, like RE/MAX or Keller Williams 

Saving on realtor fees doesn't have to mean sacrificing service. Find a top local agent today!
2. Come Up With a Down Payment and Closing Costs
Ideally, you'll have cash on hand to cover your down payment and closing costs for a new home. But that's not realistic for many.
If you don't have enough cash without proceeds from a home sale, consider working with a trade-in company. If there's room in your DTI, take out a home equity line of credit against your current residence, borrow against your 401(k), or get a cash-out refinance on your current home.
Work with your real estate agent to close on the home with terms that work for you.
» Read More: The True Cost of Seller Closing Costs (And How to Save!)
3. List Your Home For Sale (Or Wait)
When you're ready, work with a local real estate agent to list your home for sale.
Don't forget to prepare your home for listing by taking care of repairs, cleaning and decluttering. A real estate agent can identify minor updates that can make the home more marketable in your area. They'll also help you develop a competitive pricing strategy to help you sell fast for top dollar.
If you decide to hold onto the home until the market improves, you can rent it out in the meantime. You'll want to market your rental right away to avoid costly vacancies.
4. Cover Both Mortgages in the Meantime
Unless you're working with a buy-before-you-sell company, you'll have to cover both mortgages while you wait for the first one to sell. To reduce this financial burden, take steps to identify a buyer quickly and expedite the closing process. You can do this by selecting a cash offer and settling inspection and repair disputes quickly.
If you can't pay two mortgages at once, find a short-term renter to cover your mortgage or consider listing it through a platform like Airbnb to generate some cash.
Just remember that you'll likely need to schedule time for home showings. You can work these into the home's short-term rental availability or give ample notice to your tenant.
5. Sell Your Home
Sell your home quickly so you can offload your first mortgage as soon as possible. An expedited sale and closing may necessitate listing the home as-is, choosing a cash offer, or settling inspection and repair disputes quickly.
Want to see how much your home is worth? Check out Clever's home value estimator and get connected to a real estate agent who can help sell your home for just a 1% listing fee for home sales over $350,000!
💰 How Much Is Your Home Worth?
Before listing your home, find out how it compares to others in your local market.
6. Use Your Proceeds to Pay Off Any Loans
Once you sell your home and have the proceeds in hand, use them to pay off any outstanding loans on the property, such as a home equity loan. Then, you'll be able to focus solely on your new home!
The Best Financial Strategies for Buying Another House Before Selling Yours
Option 1: Use a Buy-Before-You-Sell Program
Consider a buy-before-you-sell program (sometimes referred to as a trade-in company) like Knock or Orchard.
These companies allow you to use your home equity as a down payment, rather than cash in hand. You can start shopping for a new house before you list your current residence as long as you have enough equity in your current home to cover the necessary down payment.
Once you find a new home, the trade-in company will make a cash offer and purchase the property on your behalf. The company lists your current home for sale and, once sold, subtracts the down payment on your new home (plus fees) from the proceeds. You'll get a check for the remaining profits.
While these companies can help streamline your move, their cash offers are often lower than what you'd be able to sell for on the open market. Added fees can also reduce your profits, so be sure to read the fine print and understand the full terms of your agreement.
So far, most buy-before-you-sell companies only offer service to a handful of states with large metro areas. If you don't live in one of these areas, these programs may not be an option.
Option 2: Pay Two Mortgages for a Period of Time
Though not an ideal solution, it may be necessary to pay the mortgage on both properties at once.
In this case, work with your realtor to close on your listed home as quickly as possible so you can pay off the loan balance and focus exclusively on your new mortgage payments. A real estate agent can help you price competitively to sell fast and seek cash offers that close quicker.
Keep in mind, however, that you'll need sufficient cash on hand to cover the down payment on a new home.
You'll also need to reach out to your preferred lender to find out if you qualify for a second mortgage. In addition to reviewing your income and employment history, lenders will evaluate your debt-to-income ratio (DTI). This is the percentage of your income that goes towards debts like credit cards, student loans, and your current mortgage each month.
If you choose to buy a home before selling your current home and plan to have a mortgage on both houses, your DTI may be too high to qualify for the new mortgage.
Your DTI must be 43% or lower for Fannie Mae- and Freddie Mac- backed mortgages, and under 50% for FHA loans.
Option 3: Take Out a HELOC or Other Loan
Consider taking out a home equity line of credit (HELOC) to use as a down payment on your new home. A HELOC is a loan that's secured by the equity in your home.
Alternatively, if you have a 401(k) through your employer — and the plan allows it — you may be able to take out a loan against your retirement account to cover the down payment on a new home.
That said, some lenders won't extend a mortgage if the down payment is being made with loan proceeds. And, when borrowing money to cover the down payment on a home, the outstanding balance will count toward your DTI. This can impact your ability to qualify for a mortgage on your new home and may lower your credit score and increase the risk of foreclosure.
Option 4: Cash-Out Refinance
Cash-out refinancing lets you access the equity in your home and get cash at closing, which can be used as a down payment on a new house. The existing home mortgage and any liens on the property are paid off and replaced with a new mortgage.
This offers an alternative to a home equity loan because it's a new loan that pays off your old loan in its entirety.
Option 5: Find a Temporary or Long-Term Tenant to Rent Your Home
If rental demand is high, you may be able to turn a profit or, at the very least, offset the expense of the first mortgage by renting your house. Carefully interview potential tenants and do a background check. Sign a lease with the new tenant that includes provisions for breaking the lease in the event that you need to sell the property.
» Read More: Should I Sell or Rent My House? Read This Before You Commit
[object Object]
Recommended Reading
FAQs About Buying a House Before Selling Yours
Where should I live between buying and selling?
A local real estate agent can help you find temporary housing between buying and selling a house. Alternatively, you may be able to stay with friends or family and put things in storage until you buy a new home. You also may be able to rent from your new buyer — called a rent-back agreement – if you need more time in your home before you can move. Learn more about buying a house before selling yours.
How do I buy another house while owning a house?
You can buy another house while still owning one by coming up with cash for a down payment on a new home and taking out a second mortgage to finance it. If you don't have cash on hand for a down payment, you might be able to cash-out refinance, take out a loan or work with a buy-before-you-sell company. Learn more about buying a house before selling yours.
Interested in buying or selling?
We've improved the traditional real estate model with modern technology to cut costs, not quality.
Get started today
Posted in Buying a House, Moving, Selling a House